When the Women in Leadership (WiL) organization at UC Berkeley's Haas School of Business hosts it annual conference tomorrow, things will be different than in years past. This year, every fifth person in the audience is expected to be male—up from the five to 10 men who have historically attended.
"When we got together to decide what we wanted the conference to be about, we just starting writing things down that were important to us—and collaboration and the involvement of men were both very high on the list," says WiL Conference Co-Chair Shipra Agarwal (MBA '17). Both she and the conference's other co-chair, Chiaki Nakajima (MBA '17), feel that they are where they are today because they had strong male support. "We thought, 'Let's make that the focus of the conference because we want men to be part of it as well and to understand how to be better allies," Agarwal says. The theme they settled on was "Power of Us: Collaborate. Inspire. Lead."
Manbassador Programs on the Rise
Men actively supporting their female classmates has been a growing trend at leading business schools. Haas has a large and active "Manbassadors" club, as does Harvard Business School (CBS), Columbia Business School and the University of Pennsylvania's Wharton School, among others. Enlisting male classmates to champion gender equity is deemed such a valuable approach that the Forté Foundation—a nonprofit consortium of leading companies and top business schools dedicated to advancing businesswomen—in December launched its own "Men as Allies" program. Drawing on best practices from schools like Haas and HBS, the initiative is designed to foster the creation of male-led gender equity groups on campuses where they don't already exist.
Haas's Manbassador club hosts a range of events, including co-ed lunch and learns in which male students ask female students about their experiences. Nakajima participated in one such lunch session and was struck by how surprised the men were to hear some of their female classmates' perspectives.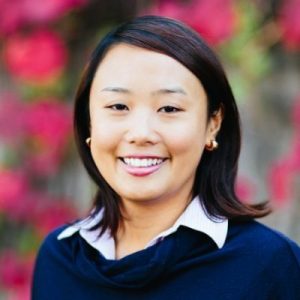 One question posed was "How would you like to be treated by your boss if your clients were sexually harassing you or doing something inappropriate to you?" The answer given by a female participant—"It would really help me if my boss was on my side and stepped up to say something"—seemed very straightforward to Nakajima and the other women in the room, but many of their male colleagues found themselves having to consider the scenario for the very first time. Another female classmate brought up the fact that she has to be alert and cautious when going home late at night or walking on the street by herself. "That was a surprise to most men there," Nakajima says.
"I was very passionate about bring that to the conference," Nakajima continues, "and helping men become more aware."
"A lot of men want to be allies but they don't know how," Agarwal adds. "We want the conference to be a place to start that dialog of how both men and women can support each other."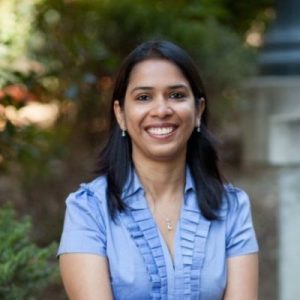 The issue of collaboration is also important to both women. "Not only collaboration between men and women, but also across different races," says Agarwal, who came to the United States from India to attend Haas. "We have made a lot of efforts to ensure that we represent diversity in our speakers and our programming."
Japanese-native Nakajima, who attended the January Women's March in Washington, DC, was really struck by the diversity of participants. "The diversity in that event definitely influenced my thought on this conference," she says. "That helped inspire me to get a really diverse group of speakers."
But doing so didn't prove easy, they found. "Looking for men and minority women who are in leadership positions and can speak about this particular topic was actually really challenging," Nakajima says. But they worked at it and were successful. Josh Levs, a United Nations Gender Champion and former CNN and NPR journalist, will deliver an address entitled, "Why Anti-Dad Myths Are Hurting Both Men and Women." Named one of the 10 top male feminists in the world by the Financial Times, he is the author of All In: How Our Work-First Culture Fails Dads, Families, and Businesses And How We Can Fix It Together. AT&T Senior Vice President of Human Resources and Chief Diversity Officer Cynthia "Cynt" Marshall, who is African American, will talk about leading with values. A Berkeley alumna (BA '81), she was named to Ebony magazine's 2016 "Power 100" list and selected as one of the "50 Most Powerful Women in Corporate America" by Black Enterprise magazine in 2015.
The other keynote speakers for the event are Kleiner Perkins Caufield & Byers Partner Juliet de Baubigny and Haas Professor and Director of the Institute for Business & Social Impact Laura Tyson. De Baubigny has led the development of several key initiatives at the Silicon Valley venture capital firm—including Kleiner Perkins Women Leaders (KPWL), aimed at mentoring and developing the next generation of female entrepreneurs, and the KPCB Fellows Program, designed to brings the most talented engineering, design, and product management students into KPCB portfolio companies. Tyson served as dean of London Business School from 2002 to 2006 and as dean of Haas from 1999 to 2001. She also served under both Presidents Bill Clinton and Barack Obama.
In addition to these keynote speakers, the WiL Conference will also feature afternoon discussion panels and break-out sessions on topics including how to build gender-equity movements, leadership and work-life balance, storytelling and how to collaborate across difference through feedback. This mix of inspirational keynote speakers and skills-based workshops was developed in the hopes that participants—both male and female—will leave the conference with something concrete that they can implement in their own lives, says Agarwal.
For the first time this year, the conference also includes a structured networking opportunity during lunch, with distinct networking groups broken out by industry that attendees select in advance. "The hope is that the networking will grow organically within the groups," says Nakajima. "I am very excited about that portion of the day, because I do hope people will be able to build meaningful connections."
Enthusiasm About Including More Men
Was there any pushback on the plan to bring more men into an event that has been almost exclusively female in the past? Quite the contrary. The conference sold out well in advance, as it usually does, but this year there was a special "paired ticket" for those who registered for one woman and one non-woman identified attendee." "Those have been our best-selling tickets," says Agarwal. "Participants have shown real enthusiasm around bringing along their male partners."
Though the conference theme was developed last summer and early fall, the subsequent results of the U.S. presidential election have made it seem especially timely. "We have heard from so many people right now that this is so relevant," says Agarwal. More men are speaking out for the rights of women just as more non-immigrants speaking out for the rights of immigrants, she says. "It can't be me versus you anymore."