Business schools have been launching increasing numbers of non-MBA business master's degrees—but not without worry that these very offerings could be gobbling up prospective applicants to their MBA programs. Responding to these concerns among its member schools, the Graduate Management Admission Council (GMAC) added new questions to its 2017 mba.com Prospective Students Survey to find out. Based on analysis released yesterday of responses from more than 11,000 individuals who registered on mba.com between February and December 2016, schools may be able to breathe a sigh of relief.
"We have heard schools asking, 'Are we cannibalizing our own MBA programs?'" says Gregg Schoenfeld, GMAC research director. "So this year we added questions about their prior education." Do they already have a master's degree? If so, what type? What degree are they looking at now? What GMAC learned was that 22 percent of survey respondents have a prior master's degree.
Not Necessarily Specialized Master's Versus MBA—Rather, in Addition
"These findings demonstrate that a business master's degree is not necessarily the end of graduates' business education," GMAC President and CEO Sangeet Chowfla said in a statement. "For many, their business master's degree is a stepping stone to continued professional development that may include an MBA down the road, in either a full-time or part-time format."
That said, there is considerable regional variation in who holds prior master's degrees. Two in five European candidates do, compared to just 14 percent of U.S. candidates. For nearly half of those who do hold a prior master's degree (47 percent), that degree is in a business-related field. The majority of master's degree holders surveyed—74 percent—are now considering MBA programs.
Different Degrees Attract Distinct Candidates
The survey also revealed that the demographics and goals of candidates who are seeking non-MBA programs are different than those seeking MBA programs. Twenty-three percent of respondents report they are only focused on non-MBA programs, up from 15 percent in 2009. Newer specialized degrees, such the Master of Data Analytics and Master of Entrepreneurship, are likely driving this increased demand, according to GMAC. Candidates pursuing these non-MBA master's programs skew younger, have less work experience, and are looking to the non-MBA degree to help them hone their technical skills. Women also outnumber men among these candidates, 56 to 44 percent.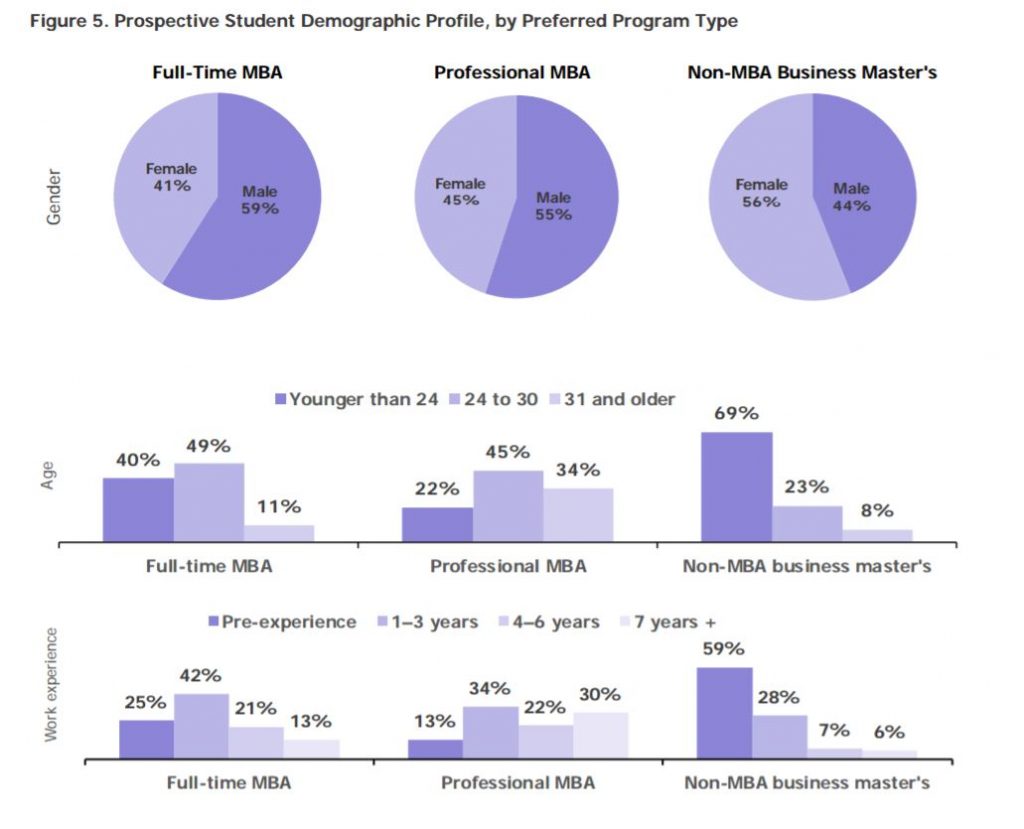 Meanwhile, 49 percent of respondents report that they are laser focused on the MBA, down slightly from 52 percent in 2009. These candidates are typically older, bring more work experience, and are pursing the MBA because they want to develop their managerial and leadership skills and general business knowledge. Here, men outnumber women, 59 to 41 percent.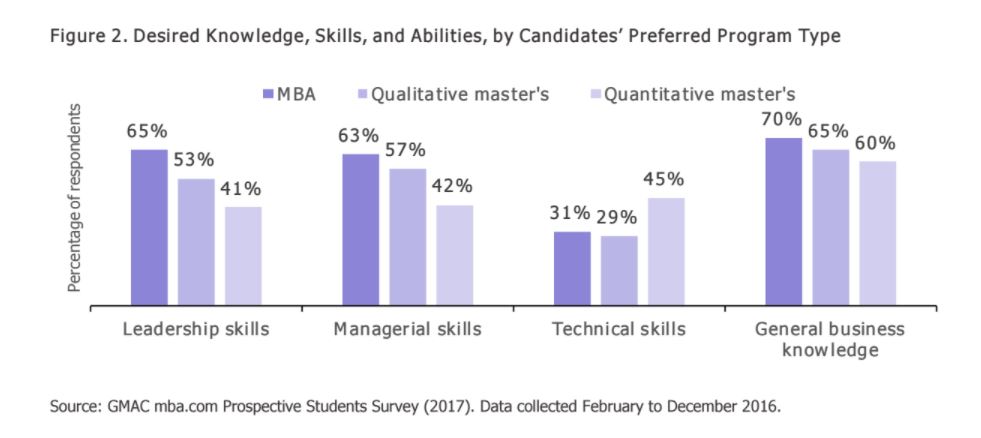 These distinctions help support the idea that prior master's degree holders have an appetite for the MBA, says Schoenfeld. "Having a prior master's degree is not a substitute for the MBA," he says. "What we are seeing is that very often candidates went for their first non-MBA business master's to get a very specialized technical type degree." As a researcher, Schoenfeld notes he might consider a master's degree in data analytics, for example. "But then, after working in the field for some time, many of these candidates decide to later pursue an MBA as a means of honing their managerial and leadership skills to advance in their career."
Of course, GMAC's survey is of registrants to mba.com, who are presumably there precisely because they intend to pursue a degree, be it a non-MBA master's or an MBA. Non-MBA master's degree holders who are satisfied with their degree and don't intend to pursue additional education would therefore not be captured in GMAC's analysis. Nonetheless, that prior master's degree holders make up a full fifth of those surveyed, GMAC asserts, should allay school's fears of cannibalization.
Money an Issue Regardless of Degree Type
Despite the differences in demographics and goals that exist between some candidates considering non-MBA business master's versus MBA degrees, concerns about financing graduate management education unify them. More than half (52 percent) of those surveyed report that limited funds could prevent them from pursuing a graduate business degree. Almost as many (47 percent) say they could well be dissuaded by potentially having to take on large debts.
The most recent survey also reveals shifts in what percentage of the overall funding needed for school prospective applicants hope to secure from which sources. Notably, compared with 2009, candidates today, on average, expect to cover more of the overall cost with grants, fellowships, or scholarships—i.e. money from outside sources that does not need to be repaid—and less with personal earnings/savings, loans, parental support, and employer assistance.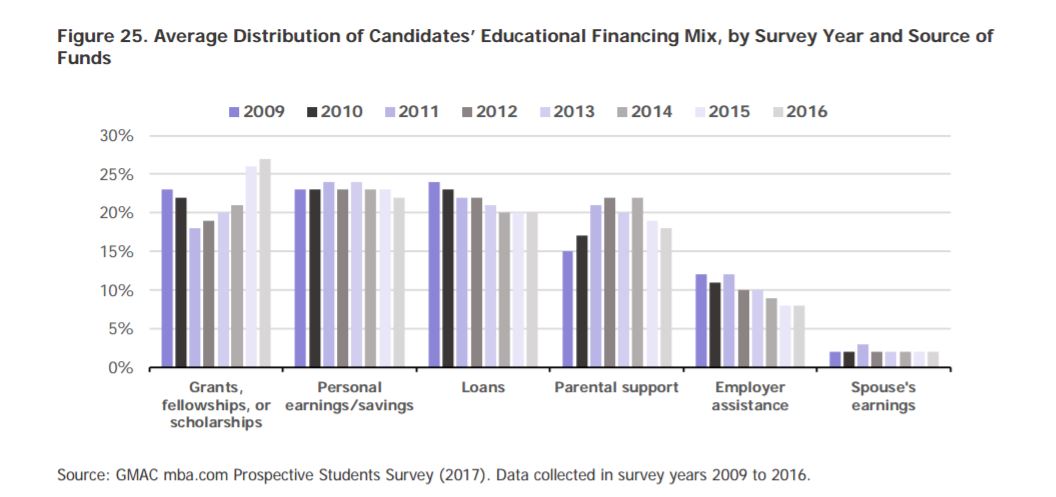 "Candidates' intended financial mix for paying for their graduate business degrees may pose a challenge for business schools, as candidates' intended reliance on grants, fellowships, or scholarships to fund their education has reached its highest level since GMAC began surveying candidates on this topic in 2009," notes the GMAC report.
But Schoenfeld notes that regional differences play a role here. "Many more candidates in the developing world are seeking grants and fellowships as a larger percentage of the financial mix," he points out. Indeed, candidates in Africa are looking to have grants, fellowships, and scholarships serve as a source of 47 percent of funds, followed by Eastern Europe (35 percent), and Latin American and Central & South Asia (33 percent each). In the United States and Western Europe, those figures are smaller, at 22 and 20 percent respectively.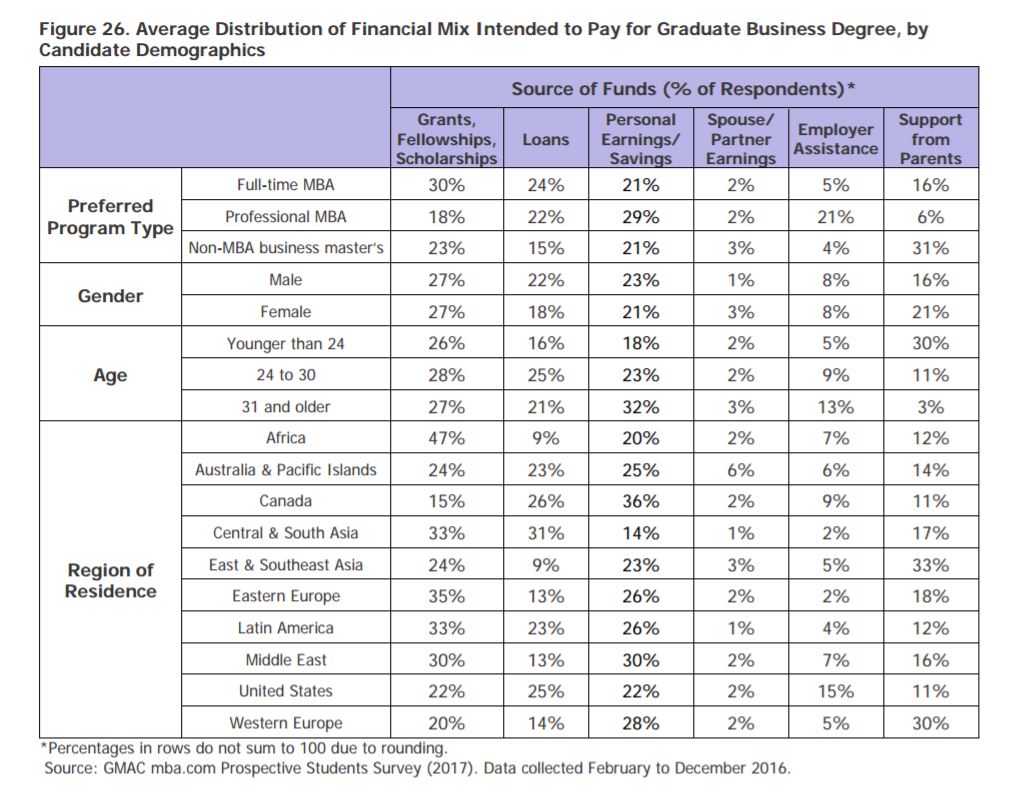 "I am speculating here," says Schoenfeld, "but it could be that candidates from the developing countries hear a lot about the value schools place on diversity and think, 'I'm diversity, so maybe I can get grants to help schools build out that diversity they seek.'"
For GMAC's complete 2017 mba.com Prospective Students Survey Report, click here.