Stanford Graduate School of Business (GSB) today named Darius Teter to serve as the new executive director of the Stanford Institute for Innovation in Developing Economies, known as Stanford Seed. Led by Stanford GSB with university-wide support, Seed seeks to promote global economic prosperity by taking the GSB's signature leadership and innovation training to aspiring entrepreneurs and senior business professionals in developing economies. Launched initially in Accra, Ghana, in 2011, Seed expanded east in Africa to Nairobi, Kenya, in 2016. Then, just last month, Stanford GSB announced its plans to expand the program farther, to Chennai, India. Teter takes the helm at an exciting time for a program poised for continued growth and expansion.
Teter brings a range of international development experience to the role. He comes to Stanford Seed from Oxfam America, where as vice president of global programs he oversaw the organization's humanitarian response team and regional development programs in Asia, Africa, and Latin America, as well as research, learning, and evaluation. Before that, he also developed expertise in financing large-scale infrastructure projects for both the Asian Development Bank and independent U.S. government foreign aid agency Millennium Challenge Corporation.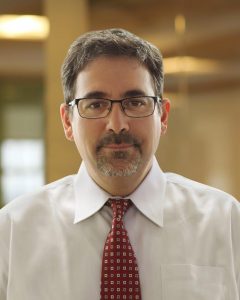 "Darius is passionate about promoting global economic prosperity, making him the ideal leader for Stanford Seed," Stanford GSB Dean Jonathan Levin said in a statement. "As Stanford Seed continues to grow and evolve, Darius' deep experience will help guide the institute to its next level of success."
Already, the Seed Transformation Project—a nine-month training program in which participants learn from Stanford professors everything from leadership and strategy to business ethics, accounting, marketing, and value chain innovations—has trained and mentored 565 entrepreneurs and senior staff members in West and East Africa. One example is Nigeria's Femi Oye, who developed a simple, inexpensive stove that burns a plant-based ethanol gel, eliminating indoor air pollution that killed his grandmother and many other Nigerian women and children. Participation in the Seed Transformation Program in 2014 provided Oye with training and expert coaching that helped him scale his businesses, which today include several renewable energy portfolio companies within SMEFUNDS, an international NGO dedicated to increasing access to finance, renewable energy, affordable housing, food security, and technology services to disadvantaged low-income individuals across Africa.
And Oye is not alone. Participation in the Seed program has led to widespread revenue increases and job creation, starting a ripple effect that has expanded well beyond the immediate regions in which the Seed programming takes place. All told, participating companies—which range from a flower farm that grows roses for export across the world to a company that manages parking lots to a retail fashion enterprise—have raised almost $11 million in funding, and 79 percent have grown their customer base, Stanford Seed reports.
With last month's announcement of Seed's planned Indian expansion, excitement runs high that the program will continue to spread greater economic prosperity to more parts of the world. The Chennai location in India will serve entrepreneurs from across the country, and the first annual program will take place from August 2017 to August 2018 at the state-of-the-art Infosys corporate campus.
"I have spent my entire career fighting poverty, and what I have learned is it is really a multi-dimensional issue requiring a multi-faceted response," Teter tells Clear Admit. His prior work has made him intimately familiar with the many challenges an entrepreneur might face in a developing country—from access to infrastructure to governance to corruption to the inability to enforce a contract through the courts. "These are the structural barriers entrepreneurs face in Africa and Asia—and Stanford GSB provides the other piece, which is a really long and strong history of directly promoting entrepreneurial ability."
Whereas in his prior work he tried to confront some of those structural barriers, at Seed he will have the opportunity to work directly with the engine of growth—the actual entrepreneurs. "At the end of the day, the only sustainable solution to poverty is jobs—so, basically, this was a once-in-a-lifetime experience for me," he says. And he jumped at it.
Stanford had been searching for some time for just the right person for the role. Jesper Sørensen, faculty director of Seed and a professor of organizational behavior at the GSB, served ably as executive director from 2015 to 2017, but the roles of faculty director and executive director were intended to be filled by two people. Teter will continue to work closely with Sørensen, as well as with Raj Chellaraj, associate dean for finance and administration at the GSB, who served as chief operating officer of Seed alongside  Sørensen.
"We've made great strides with Stanford Seed over the past five years and I look forward to the continued momentum under Darius' leadership," Sørensen said in a statement.
Those who have worked with Teter in the past agree that Stanford Seed is the perfect fit. "Darius will bring to Seed a broad and unique understanding of international development issues gained through his work at a multilateral institution (Asian Development Bank), a U.S. government development agency (Millennium Challenge Corporation [MCC]), and a leading non-profit (Oxfam)," says John Hewko, MCC vice president who today is general secretary of Rotary International, an international service organization that brings together business and professional leaders from all over the world. "Darius' work at MCC, which focused on using U.S. development assistance to foster private sector-led sustainable economic growth in low-income countries, is particularly relevant to expanding Seed's mission to support greater economic prosperity through leadership and innovation training in developing countries."
Excited to Go Back to School
The return to a university setting is personally and professionally exciting for Teter, who hasn't been associated with one in 25 years, he says. He does hold a bachelor's degree in history from Yale University and a master's degree in public policy from Harvard Kennedy School and also completed advanced studies in resource economics at the University of British Columbia.
"I've never been connected to a business school—so that is super exciting," he adds. "I am astounded by all the faculty who are dedicating their time and energy to take the business school to the entrepreneurs," he says, referring to those involved with the Seed program. "Just as it is for the entrepreneurs, to be exposed to that high level of business training is a unique opportunity for me, too."
In order to land the job, Teter went through several rounds of interviews, including with the team he will now lead as well as Stanford GSB Dean Jonathan Levin. "One of the things Dean Levin said to me is 'The problem is not a shortage of funds if you have a good idea,'" he recalls. "That is a really rare thing to hear—especially when you're coming from the nonprofit world."
As for his plans for Seed once on board—he starts August 21st—Teter was quick to point out that the most important thing up front will be to spend time with the Seed team. "I want to be humble and learn from them," he says. Longer term, he does hope to scale the program either in terms of reach or impact or both. "I'm interested in trying to reach more participants in more countries," he says, noting that Seed in Africa to date has been largely limited to participants in Kenya, Ghana, and Nigeria. India, too, is vast, he notes, and offers lots of opportunity for expansion. "Having a center in Chennai is a good start, but how do we think about other tools and mechanisms we can use to increase our reach?"
In terms of scaling the program's impact, Teter believes there is research and learning that can be done around which sectors and industries are most able to generate jobs for those living at or below the poverty line. Finally, in the future, he's also really interested in developing more corporate partnerships. "Seed clearly benefits entrepreneurs, but those benefits also flow to the wider business infrastructure in those parts of the world," he says, which suggests promising corporate partnership potential.
Though new to business schools and to Stanford GSB, Teter is well aware that it happens to be the most difficult MBA program in the world to get into. "You simply can't bring all the qualified future business leaders to Stanford—it's just not possible," he says. "But the fact that Stanford is willing to take what it has to offer to the entrepreneurs where they are in the world—that is remarkable."
Don't miss these previous stories on Stanford Seed from the Clear Admit Archives:
Stanford Seed Program Builds on African Success, Expands to India
Stanford Graduate School of Business Receives Largest Ever Alumni Gift to Combat Poverty in Emerging Markets