Like many top business schools this time of year, the Haas School of Business at the University of California at Berkeley is welcoming its incoming class of MBA students—but at Haas it's a bigger group than ever before moving into brand-new digs that promise to be among the greenest in the nation.
There are 284 students in the entering class—32 more than last year—which brings what has long been the smallest leading business school more in line with some of its peers. Plans for next year include additional expansion, to a class size of 300. The grand opening of a new academic building—in progress for the past decade—made increasing the class size possible.
"The intimacy of the class is really an important part of what Haas is about," Dean Richard Lyons acknowledged in a June interview with Clear Admit. But at just 250 students, where the school has hovered for many years, it has been a gross outlier—a mere third the size of Wharton and not even a third the size of Harvard. "Part of the reputation of the school is a function of its scale, and there are times where you are just not at the right reputational scale—you're too small," Lyons continued. "It's a super intimate experience—there's no question about that—but target companies want to go to a place where there are enough people graduating that they can send a team of recruiters, for example. If you are too small you are below the threshold."
"We Don't Want to Lose the Smallness That Makes Us Unique"
Precisely because the intimacy and close-knit nature of Haas is such an integral part of its culture, the administration, including the admissions team, has approached the process of increasing the class size carefully and thoughtfully. "I think people would be surprised by the amount of care that has been taken to consider potential ramifications," Peter Johnson, assistant dean for the full-time MBA program and admissions, tells Clear Admit, adding that his team considered necessary adjustments of everything from budgets to graduate student instructors, program office staff to career coaches. "We have been very intentional about it because we don't want to lose the level of smallness that makes us unique. A lot of our students were very concerned that it not change the experience for future students."
Not only is the incoming class larger than any before it, it is also one of the strongest academically, Johnson says. Average GMAT scores and GPAs have risen over each of the past three years. The average GMAT score this year was 725—a jump from last year's 717—and the average GPA climbed, too, from 3.64 to 3.71. Application volume also increased this past year, which meant that though the school admitted more students overall to increase class size, the acceptance rate remained constant at 12 percent. HBS, by comparison, generally accepts approximately 11 percent of its applicants.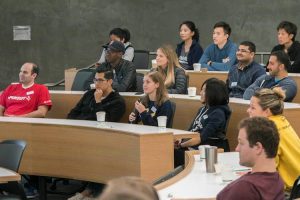 The incoming class includes 40 percent women, up slightly over last year though still off from the record 43 percent that made up the Class of 2016. International students drawn from 42 different countries make up 39 percent of the class, up from 38 percent last year. Haas leads HBS, Wharton, and Kellogg in this metric, whose incoming classes are all around 35 percent international. Despite concerns that talk of potential immigration and visa reform under the current administration could have a chilling effect on international application volume, applicants from abroad applied in equal numbers this year as last, Johnson notes. U.S. minority students comprise 29 percent of the class, down from 32 percent last year.
In terms of what they did before coming to Haas, members of the Class of 2019 are an incredibly interesting bunch. Among them are a business development manager from Intel who led development of Google's self-driving cars, an investment banker who ran from San Francisco to New York City over the summer to raise money and awareness of ALS in honor of his grandmother, a Bain consultant who earned four culinary diplomas in her spare time, a student from Nepal who helped senior political leaders and ex-ministers from five major parties negotiate a new constitution, and the founder and CEO of an Indian irrigation company that saves 4 billion liters of water annually while enabling smallholding farmers to produce 10,000 additional tons of food per year.
A quarter of the incoming students worked in consulting prior to Haas, and another 20 percent worked in finance. In terms of undergraduate degrees, 42 percent studied business or economics, 36 percent hold STEM degrees, and 8 percent graduated with degrees in the humanities.
"Top students from around the world with diverse backgrounds and amazing accomplishments continue to choose us for our distinctive culture," Morgan Bernstein, executive director of full-time MBA admissions, said as part of an article on the Haas website. "No one else has the culture and community that we do."
Chou Hall Aims to Be Nation's Greenest Academic Building
The Haas Class of 2019 is the first to inhabit the newly opened Connie & Kevin Chou Hall, an 80,000-square-foot facility that boasts state-of-the-art classroom technology, flexible learning spaces, and features such as efficient heating, cooling, and lighting systems. These, in addition to rainwater cisterns and 24,300 square feet of exterior windows, helped it earn both LEED Platinum certification and WELL certification (an additional accolade applied to buildings that promote the health and well-being of their users).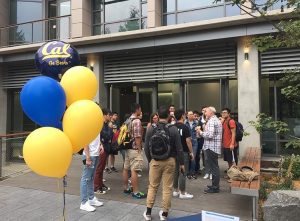 The building bears the name of Kevin Chou, BS '02, founding CEO of mobile gaming company Kabam, and his wife, Dr. Connie Chen, in recognition of their $25 million donation, the largest to date from an under-40 alum. The remaining funds for the $60 million building also came entirely from alumni and friends of the school.
In addition to LEED Platinum and WELL certification, Chou Hall has been designed to divert 90 percent of waste—including through the mandatory use of reusable mugs and water bottles that can be replenished at filling stations and compost and recycling bins on every floor—which will allow it to achieve zero waste certification by summer 2018. This would make it the first business school in the country to do so.
There are no places to dispose of other types of trash—encouraging those who use the building to adopt a "'pack-it-in, pack-it-out' mentality," according to Courtney Chandler, senior assistant dean and chief strategy and operations officer. "It might take a little getting used to, but we don't think it will be hard for the Haas community—we're all about questioning the status quo and redefining business-as-usual," Chandler said in a story on the Haas website, referring to two of the school's defining principles.
The building includes eight tiered classrooms and four flexible classrooms, totaling 858 new classroom seats, as well as 28 student and meeting rooms. This provided the much-needed additional space Haas required to expand its class size. A sixth-floor event space will open next month, and a café offering sustainable, locally sourced food—what else—is slated to begin serving students in early 2018.
For more on Haas's new Chou Hall, click here. For Haas's complete class profile, click here. And if you're thinking of applying to Haas in the upcoming application season, be sure to get your copy of the Clear Admit Haas School Guide to help you prepare.