The official University of Virginia Darden School of Business Class of 2019 profile is now out, revealing one of the most diverse groups of MBA students the school has ever welcomed to campus. This record-setting incoming class helps underscore Darden's core values of diversity, inclusion, and respect against the backdrop of the recent violence in Charlottesville.
As Dean Scott Beardsley encouraged the new class in a welcoming speech, "I'd ask all of you, no matter where you were born, go out of your way to support your colleagues and get to know each other one level deeper."
While only 326 full-time MBA students make up the Class of 2019—down 19 students from last year's figure of 345 students—36 percent were born outside of the United States, compared to just 33 percent in 2018. These 117 students—four more than last year—came from 36 different countries around the world.
As for the percentage of women, it remained at 39 percent for the Class of 2019—tied with last year, which was the record for the highest percentage of women in the full-time program. Also steady from the year before was the percentage of domestic minorities, 20 percent.
One other improvement for the Class of 2019 was the average GMAT score. This year, it reached its highest level ever, 713—one point higher than the score of 712 recorded for the Class of 2018.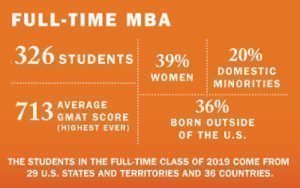 Dual MBA and Master of Science in Data Science Program
Another change to the Darden Class of 2019 was the new dual-degree program with UVA's Data Science Institute: the new MBA/Master of Science in Data Science (MBA/MSDS). The new program welcomed seven students into its data-intensive curriculum.
The two-year program will aim to provide the training and tools necessary for students interested in gaining a deep knowledge of data science tools, which can benefit a variety of career fields from marketing to consulting and technology.
In a press release, Darden professor Raj Venkatesan, the faculty lead for the dual degree program, spoke about what it will bring to the school.
"This new dual degree represents an incredibly exciting development for the Darden School and prospective students," he said. "There is a clear demand from students for this kind of analytics-driven curriculum and from organizations for employees who can harness the almost limitless power of Big Data to develop new business models. These graduates will be coveted hires and become indispensable leaders."
This is the seventh dual degree program to be offered at Darden and the first with the UVA Data Science Institute.
Executive MBA Class of 2019
As for the Executive MBA Class of 2019, there were a few notable changes as well, including an increase in the number of women to 29 percent from 25 percent in the Class of 2018. Other differences included an increase in class size from 120 to 129 and a large decrease in domestic minorities, down from 24 percent in the Class of 2018 to a mere 14 percent in the Class of 2019.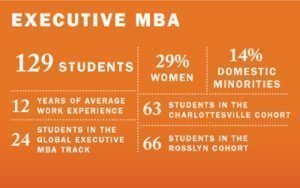 To see how the UVA Darden Class of 2019 stacks up to other top programs including Harvard Business School, don't miss this earlier Clear Admit story.