To kick off the second half of the season 9 premiere of ABC's Shark Tank, Rohan Oza, a '97 University of Michigan Ross School of Business MBA, joined the panel of judges as a guest. Oza is an entrepreneur who has found incredible success in the food and beverage industry. Today, he's dubbed as "Hollywood's Brandfather" and is considered a global pioneer of celebrity equity deals that have transformed many consumer products into household names.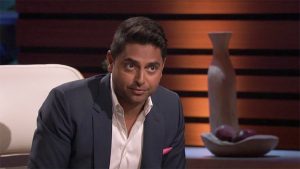 Oza first got his start at the Coca Cola Company, where he spent six years before leaving to become a partner and the chief marketing officer at a fledgling company named Glacéau. It was there that he was responsible for turning Vitaminwater and Smartwater into global brands by pioneering partnerships with celebrities such as 50 Cent, Jennifer Aniston, LeBron James, and Tom Brady. Five years later, the Coca Cola Company purchased Glacéau for $4.1 billion.
After that, Oza began a successful venture career, co-founding CAVU Venture Partners in 2016. Within four months, CAVU raised more than $156 million for its first fund and another $210 million in under a month for its second fund. Over his career, Oza has been responsible for identifying many popular brands including Vita Coco, popchips, Chef's Cut Real Jerky (the fastest-growing jerky in the country), and Bai Brands (sold to DPSG for $1.7 billion in 2017).
The New York Times described Oza as "a magical figure who captured people's attention in ways that many other corporate folks couldn't," and this was evident during his time on Shark Tank. During his segment, the show featured Oza's quick success in the branding world and spoke about how he sought out one of the best educations by going to Michigan Ross. During the episode Oza also had the opportunity to get involved in a heated back-and-forth with a growing snack chip company, Jackson's Honest, eventually agreeing to invest $1.25 million.
As for his appearance on the show, Oza said in a blog on the Michigan Ross website: "I always look for stuff that's breaking the mold of what's out there today." And he told Business Insider, "Look, I love Shark Tank. The experience was amazing. I feel that America is one of the greatest countries in the world to be an entrepreneur, and what Shark Tank does is it taps into and fuels that entrepreneurial spirit. So, I loved the energy that came from funding people's dreams and building iconic brands."
Oza also spoke to Business Insider about his time at Michigan Ross,. "I'm glad that I went to Michigan because Michigan's network is unbelievable…the network that I built and the opportunities I got from Michigan were amazing," he said. "I think that people should go to business school if it's the right fit for them. I.e., 'I want a change of career. I want to expand my network. I want to better understand some of the fundamentals as it relates to building and managing businesses.' I think business school is very valuable for those elements, and if that is what you need to do, then you should go to business school."