We recently had the opportunity to speak with Shelly Heinrich, the interim associate dean of MBA admissions at Georgetown University's McDonough School of Business. She has capably stepped in to lead the team since Shari Hubert left to lead admissions at Duke's Fuqua School of Business earlier this fall. With more than 13 years of experience in the higher education, corporate, and nonprofit sectors, Heinrich is currently responsible for leading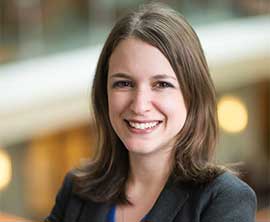 Georgetown's MBA admissions team in marketing and operational strategy while also building awareness of and recruiting for the full-time and evening MBA programs.
Heinrich shared a number of new and exciting things happening at Georgetown McDonough and spoke with us about the Georgetown community and its role in the MBA experience. She also talked with us about the application process and a new interview question introduced this admissions season. We'd like to thank Heinrich for her time and responsiveness.
Clear Admit: What's the single most exciting development, change or event happening at McDonough this coming year?
Shelly Heinrich: There are a few things that I'm really excited about. One is that this is the second year of our Executive Challenge. Last spring, we launched an Executive Challenge for our first-year MBA students. It's a one-day event that's the culmination of one of their core leadership classes and is a way to deliver leadership education outside of the classroom.
One day in the spring, we bring more than 100 Georgetown executive alumni to be a part of the students' transformational experience. Imagine all of our first-year students dressed in suits at 7:30 in the morning. From there, they are broken up into teams and are given various case studies that they have to examine as a team. They have to assess what the problem is, develop a solution, and articulate the solution in front of a panel of judges, which are our C-suite level alumni. It's a competition, and people advance through various rounds until there's a clear winner at the end.
The best part of the day is the fact that the alumni are here not just to check a box and say great job, but they give the students feedback on what they did well and what they need to work on. When our MBAs enter into their post-school jobs, they're going to be tested and they're going to need to deliver. This is the time in the MBA experience to get that constructive feedback. Students are overwhelmingly excited about what they learn during the day.
Secondly, we have a new dean. Dean Paul Almeida started on August 1st, but he's been a part of Georgetown for more than 20 years. His focus is on strategy and innovation, and I think this is a key to business school education. So many things are rapidly changing in the world—look at technology, look at all the different jobs in automation and analytics—and schools have to think innovatively about how they are delivering their education. Dean Almeida is perfectly positioned to do that. We got overwhelming support from both alumni and students who have had him as a professor, which really builds up the Georgetown community. We are excited to have him.
CA: What is the one area of your program that you wish applicants knew more about?
SH: I wish more students knew about our hands-on learning approach. I love how our program delivers well in the classroom, but it also gives students the chance to learn experientially. For example, we have the Real Estate Clinic, where students are investing real money and underwriting for a real estate project. We also have the Venture Fellows Program, where students earn both academic credit and an internship stipend for being a part of a venture capital firm. And then we have the Global Business Experience, where students consult for an international client over the course of six to eight weeks.
It's interesting to note that the students who participate in the Venture Fellows Program may or may not end up going into venture capital, but it's important to learn how to pitch ideas and ask for resources. No matter where you're working today, you have to be able to do that. You have to learn to be concise and to have good communication skills, and the Venture Fellows Program allows students to really hone in on those skills.
I also love our community and our collaborative feel. I'm always impressed by the high caliber of students who are admitted into the class. In group projects and classes, students are sitting next to students who are part of some of the most influential companies in the world. Our peers challenge each other to exceed expectations. There's a big community effort to thrive together.
Although business school can be stressful, and it should be, we also have a lot of fun traditions at Georgetown. That's one of the most exciting parts of our MBA experience. We have an International Festival that sells out every year, a Diversity Week where we highlight different areas of diversity in our community, and Service Treks to different countries. These service treks take students to countries like Mexico, where for a week they will help with various organizations focused on the community—such as a daycare. We also had a recent ally campaign for our LGBT community. I love this because people want to be a part of something greater than themselves.
CA: Walk us through the life of an application in your office from an operational standpoint. What happens between the time an applicant clicks "submit" and the time the committee offers a final decision (e.g. how many "reads" does it get, how long is each "read," who reads it, does the committee convene to discuss it as a group, etc.).
SH: Once an applicant clicks submit, our admissions committee starts working to make sure that the application is complete. Our committee and team then begin to read the file. We highlight, circle, and pull out different components to try and build a fit of a candidate in a holistic way. It's not just about their academics but their work experience, their life, and personal experiences. Mainly, we're trying to discover who our applicants are.
Then, we start inviting people for interviews—it's invite only. Our interviews are completed with the purpose of learning more about who the applicants are outside of paper. We do interviews on campus and on Skype. We also travel to different countries and cities hosting interviews. We have a team of interviewers including our admissions staff, our student ambassadors, and alumni. (Interviews are all weighted equally, regardless of who conducts them.)
Then, the Career Center even evaluates an applicant's file. The Career Center experience is a large component of the MBA experience, and so our 14 career coaches are here to help.
Finally, as it gets closer to decision day, we as a committee are meeting again and again, reviewing files, touching a person's application many times. It's a very exciting time. We know it can be stressful for candidates, but there are a lot of opportunities while waiting to further learn about the school and get engaged.
CA: How does your team approach the essay portion of the application specifically? What are you looking for as you read the essays? Are there common mistakes that applicants should try to avoid? One key thing they should keep in mind as they sit down to write them?
SH: This is the first year of the essay question, "Describe a defining moment when you were challenged and exceeded expectations." We thought about this essay question a lot. We feel that our students, when we admit them, are capable of greatness. Wondering what they can achieve isn't enough. They come to McDonough to see what they're made of—rolling up their sleeves with grit and determination. We want to understand a time in applicants' lives where they were challenged (pushed outside of their comfort zone) and they didn't know what the end result would be. We want to learn how they worked above their pay grade to exceed expectations and succeed. These are the type of people we want in our classroom.
The other essay is a video essay for applicants to introduce themselves to their future cohort. We're looking for a blend of both professional and personal. We realize that there is an entire admissions committee reading their file, and we want to give everyone a glimpse into what an applicant is saying. It also allows us to see them in a real and relaxed environment—to show us who they are. It's a one-minute video. 
CA: Is there anything else you'd like to share about McDonough or the application process?
SH: Today, there are so many different options in graduate management education, but I think the value of the MBA experience is so unique. When you think about the degree, it's not just the classes you take—that's just one component of the experience.
The MBA Career Center component is very important. You come to school already with a résumé and a cover letter edited. You've already spoken with your career consultant about what you want to do, and you start recruiting for your internships the first month you're on campus. You can meet with and practice your interview skills as much as you want. Our students also travel to different career fairs and treks. In any other time in your life, you're not going to receive the same level of personal attention focused on your career transformation and development as you will as part of an MBA program like Georgetown's.
We also have an amazing student experience. Not only do we have more than 40 clubs, but there are also 350 board positions—a board position is a VP of marketing or something similar—for about 270 full-time and 130 evening MBA students. That means there are a lot of opportunities for students to gain leadership positions and to leave the program better than they came in.