As a first-year MBA student at Washington University's Olin Business School who was born and raised in Owerri, Nigeria, Ony Mgbeahurike saw a need to bring Africa into the business conversation. Only a few of his fellow MBA students came from the African continent, and he realized that there was a genuine lack of information on Africa and the opportunities available there. So, to bridge the gap, he developed the Olin Africa Business Club (OABC).
OABC is a student-only club with the goal of increasing awareness of the business opportunities, culture, politics, and economic potential in Africa. To do this, Mgbeahurike recruited his fellow African students—Matilda Thomas, Sharon Mazimba, Chioma Ukeje, Eric Ontieri, and Ubaka Ugbunude—to launch and become founding members of the club.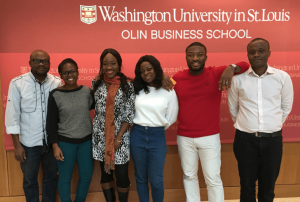 "While applying to Olin, I realized there were many student clubs, but none related to business in Africa," Mgbeahurike said in a news release on the university's website. "I realized there was an opportunity to create an organization that could promote Africa and be a partner in achieving Olin's mission and vision as a truly global school."
While the main goal of OABC is to raise awareness about Africa on campus, there are other aims as well. One is to help recruiting and admissions by serving as a resource for prospective African students. The club also hopes to bring Africa into the curriculum by encouraging professors to include topics on African economics and the business landscape in the classroom. It also hopes to expand on existing experiential learning opportunities in Africa, such as a CEL Practicum in Madagascar and Global Management Studies.
Finally, the OABC's goal is to encourage students to explore potential career opportunities in Africa. They plan to collaborate with the alumni network to help extend employment options outside of the United States.
For MBA students and candidates who might not know the opportunities available in Africa, the OABC offers just a few quick facts:
According to a McKinsey report, African consumers will be spending $2.1T by 2025
The United Nations predicts that one-fifth of the world's population will live in Africa by 2050—with 44 percent being youth.
Many companies currently invest in Africa, including Uber, McKinsey, GE, P&G, Nestle, Danone, and Unilever.
To learn more about the Olin Africa Business Club, visit the website.