Sponsored Content
We recently spoke with Jeff McNish, assistant dean of career development at the University of Virginia Darden School of Business. McNish joined Darden to lead its Career Development Center in 2016 and hit the ground running. An expert in higher education and careers who most recently served as head of the career center at the University of North Carolina Kenan-Flagler Business School, McNish and his team are devoted to student success, cultivating an individually tailored approach that begins before new students even step foot on Darden grounds.
Clear Admit: What role does the Career Development Center play in the life of a Darden student?
Jeff McNish: An extremely active one. Career advancement is the number one reason people come to business school, so we know our mission is critical. We provide high-touch, individualized support to each one of our students and begin communicating with incoming students about their career goals before they even arrive on grounds at Darden. We also partner with student-run career clubs to provide advice and resources to best serve their members. For example, we have coordinated and planned career education workshops with clubs to help their members prepare for upcoming interviews. Additionally, over a decade ago Darden started the CDC Second-Year Coach Program. This program serves as an extension of the CDC to first-year students to advise them on the MBA job search process.
CA: Darden has developed a reputation as a consulting school. Is that accurate?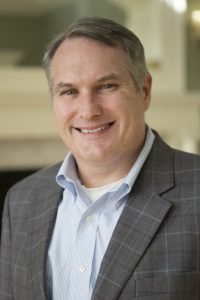 JM: Consulting remains one of the most popular career track for our students, and we consistently see that Darden graduates are coveted for the holistic, enterprise-wide view they bring to that field. That said, we see students go into a number of other industries. The interest in tech has continually risen over the past  three years, and we've seen how well prepared our students are to make a difference in tech. We also have a burgeoning entrepreneurial ecosystem at Darden with top rankings, renowned faculty, and scores of viable companies demonstrating our strength.
CA: What types of companies hire Darden graduates and come to recruit at Darden?
JM: We see many of our top hiring companies spread across the consulting, financial services, and technology industries. However, we also see companies come to recruit at Darden from a diverse set of industries and functions. McKinsey, BCG, Amazon.com, General Mills, Credit Suisse, Goldman Sachs, Johnson & Johnson, Google, E. & J. Gallo Winery, Chevron, CIGNA, Travelers, and J.P. Morgan are just a few companies from the list of Darden hiring companies for the Class of 2017. Microsoft was our top hiring company this year, which I think might surprise a lot of people. Although Charlottesville may not be in a major metro area, we are a mighty school in a great city, and we see employment outcomes that equal what a top MBA program sees in a major city. Many top companies travel to Darden to hire for amazing opportunities across the United States and globally.
CA: Why do companies seek out Darden graduates?
JM: Companies come back year over year to hire Darden graduates because they have experienced the impact Darden grads make on their company. The impact a Darden grad makes begins on day one, and I think that has a lot to do with the unusually pragmatic preparation that Darden students receive both inside and outside the classroom. Darden develops strong and effective managers: Of course, our students can run the cash flows, do the regression analyses—and master all the skills you'd expect to find in a b-school grad's repertoire, but they are also truly ready to lead, and that's one reason why Darden is consistently ranked a number one general management MBA program. Employers have reported that our graduates stand out for their leadership, teamwork, and communication skills.
CA: How does a career center adapt to the rapidly changing business environment?
JM: We continually seek feedback from students to ensure we are meeting student needs. As change happens rapidly in business, we are adapting our career services model and how we serve students and employers. For example, we are adding three senior directors to our team in career fields that are popular with our students and emerging in popularity. We are also constantly evaluating our technology and ensuring it best meets student needs. This year we moved to an even more sophisticated career management system and have heard great feedback from students. As we expand staff and tools, we stay 100 percent committed to the personalized preparation that our students expect, and I think we are uniquely equipped to deliver—which is central to the overall culture at Darden.
CA: How do you measure success?
JM: Success to us is connecting students with opportunities at the organizations they want and teaching students about how to manage their careers after Darden. We want to see students landing their dream jobs—with the salaries they deserve—but for most this job search won't be the only job search they have over the lifetime of their careers. I think it's important for us to help students master the art of seeking a job and truly prepare them for a lifetime of meaningful work and continued career advancement. It's worth mentioning that thanks to the generosity of our alumni, Darden graduates receive career support for life, at no charge.
CA: What advice would you offer to prospective MBA students as they consider schools that can best prepare them for their career?
JM: It is important to also take a look at the strength of a school's network and potential lifelong connections it can offer you. Your classmates are connections that you will have for life after graduation. Networking has become essential in today's job search. The Darden network is very powerful with more than 15,000 alumni in 91 countries across the globe providing our students with infinite networking opportunities. And responsiveness counts for a lot: We consistently hear stories of how a Darden student will reach out to alumni they've never met and every call is returned. We've even heard of alumni proactively reaching out to help students they've never met. You just don't hear about that kind of responsiveness across the broader set of business schools.
CA: You've led career offices in other business schools and you've now been at Darden for over a year. Does anything stand out to you about Darden?
JM: The dedication of the entire Darden community to student success is unlike any other I've seen. From the Darden faculty who prioritize the classroom environment above all else to the student-centered staff to the student support for their peers, it's an environment of people who truly care about shared success. And as I've mentioned, the strength and responsiveness of the network cannot be overstated—you'll never meet an indifferent or unhelpful Darden alumnus. Multiple times, I have witnessed a Darden alum dropping everything to lend a hand to a student.