The MBA Juggle: An Anderson Student on Balancing Social, Academic, and Career Aspects of B-School

Fridays from the Frontline
Before coming to UCLA Anderson School of Management, first-year MBA student Julie Mills worked as a customer success manager at software-as-a-service provider Wrike and served in the Peace Corps in the eastern Caribbean. She's hoping to advance her career in technology upon graduation, and in a recent blog post she shared how tech has taken off at Anderson over the past eight years thanks to the increased presence of MBAs in the industry, valuable partnerships with companies for on-campus recruiting, and the tight-knit community of Anderson students and alumni.
The recruiting opportunities Mills has had at Anderson have already been plentiful—but recruiting is just one aspect of her MBA life. And now, with a semester of school under her belt, Mills can better appreciate what second-year students told her about the MBA juggle to balance the social and recruiting aspects with the pressures and opportunities of academic classes. Read on to learn about how all three have vied for her time and what she's learned along the way and come to value the most about each. Our thanks to Mills and to Anderson for giving us permission to share her experience with the Clear Admit audience.
The following post has been republished in its entirety from its original source, the UCLA Anderson MBA Insider's Blog.
The MBA Juggle: One Student's Reflections on the Anderson Experience
By Julie Mills, MBA '19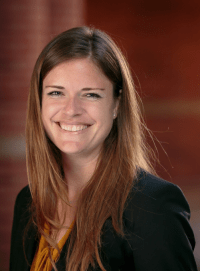 As I come back from Winter Break and the holidays, it's a good time to recognize how happy and thankful I am to have joined the UCLA Anderson community.
When you come to business school, second-year students will tell you to juggle social, class, and recruiting. The three prominent aspects of MBA life will vie for your time and, based on personal decisions, you will determine the focus areas. The social, class, and recruiting aspects also provide a good framework to describe my business school experience and relationships formed.
CLASS: I am drawn to learn when my professors are invested in making me successful. Professors have spent time outside of office hours to explain derivatives in economics or calculate the probability in binomial distributions in statistics. And, professors always seek to keep the conversation relevant and bring in their own research, whether it's debating Peter Thiel's ideology on monopolies or showcasing how Nortel Networks hid losses through accounts receivable reserves. Professors are passionate about their fields and want to channel their knowledge to help make future business leaders.
The opportunities for learning are at your fingertips whether through official tutoring and office hours or unofficial help from a friend. Classmates have volunteered to catch me up on a homework assignment, explain economic intuition, or spend time post review session going over a tricky accounting problem. One of our mottos at Anderson is "Sharing Success,"and even in class we are really just competitive with ourselves. Before starting a midterm or final, I will often hear "Go Section B."
I am thankful for the amount of knowledge that my brain has soaked up in the past five months. Never having taken accounting, I have gone from zero to mastery over the basics in a six-week period. (Mastery may be a strong word, but I'm going with it.) I am constantly challenged by myself and my community of professors and students to think in the next.
SOCIAL: You know you love your section when….all 70 of you cram in a 150-square-foot karaoke room because you just can't stand splitting up. That may have happened during summer quarter, but my section-mates still tend to find each other in the crowd at Anderson Afternoons. For a little context, Anderson Afternoons is an event every Thursday where students can connect over food and drinks on campus. It's hosted by a student organization or company, and we recently feasted on King's Hawaiian and celebrated Diwali with the South Asian Business Association (SABA).
In addition to my love for Section B, I am also thankful for my learning team. While my learning team is my small group for classwork, they are also the people that I play tennis with, travel to the Bay Area for "Days on the Job," and dress up in 90s outfits for our end-of-the-summer quarter celebration. On first appearance, we are a pretty diverse group in thought and appearance, having an architect from Japan, a physicist who studied black holes, a member of the Obama administration, an actuarial, and an M&A specialist. But after the initial weeks of figuring out learning styles and playing to each other's' strengths, we have become a tight-knit group of friends.
I would be remiss to not call out my roommates. My roommates, second-year Anderson students, have helped me navigate business school and become my L.A. family. I am thankful for the end-of-day check-ins where they provide emotional support and encouragement. Wish I had them both for another year.
RECRUITING: Chatting with Anderson alumni at the Seattle Tech Mixer felt unlike any other networking event: It felt like I was being welcomed into the alumni community. There is a genuine sense of helpfulness from UCLA alumni who want to give us the insights to guide our career decisions and/or pave the way for Anderson MBAs to join their companies. Alumni come back to campus through career nights, on-campus recruiting sessions, and Dinners for Eight. And during the fall quarter, we travel to them to visit companies of interest through our week-long Days on the Job program. Conversing with alumni tunes me into their company and functional areas and also gives me a picture of my future in the next two to five years post-business school.
There are all the moments leading up to alumni and company visits that helped shape my recruiting decisions. Parker Career sessions started in August, with exercises and assessments to identify potential industries and functional areas, one-on-one career advising sessions that inform my networking approach, and mock pitches and resume reviews. The hands-on help coupled with the responsiveness of second-year students to requests for coffee chats informed the types of companies and roles that jive with my interests.
I am thankful for the efforts being made by alumni, students, clubs, and the Parker Center to increase access and ready me for a career in technology. Tech has taken off at Anderson in the past eight years, and that is because of increased presence of MBAs in the industry and the trailblazing partnerships with companies for on-campus recruiting. The tightness of the Anderson community continues to pave the way for new and emerging opportunities in tech.
The relationships formed at Anderson are the glue in that hold the community together. I am thankful for the experiences provided in recruiting, classes, and social events that serve to strengthen that bond. It's been a whirlwind four months and, in reflecting back, I am amazed by how fast I have integrated into the Anderson community. Can't wait for the next year and a half.
[jetpack-related-posts]