The race for superiority in the global electronic payments market is a heated one. Every major credit card company has pulled out all the stops to persuade consumers to embrace digital transactions as their primary payment method—and they are going to need all the help they can get. It's one of many reasons why major companies like Visa are always recruiting MBAs.
Companies rely on a mixture of seasoned veterans with an understanding of the foundation of their business and an influx of fresh thinkers with a finger on the pulse of digital commerce and a desire to change the global economic landscape. Simply put: The future looks bright for prospective MBAs with data science backgrounds.
Why MBA Students Should Be Interested In Visa
Visa, Inc. has been at the forefront of the evolution of the credit-based digital economy since its founding in the late 1950s. The Fresno, CA–born credit card behemoth works closely with business schools to recruit the best and brightest looking to make their mark on the industry. They are "the world's largest electronic-payment network, with 44 million merchants and 3.2 billion cardholders, representing more than half of global card transactions," according to BottomLineInc. Visa has maintained this stature by handling the payment processing for other giants such as Apple and Alphabet, not to mention other popular fund-transfer companies such as Venmo and PayPal. And in 2015, Visa ranked "among the top employers in the Careers in Africa Employer of Choice 2015 Top 100," according to Careers in Africa, with the "unbanked" portion of that continent's population representing a huge untapped market.
Visa's Methods of Initiation
According to Visa's careers page, the company longs to dream up "new ideas and gain exposure to some of the most advanced tech in the industry." Visa hopes to expand society's concept of commerce by turning "wearables, devices, and even cars into new ways to pay." Visa provides 10- to 12-week internship programs for MBA students to experience the ways in which its business develops projects. Internships also provide networking opportunities and exposure to some of the executive happenings in the company.
Visa also provides a New Graduate Development Program that consists of four six-month assignments with possibilities of international rotation. Visa states that its "Global Technology Talent Acquisition team is focused on delivering best-in-class recruiting service," for its technology organization, which is "undergoing a significant transformation in the way that [they] build, manage, support, and productize [sic] technology."
Based on a Glassdoor poll of 717 individuals, reviews of Visa's recruitment process showcase a balanced 50/50 interest in campus recruiting and independent online applications. Interview questions range from the subjective, "What is your idea of success?" to more relevant, situational challenges based on market sizing, corporate strategy, and innovation. "While Visa operates in over 200 countries and territories, with a market cap of more than $170 billion USD, we're a tightknit team of just over 10,000," reads the company's description on Vault, adding that it is providing opportunities around the world for individuals to "make a massive impact in the field that most interests you."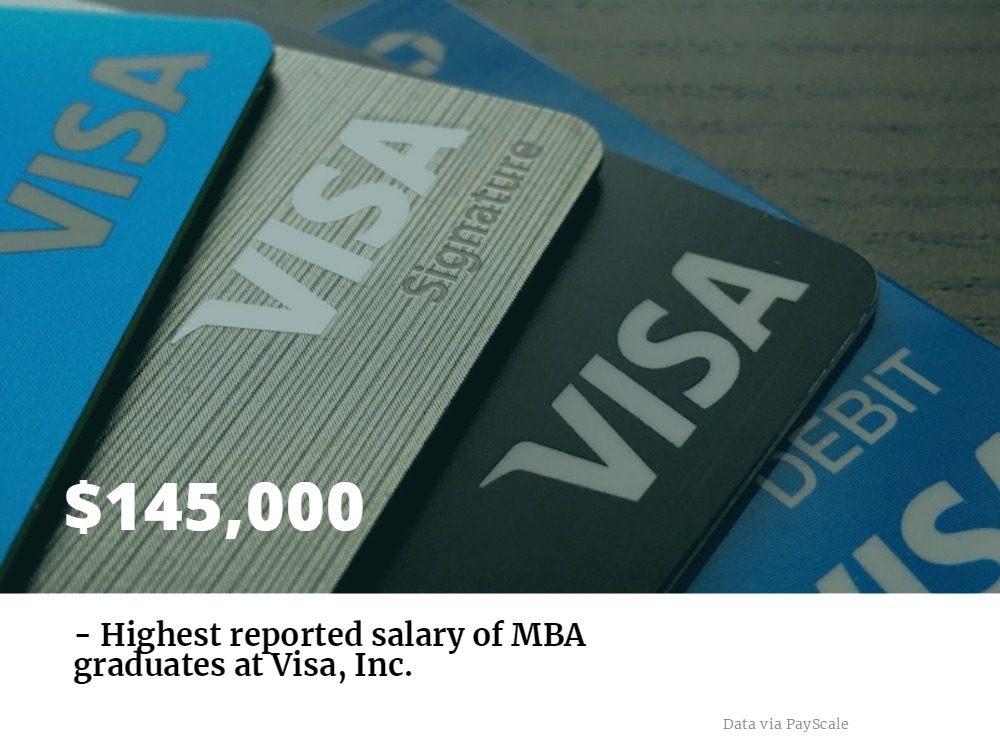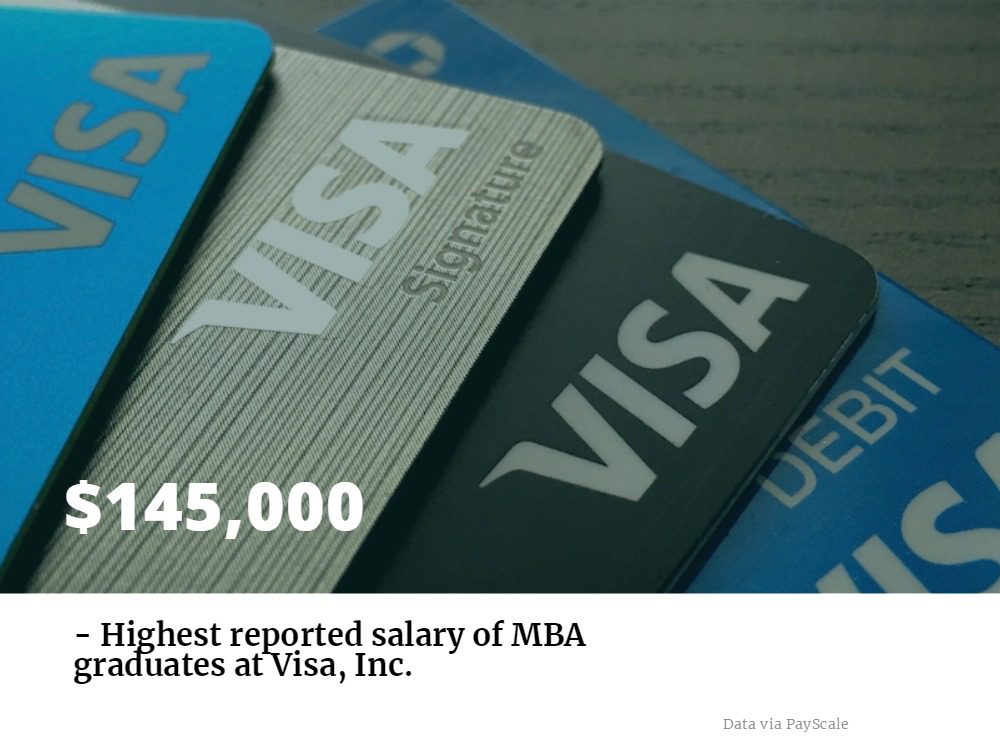 Average Visa Salaries
Culled from Quora, PaySa, PayScale, Transparent Career, and Glassdoor:
Annual Base Salary: $130,000
Bonus: $18,750
In addition to compensation, the size and global opportunities Visa provides still make it a competitive career path for MBAs. If you're interested in global expansion, opportunities to travel, and stability, then Visa is definitely an employment avenue to consider.