Sponsored Content
How do you choose the MBA program for you?
There are many good or great business schools, and every school claims top scores in some area. Some schools rank highly on the annual Financial Times list while others claim the fame of highly sought-after research. The trick is to select a unique MBA program and one that fits you.
A good place to start is with the curriculum. Every business school teaches the same core disciplines: marketing, strategy, economics, finance, etc. That's the cornerstone of the MBA, so what you need to figure out is what the school offers beyond the basics.
That's where the Alliance Manchester Business School (MBS) is set apart from the rest. Not only is it a top-thirty business school according to the Financial Times (3rd in the UK), but they also focus on real-world consultancy from day one.
Why Manchester?
At MBS, the premise of the MBA program is "learning-by-doing." Whether you're in the Full-time, Part-time, or Global MBA program, as a student, you'll spend hundreds of hours working on client-facing projects. In this way, MBA students spend a majority of their time putting what they've learned into practice, on the ground.
In fact, it was that very opportunity that drew Maya Wilton (MBA '17) away from San Francisco, California and to Manchester in the first place. "When I was looking for an MBA program, I knew that I wanted a program that focused on applied learning," she said. "Then, I found Manchester with the tagline 'original thinking applied' and I realized they had my same priorities. When you're in classes, you learn about one specific topic. But when you're 'doing' the work, you get the big picture and start to understand the downstream impact—the butterfly effect—of every theoretical decision.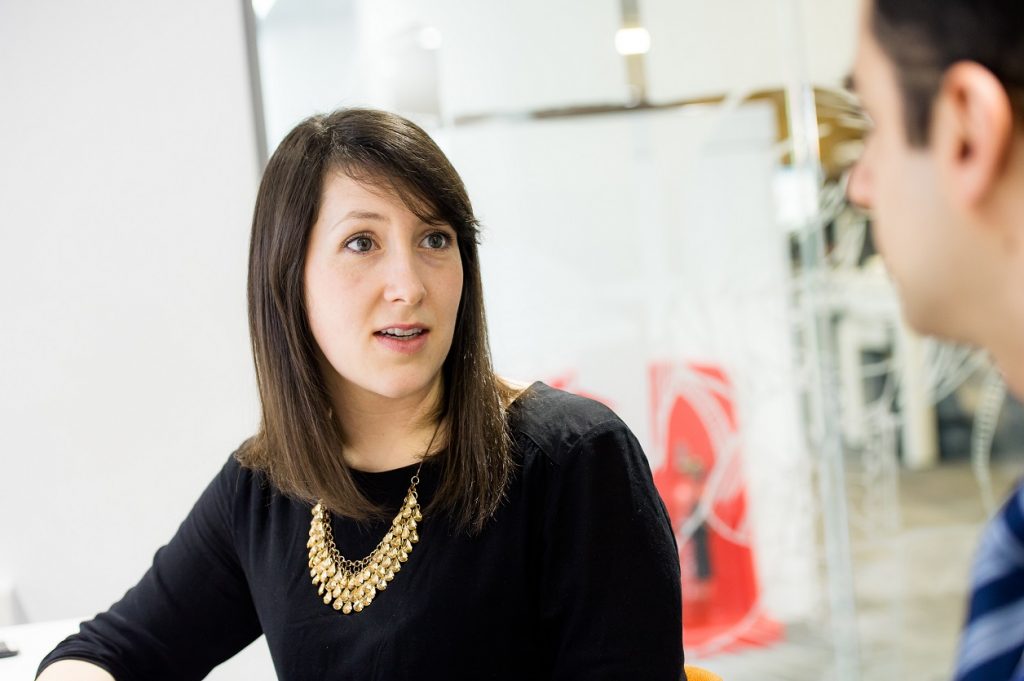 Overall, Manchester Business School Full-Time MBA students experience more than 900 hours of client-facing time over the course of three consultancy projects: not-for-profit, commercial business, and international business. During each project, students have the opportunity to apply the theoretical concepts they studied in the classroom to real-world situations with actual clients. The teams are then assessed on how well they apply those theoretical concepts as part of their grades. It's a unique MBA experience that is focused on practically preparing students for life after school.
There's a reason why the Manchester method is considered "the world's most practical MBA."
Not-For-Profit Consultancy Project
This first live Not-For-Profit Consultancy Project takes place during the first year and kicks off the practical side of MBA program with 150 hours of live client experience. Students are divided into small, multinational teams and given a client with a problem(s) that needs to be solved. From there, the team works closely with the client to research the issue and come up with a viable solution.
It's a chance for the MBA students to dip their toes into the consultancy experience without being overwhelmed. This is especially valuable for students who have no prior experience in consulting. And the ranges of clients are as diverse as their issues with previous clients being:
•  Action for Sustainable Living
•  Air Ambulance
•  Foundation for Peace
•  National Football Museum
•  Prison Advice and Care Trust
•  YMCA
For Wilton, the experience held even more weight. It was the first time that the University of Manchester had reached out to the business school for help, and their success or failure on the project would weigh heavily on the decision of whether or not the University would work with the business school on future projects. "There was a lot riding on this first project," Wilton remembered.
The project surrounded the University of Manchester's multi-year renovation plan, part of the University's £1bn Campus Masterplan to create an inspiring and progressive environment. In particular, the team was concerned with the overhaul of the library. Wilton and her team of fellow MBAs were tasked with figuring out how to continue providing necessary student services even when construction was scheduled to close parts of the library, potentially for years at a time.
"We interviewed students and found out which services were most important to them," Wilton explained. "From there, we provided recommendations to the University for providing those services in an interim process."
And just like for any consultancy position, the team gave a presentation of their ideas, interacting with the senior staff in charge of the renovation to answer questions and provide the best solution. For Wilton, the most amazing part was how they were treated. "When we went before the University, we weren't treated as students," she said. "We were trusted advisors. They took our recommendations to heart, interacted with us, and listened to us the same as any client and consultant relationship."
And though Wilton wasn't able to watch their ideas being implemented, that was part of the experience as well. "The stages of the project that we worked on were a few months out, so we didn't get to see our ideas implemented, but that's the curse of consulting. By the time you provide your recommendations, you're ready to move onto the next project, and you don't get to see the result."
Commercial Business Consultancy Project
To build on your knowledge from the Not-for-Profit project, MBA students immediately move onto the Commercial Business Consultancy Project. This 200-hour live client project involves working with an external client to solve a real-life business issue. Where the first project offers a taste of consulting, this one is a dive into the deep end of the pool.
Students work under realistic consultancy conditions to complete their project—bidding against other teams, managing the project, and delivering the solution in tight timescales and budgets. The goal is to deliver practical and actionable recommendations that have a genuine impact on the client. Potential clients include:
•  American Express
•  BMW
•  KPMG
•  Jaguar Land Rover
•  North Edge Capital
•  Telefonica
Wilton and her team worked with a private equity firm with a suite of educational products and services focused on making learning fun. The team met with a company partner and Manchester alumni to discuss how they could best benefit the business.
Ultimately, the MBA team pitched a mobile strategy and got to see it implemented in real time. By the end of the project, the company had a mockup of the logo for the new idea and a prototype of what it would look like once it took off. For Wilton and her fellow classmates, it was an opportunity to really dig into consulting and to try their hands at a variety of job functions.
"My background is in finance, but throughout the course of the project I got to try my hand at everything," Wilton explained. "I got to work in project management from beginning to end, marketing, finance, and more. And best yet, I wasn't learning it in a classroom, I was actually applying my knowledge and watching a business use the insight to better the company. It's really exciting to have that level of responsibility and to know that you are providing a true benefit to a company."
International Business Consultancy Project
The final project is the largest and the most in-depth. At 550 hours of live client experience, the International Business Consultancy Project (IBP) is a chance for the MBA students to really sink their teeth into a large global client. During the second year, it's the last chance for the students to apply everything they've learned throughout the course of their MBA program before they start their post-graduation job.
For the project, the MBA students build their own team and choose from a list of global briefs, which could take them around the world from Toronto to Tokyo to work on a high-pressure and high-risk business challenge. It's an opportunity for the students to pitch themselves as future employees as well as to build a solid network of connections with senior executives at global corporations. Clients include:
•  Audi
•  Brother
•  Cisco
•  GSK
•  Pearson
•  Tesco
•  TNT
Though Wilton couldn't talk much about her IBP because of a non-disclosure agreement, she was able to share that it was a consulting project that was on an entirely different scale from anything she'd done in the past.
"We completed market research for a startup company in the greater Manchester area to improve their sales strategy," Wilton shared. "The company wanted insight into both Europe and Asia, so our team split up to cover more ground. Myself and another teammate spent time in multiple cities throughout Germany and Japan, while our other teammates headed to France, Singapore, and China. Compared to the other projects, we weren't looking at just one problem or geography; we were looking at multiple problems on an international scale that required a solution."
Conclusion
Though Maya Wilton didn't accept a job at any of her consultancy project companies, it wasn't from a lack of opportunity. After both her Commercial and International Business projects she and all of her teammates were offered jobs.
"For the Commercial Project the partner asked if any of us would be willing to intern over the summer to implement our solution," said Wilton. "And for the IBP, the founder of the company asked if any of us were available to complete another short-term consulting project."
And while Wilton already had a job lined up at Amazon as a Senior Financial Analyst, many of her classmates jumped on the opportunity to continue working with their project companies. In fact, it's one of the main benefits of the consultancy projects, to be able to demonstrate your skills in front of a client and prove that you're the right fit for the company. And it doesn't hurt that you graduate with at least four new companies and positions on your resume—one for each consultancy project and one for your summer internship.
The benefit is reflected in the employment report. 85 percent of Manchester MBA graduate students are employed within three months of graduation with a 108 percent salary increase after three years.
To learn more about the Alliance Manchester Business School MBA program and how it could be a great fit for you if you're looking for real-world experience, reach out to the admissions team today.