Yale SOM Interview Questions & Report: Round 1 / 2nd Year Student / On-Campus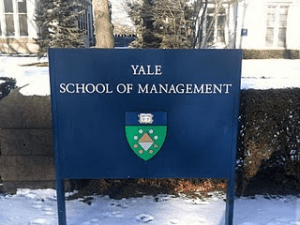 The following Yale MBA interview questions and report were submitted to Clear Admit by a Round 1 applicant. Good luck to them!
The interview was conversational, but a bit more serious compared to other experiences I've had (in retrospect). This was my 2nd interview and 1st time with a student, so I think I underestimated the the seriousness of the tone.
Yale SOM provides bios of all their admissions fellows/ambassadors online. It's not worth your time trying to memorize all of them in hopes of being able to recall it when you meet your interviewer day-of. But just as an FYI, everyone's profiles are there. They also give you a booklet day-of.
I liked the activities they organized for on campus interviews. It kept you busy and you learned a lot about the school. However, I don't think the format of the room was conducive to getting to know other applicants and students because we were in a lecture hall, rather than sitting at round tables or something. It's awesome that the dean speaks at each of these sessions!
Questions:
1. Tell me about yourself/walk me through your resume
2. Why MBA, why now?
3. Why Yale SOM?
4. What do you want to get involved in at Yale SOM?
5. Leadership questions – I don't remember the specifics
6. Tell me about your quote
7. Is there anything else you'd like to discuss that we didn't cover?
8. Do you have any questions for me?
I appreciated that my interviewer explained why he was writing, told me not to look into it. He also stuck to the timing pretty closely.
---
Preparing for an upcoming Yale MBA interview? Click here to get the Clear Admit Yale SOM Interview Guide.
After your interview, be sure to add your first-hand interview report to the Clear Admit Interview Archive.
Preparing for your interview?
Give Veritas Prep a call at +1-310-295-2098 or click to