For some prospective MBA applicants turned admitted students, the choice of where to attend business school is a no-brainer. If you applied and were accepted to your first-choice school, it may be as easy as breaking out the bubbly and sending in your deposit. Of perhaps you got accepted at two schools, one on your reach list and another on your safety list. Many applicants in that situation are going to lean toward the reach school.
But very often, admitted students find themselves deciding between schools amid circumstances that aren't equal. Maybe a lower-ranked school offers you a phenomenal scholarship and you're contemplating a career in the nonprofit industry, where quickly recouping tuition expenditures is not a given. Maybe the school you most want to attend is in a place where your spouse can't continue his career. It's not always as easy as simply picking the top-ranked MBA program that accepted you.
Our latest podcast in the Clear Admit MBA Admissions Podcast series gets into these thorny decisions. In Episode 9, Clear Admit Co-Founder Graham Richmond provides valuable tips on how to make the very best decision for YOU, taking into consideration any number of factors that may influence that decision.
If you are facing a decision of where to attend school in the fall, you won't want to miss this latest episode, available here and via iTunes.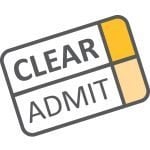 If You Like What You've Been Hearing, Please Subscribe and Rate Us on iTunes!
Which brings me to one final point. We have been absolutely delighted to see our listeners tuning into our podcast series in growing numbers. Please, if you have enjoyed what you've heard, won't you take a moment to rate the Clear Admit MBA Admissions Podcast in iTunes? That can really help even more listeners fine us. And to ensure that you never miss an episode, why not subscribe?
We've got some great episodes lined up in the weeks ahead, including one that outlines our very own 12-step program to help early bird applicants for next fall steer clear of pitfalls and keep success in their sights. And there's another episode in the works that will feature our inaugural outside guest—a test prep expert from Veritas—who will demystify the great GMAT/GRE debate and help applicants understand which test makes the most sense for them.
Like the eight episodes that preceded it, this episode was hosted by Editor-in-Chief Jeanette Brown and produced by Contributing Editor Jonathan Pfeffer. Thanks to all of you who've been joining us! Ranking us in iTunes can help others find us, too, and subscribing means you'll never miss a podcast.