In early April, the Graduate Management Admission Council (GMAC), which owns and administers the GMAT, announced that it is shaving half an hour off the test, bringing it down from four hours to three and a half. GMAC called it a "candidate friendly change designed to enhance the test taking experience," adding that "the GMAT is the only assessment designed specifically for graduate business school."
To get to a shorter test, GMAC sliced out 23 minutes of unscored (research) questions in the Quantitative and Verbal Reasoning sections and streamlined non-exam portions like tutorials and instructions.
GMAC made no mention of the GRE in its announcement. The GRE, or Graduate Record Exam, is another entrance exam produced by the Educational Testing Service (ETS), which also makes tests like TOEFL test for English-language proficiency.
But these recent adjustments to the GMAT have been interpreted by many in the industry as part of an effort by GMAC to make its test more appealing to test takers than the GRE. According to ETS's website, the GRE lasts approximately three hours and 45 minutes, plus breaks. The new shorter GMAC, which officially replaced the previous version earlier this week, will now be three and half hours long, including breaks.
GMAT Versus GRE?
The rivalry between ETS and GMAC has been really heating up in recent years, and the GRE is gaining widespread acceptance as an entrance exam for leading business schools. That's left many applicants wondering which test to take. Today's podcast is designed to dive deep into that question.
To do just that, we're thrilled to welcome two new guests to the Clear Admit MBA Admissions Podcast. Joining us to share their expertise in test prep and both entrance exams are Scott Shrum and Brian Galvin. Scott is president and chief operating officer at Veritas Prep, a leading test prep and MBA admissions consulting firm, and Brian is vice president of academics.
Have a listen!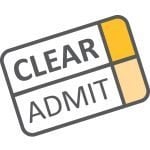 If You Like What You've Been Hearing, Please Subscribe and Rate Us on iTunes!
We have been absolutely delighted to see our listeners tuning into our podcast series in growing numbers. Please, if you have enjoyed what you've heard, won't you take a moment to rate the Clear Admit MBA Admissions Podcast in iTunes? That can really help even more listeners find us. And to ensure that you never miss an episode, why not subscribe?
This episode, like those that precede it, was hosted by Editor-in-Chief Jeanette Brown and produced by Contributing Editor Jonathan Pfeffer. Thanks to all of you who've been joining us! Ranking us in iTunes can help others find us, too, and subscribing means you'll never miss a podcast.