Fridays from the Frontline
Today's Friday from the Frontline column comes to us from a student at MIT Sloan School of Management who helped organize the school's largest student trek to Israel, fulfilling a promise he made when he interviewed. The piece coincides nicely with the school's first "Sloan on the Road" event of the season, an evening "inspired by leaders, alumni, and current students who are making their ideas matter," which will take place in Tel Aviv on June 3rd.
The evening's TIMTalk speaker is Aaron Zucker, MBA '09, whose distinguished career as an impact-driven leader has seen him co-found several companies and lead "entrepreneurs to realize their own inspirations." The Tel Aviv event will also feature Admissions Director Dawna Levenson, a panel of local alumni and current students, and a topical networking reception.
Register for MIT Sloan on the Road in Tel Aviv at this link today.
The following post has been republished in its entirety from its original source, the MIT Sloan Student Blog.
Organizing the Israel Trek
Maor Zeevi MBA '19
My journey with the Israel Trek started two years ago, when I interviewed for Sloan. My interviewer told me about this amazing trek to Israel and how the Israelis brought a record number of 150 students. In the heat of the moment I made a promise that if I got into Sloan I would break that record and bring even more students to the trek.
Two years later I am about to keep that promise. This year we are bringing 220 students to Israel, in the world's biggest student led trek to date!
Our goals for the trek is for our fellow classmates to gain a personal experience, understanding and connection to Israel, with a focus on three main themes:
Israel as a home for diverse peoples and religions
Israel's global leadership in technology and innovation
Challenges and complexities around geopolitical affairs
Each one of us Israelis sees Israel from a different perspective and we wanted to find the balance between our own views and the broader interests of such a big group in a short period of eight days.
This wasn't an easy task. There is a saying in Hebrew that if you ask two Israelis their opinion about something, expect to get three different answers. Therefore, we ran the planning of this trek like a small company, with Sales, Marketing, Finance, Operations, and Content teams, and of course – an organizational board.
The preparations started in November when we gathered in a remote place near Atlanta to meet with other iTrek leaders from elite schools all over the country. We shared ideas and brainstormed about the experiences we wanted to share with the students. This was a great experience; not only did we generate new ideas for activities for the trek, but we also bonded amongst ourselves and learned how to lead this trek together as a group.
In the following months, we met on a weekly basis in meetings that sometimes went through the night to make sure we don't miss the slightest detail in preparing for the trek. We collected data from previous treks, met with suppliers, restaurant vendors and tour guides. We negotiated deals to stay under budget, ran marketing events and info sessions until finally the day of the trek has almost arrived!
Organizing this trek was a challenging yet rewarding experience; all of us Israelis at Sloan feel so privileged and proud to be part of it and we can't wait bring our classmates to see our homeland through our eyes and theirs.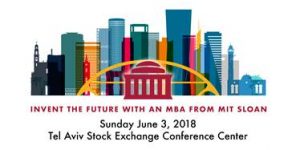 See you in Israel!
MIT Sloan will be in Tel Aviv on June 3! If you're interested in earning your MBA, register to learn more.  This event will provide an opportunity to meet with MIT Sloan's Admission Director, Dawna Levenson, current students from the Israel trek and local alumni.