This week, the University of Virginia Darden School of Business announced the kick off of its 2018 application season for the full-time MBA Class of 2021. Along with this announcement, the school unveiled a new admissions calendar and several updates to the admissions process. There's now a new early action round with an open interview process as well as additional opportunities to interact with the school.
Below are the updates that MBA applicants can expect for the 2018-2019 application season.
New Early Action Deadline
Full-time MBA applicants can now apply to the program in a new early action round. This round is designed for candidates who feel that Darden is their primary school of choice. By applying early, applicants have the opportunity to schedule their interview on their own timeline; they do not have to wait for an invitation.
The early action deadline is Friday, September 7, 2018.
New Application Deadlines
In addition to the new early action round, Darden offers three full-time MBA admissions rounds. The new dates:
Round 1: Thursday, October 4, 2018
Round 2: Thursday, January 10, 2019
Round 3: Wednesday, April 3, 2019
New Scholarships
This year, Darden has three scholarship and one fellowship option available to top MBA applicants: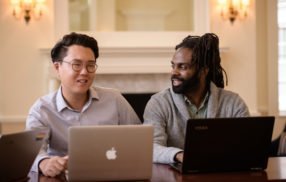 New Events
As part of the updated admissions process, UVA Darden will be hosting new admissions events and showcase events. The showcase events will highlight the vibrant and engaging environment of the campus. See the showcase schedule here. The admissions events will be hosted in major cities around the world. See the admissions schedule here.
The Economist has named Darden's education experience "the world's best" for seven years in a row, and the admissions team hopes that its updates to the admissions process will help applicants get a better perspective of the Darden experience. Learn more by reading the school's latest press release.