The annual Global Tuck 'Tails event gathers hundreds of Dartmouth Tuck first-year MBA students and alumni to celebrate the "most loyal alumni network of any business school on the planet." This year's edition—the sixth and most high-profile thus far—will take place throughout July in cities all across the globe.
Global Tuck 'Tails is a huge event that just gets bigger and bigger every year. In its first year, the event assembled alumni in 20 cities. Last year, participants met in 38 cities—14 of them international. This year, the event will reach alumni in 35 cities around the world, including Atlanta, Beijing, Brussels, Chicago, Delhi, Indianapolis, and more. Each location will host Tuck alumni for a meet-and-greet where anything and everything from job interviews to pitch meetings and more can take place.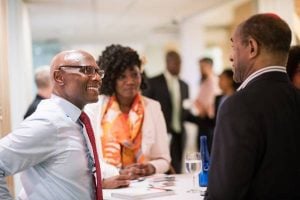 Tuck and Dartmouth alumni come from all over Australia to attend the Sydney event—some participants drive as many as eight hours to attend. For many, it's a chance to leverage the Australian network and share fond memories of the Tuck community. Organizer Quentin Reeve (MBA '13) explained that even alumni who no longer live in Australia remain connected there. "Apparently, the few emails I send out every year bring back good memories of the Tuck community," Reeve said.
As for Nicolas Fiore (MBA '17), he attended his first Global Tuck 'Tails event in Washington, DC, but now attends in Kansas City where the U.S. Army transferred him after graduation. Fiore uses the events as an opportunity to stay connected to a social network of young alumni in similar situations to his. "It's a great vehicle for exploring careers and generating job leads," he said.
To learn more about past, present, and future Global Tuck 'Tails events, head to the website for a list of cities. You can also visit the Global Tuck 'Tails myTUCK page to register or the Tuck blog for more information.