INSEAD Alums Call Current Students "Soft Eggs" as Hazing Complaints Cancel MBA Welcome Week

For the first time in 35 years, the INSEAD MBA Welcome Week was cancelled after two students complained of demeaning initiation ceremonies.
According to the Financial Times (FT), the students told authorities that they had been tricked into taking part in "humiliating" rituals during the week. The Comité National Contre le Bizutage (the French National Committee Against Hazing) launched an investigation to review these accusations, but details of the complaints have yet to be made public.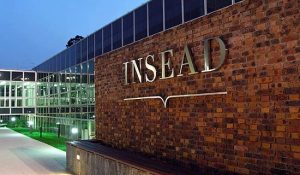 Hazing has been part of INSEAD culture since the first MBA classes in 1983. The original idea behind the humiliation of new students arriving on the Fontainebleau campus was to deflate the ego of new arrivals. Since INSEAD is one of the most elite business schools in the world, the concept was quickly absorbed and metabolized. But now those same rituals are raising concerns of bullying and harassment.
In most cases, the hazing has taken the form of tricking new students to join a fake sports club under threat of expulsion. Students are then forced to participate in extreme challenges, such as a 24-hour exercise session, to win admission to the fictitious club. According to Business Insider, many of the grueling challenges are just about students "exercising until they are sick."
While INSEAD is taking the complaints from students seriously, many of the university's alumni aren't quick to condemn the questionable traditions. Reshma Sohoni, who graduated in 2003 and went on to co-found Seedcamp, told the FT that she didn't mind the hazing.
"There are always one or two people who get upset about being humiliated but I think it builds character," she said. "It is about not taking yourself too seriously."
Another student admitted that he signed a petition to keep the event operational and complained that "there is too much political correctness." According to eFinancial Careers, more alumni have spoken out in favor of the hazing, calling this year's class "'Weicheier und Heulsusen' or 'wimps' (literally 'soft eggs') and crybabies."
Although many alumni have come out in support of the INSEAD MBA welcome week tradition, Dean Ilian Mihov said in a letter to alumni that the suspension was necessary.
"We understand that there is strong support for the welcome week tradition in the alumni community," he said. "However, student health and well-being are our top priority, and welcome week cannot continue if it moves students to file a formal complaint."
There are also concerns that the hazing complaints could jeopardize INSEAD's academic accreditation renewal, which would significantly tarnish one of the most sought-after MBA programs. INSEAD came in second in the FT's 2018 global MBA ranking after holding the top spot for two consecutive years.
[jetpack-related-posts]