A decade ago, only a few people knew what blockchain was. Now, blockchain is a practical part of the financial sector with tremendous potential for transformation. That's why this fall, MIT's Gary Gensler, a senior lecturer and senior advisor at MIT Media Lab, will teach a new course entitled "Blockchain and Money."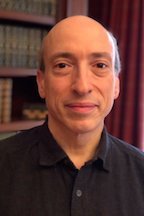 The new course at MIT Sloan will show students how to use blockchain technology, covering fundamentals such as distributed ledgers and smart contacts. In addition, the course will offer real-world examples that cover global issues including regulatory concerns.
"This technology has real potential as a catalyst for change in the world of finance and the broader economy," Gensler said in an MIT news story. "I view the course as one piece of the broader ecosystem at MIT where people can explore blockchain technology and its real-life possibilities."
About the Course
The 12-week "Blockchain and Money" course will be valuable not only for entrepreneurs interested in initial coin offerings, but also for students who are just curious about the intricacies of blockchain. The course will be broken down into two parts:
Part One: The Foundation of Blockchain
The first part of the course will offer an in-depth look at the history of bitcoin and other cryptocurrencies. Then, Gensler will dive into smart contracts in open-sourced and private applications alongside distributed ledgers, which he feels are critical pieces of blockchain technology. The class will also examine numerous policy issues arising from this technology.
Part Two: Practical Applications in the Financial Sector
The second part of the course will focus on real-world application of theory. Gensler calls it a "real how-to course." Mainly, students will focus on blockchain applications in the financial industry. The goal is to get them to think creatively about blockchain application and devise their own original blockchain opportunities.
The finishing touches of the syllabus are still being put together, but Gensler has already secured a few exceptional guest speakers to come in and talk, including crypto expert Christian Catalini and Jeff Sprecher, CEO of Intercontinental Exchange and chairman of the New York Stock Exchange.