After 15 years, Glenn Hubbard, the dean of Columbia Business School (CBS), has announced he will be stepping down from his position. Columbia University president Lee C. Bollinger made the resignation announcement, which will be effective on June 30, 2019. After that point, Hubbard will resume his faculty role as a professor of finance and economics.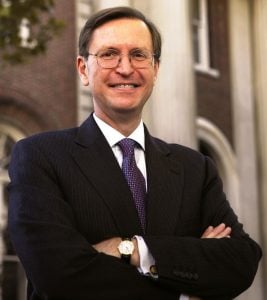 "Glenn's 15 years as Dean will be remembered as a historic period during which Columbia Business School was strengthened on every meaningful front and solidified its standing as one of the most celebrated and innovative schools of business in all of higher education," Bollinger says in a press release. "Dean Hubbard succeeded repeatedly in seizing opportunities for transforming and modernizing Columbia Business School through times that were often turbulent and challenging."
"First and foremost, I want to say 'thank you,'" Dean Hubbard wrote in an email to his colleagues. "I am proud of everything that the School has achieved with our degree and non-degree programs, across departments, and within the centers, institutes, and programs. The school's talented staff excel in their work to help operate an amazing curricular and research network, working closely with faculty colleagues. And we all owe a debt of gratitude to alumni and other outside supporters, whose gifts of time, talent, and treasure have sustained and expanded our reach and grasp."
Academic Accomplishments
During Dean Hubbard's 15-year tenure, he oversaw many enhancements and expansions at CBS. His leadership led to a wide range of initiatives from raising $1 billion for Columbia Business School's long-term future to revamping the school's core curriculum. In addition, Hubbard was responsible for strengthening recruitment efforts for both faculty and students, launching countless academic initiatives, and ramping up the engagement of the school's 46,000 global alumni.
"Through his leadership and his persistent efforts, dean Hubbard increased the number of business school faculty chairs and professorships, and greatly expanded the amount of financial aid we are able to offer to incoming students," Bollinger says in an email to the faculty. "Throughout this period of growth, the School carefully preserved a balance between the realms of real-world practice and scholarly theory, always respecting and enhancing the core academic character of the institution."
In particular, Hubbard was responsible for:
Fundraising Efforts
Dean Hubbard raised more than $1 billion in funding over the course of his tenure, including more than $500 million to establish Columbia Business School's future campus at Manhattanville.
"The most powerful symbol of this progress will become fully visible four years from now when the doors of the Henry R. Kravis Building and the Ronald O. Perelman Center for Business Innovation are opened, and Columbia Business School occupies its new home at the center of the Manhattanville campus," President Bollinger says. Overall, Dean Hubbard helped to expand financial aid at the school by 600 percent from 2004 to 2018.
"With about $1 billion in fundraising and leaps in alumni giving and participation, our financial muscle is being built,"  Hubbard continues in his email.
"The school has succeeded with funding for the new Manhattanville campus; an expanded faculty with 38 new professorships; expansion of research institutes, centers, and programs; and greater financial aid for a very talented, diverse student body.  These accomplishments are noteworthy, but I am proudest of our success in building our people—the team of staff, faculty, students, and alumni that gives us our distinction. I am amazed, but not surprised, by staff commitment to excellence in their roles, always working to improve the experiences of our students and alumni year after year."
Joint Initiatives
Last but not least, dean Hubbard was responsible for launching three crucial joint initiatives across the Columbia University Campus.
The Richard Paul Richman Center for Business, Law, and Public Policy: This center promotes evidence-based public policy while also opening up a dialogue about business and markets intersecting with the law.
The Tamer Center for Social Enterprise: This center helps to challenge and educate leaders in the use of business tools, entrepreneurial skills, and management in order to address issues that lie at the intersection of business and society.
Entrepreneurship at Columbia: This initiative included multiple centers and opportunities including the Columbia Startup Lab as well as Innovation and Entrepreneurship at Columbia, which are both supported by the Eugene Lange Entrepreneurship Center.
"The core of an academic business school is scholarship," Hubbard explains. "In working with colleagues to articulate a strategy of 'bridging theory and practice,' I have argued publicly for the desirability of bundling teaching and research in scholar-teachers, and I will continue to do so. We still have great opportunity to magnify ideas and their impact through partnerships within the University and with practitioner networks. Business schools like ours can play a significant role in problem-solving and managing solutions, for societal and economic challenges."
The Search for New Columbia Business School Dean
The search for Hubbard's replacement will begin immediately.
"We are indebted to him [Hubbard] for his long and productive service to the University and look forward to his continued presence as an esteemed member of our faculty," President Bollinger explains in his email. "To assist in finding dean Hubbard's successor, I will soon convene a committee to assist me in an international search. For now, I simply want to congratulate Glenn on a job well done and to express the university's deepest gratitude for the devoted and skillful leadership he has long provided to Columbia Business School."
"I am honored to have served as dean, grateful to Lee Bollinger for the chance to do so," Hubbard adds. "While I have continued to write and teach, I found the opportunity in academic leadership very rewarding. I am honored to remain as a colleague. Old deans never die; they don't even fade away—I look forward to participating in the next chapter in the life of the school."