Fridays from the Frontline: Embracing Entrepreneurship and the HBS Asian-American Community

Fridays from the Frontline
Recent Harvard Business School (HBS) alumus Wilson Kyi (MBA '18) hosts a popular podcast called Fish Sauce, which is dedicated to "the unique traits and viewpoints Asian-Americans bring to entrepreneurship." According to Kyi, the podcast was a natural outgrowth of the cross-cultural community that the Asian-American Business Association (AABA) engendered at HBS.
Kyi, who according to his bio "leaped into smaller tech after growing tired of big tech," took to the HBS blog in a recent post to discuss the soup-to-nuts process behind the Fish Sauce podcast and the multifaceted role the Harvard community played in its success.
The following post has been republished in its entirety from its original source, the HBS MBA Voices blog.
Embracing Entrepreneurship and the HBS Asian-American Community 
Wilson Kyi, MBA '18
How I incorporated my experience in the Asian-American community at HBS into co-founding Fish Sauce. 
Wilson Kyi (MBA '18) graduated from the University of Southern California with a degree in Industrial and Systems Engineering and worked in consulting before making the switch to tech/entrepreneurship. While at Harvard Business School, Wilson Kyi and Elton Kwok co-founded the podcast Fish Sauce with their team of fellow entrepreneurs. Fish Sauce focuses on sharing the stories of successful Asian-American founders, operators, and investors.
Asian-American business people can face a specific set of challenges that deter us from embracing entrepreneurship.
Even within the Asian-American community, each individual experiences different challenges based on their upbringing. Generally, though, we're heavily influenced by our parents' immigrant story of hardship and sacrifice for their children to create a more stable income. This often runs counter to our passion, interest, and growing appetite for risky careers, like startups. The challenge is balancing a more financially predictable path with one that is less certain but more enticing. Business school gives you time to weigh these decisions, but eventually, many students face the decision of either going back to their previous role that sponsors their tuition or pivoting to a riskier role. This decision becomes more complex when they have to consider the interests of people who are involved in their life such as their parents or sometimes their partner and children.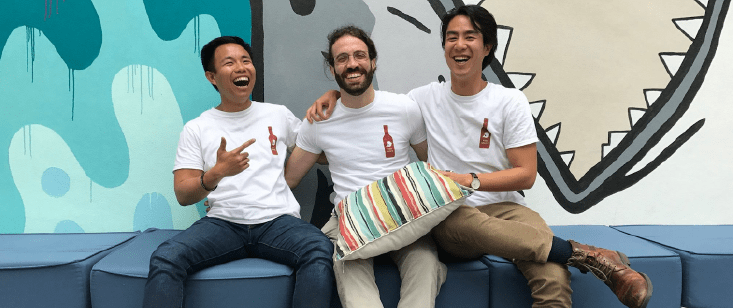 HBS creates a diverse environment in every imaginable way, and as a result every section has some Asian-Americans with different work experience.
The Asian-American Business Association (AABA) has brought us together over good food and conversation. Currently, there are over 100 members, and their mission is to provide a forum for the promotion, understanding, and cross-cultural exchange of East Asian and Asian-American business, social, academic, cultural, political, and community-related initiatives. Chowing down on Korean BBQ, hot pot, dim sum, sushi, and other tasty Asian food with some of the most brilliant and kind people helped keep my stomach and mind fully engaged.
The resources and community at HBS helped us overcome our challenges and strike the balance between stability and risk.
Coming from Square in San Francisco, HBS exceeded my expectations about resources for entrepreneurship. While deciding to leave finance and consulting for tech/entrepreneurship, we (myself and Elton Kwok) realized that there aren't any resources showcasing Asian-Americans who have taken the leap of faith. That's when we decided to start Fish Sauce.
To launch Fish Sauce, I took advantage of the Entrepreneurs in Residence (Eir) at HBS to learn about building the podcast. In the summer, I received the Rock Summer Fellowship so we could continue scaling out our operations; from hosting our first live event to launching our online merchandise store. And, of course, classes such as The Entrepreneurial Manager, Founder's Journey, and Venture Capital & Private Equity helped me understand not only business decisions, but also the personal life and tradeoffs that come with the journey.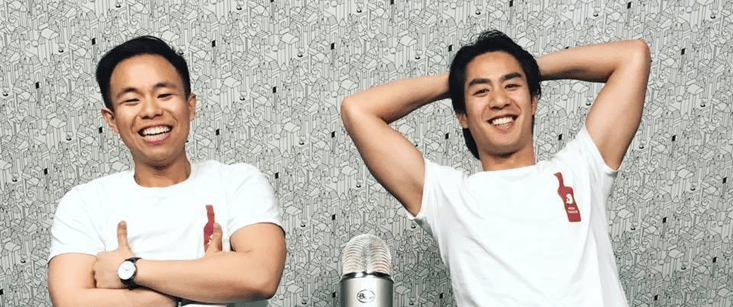 Our mission is to inspire those to take a leap of faith from traditional career paths by discovering their secret sauce.
As for my favorite episodes, I don't have children but I imagine this is what it feels like to pick favorites. I truly enjoy making every single one of them, but as I just completed my EC year, I've been thinking a lot about the below episodes.
Maureen Fan – Maureen shares her experience raising her hand in the case study method at HBS, and discusses how she chased her dreams at Pixar and Zinga.
Kyle Lui – I've been thinking deeply about being an operator or investor, and in this episode, Kyle shares how he decided to found ChoicePass and then went on to sell it to SalesForce. Kyle is now a VC at DCM Ventures.
Andrew and Bin from Boba Guys – I'm particularly interested in scaling out Food & Beverage businesses because I just took classes in Real Estate and Restaurants in my EC (Elective Curriculum) year at HBS.
Eva Ho – As a VC and previously an EiR in Los Angeles, Eva shares her thesis on the LA ecosystem.
"In everyone's mind, there is a 'Movie of Their Life' playing. In this movie, every single person is playing the leading role. If you think they are envisioning themselves as your supporting cast, you are wrong." – Toby Johnson
Toby Johnson summarized it well in one of my first leadership classes. As much as I believe I'm the center of my universe, we all have to understand that everyone sees their world through the same respective lens, and being aware of these dynamics is critical to leading a team. Thus, leadership is not only numbers and business growth; but also compassion, empathy, and treating people with respect, especially during uncertain and challenging environments.
From my perspective and from the perspective of my close friends around me, the ones that have appreciated business school the most have tended to be very open to new and diverse experiences while doubling down on areas that they know they want to pursue.
Wilson Kyi graduated from Harvard Business School in 2018. He is a former Summer Venture in Management Program participant and a contributor to HBS' 2018 Portrait project.
Listen to Fish Sauce, a podcast sharing stories of Asian American founders, operators, and investors on iTunes, Stitcher, Play, & Soundcloud.