Many Round 1 MBA applicants find themselves in the thick of interview invitations right now. In case there's any doubt, that's a terrific place to be! Some schools do feature applicant-initiated interviews, but at the vast majority of top schools, receiving an invitation to interview means you've made an important cut in the process, and the admissions team wants to get to know you better. Congratulations!
Our guest this week is Clear Admit's own Alex Brown, who worked for several years as part of the admissions team at the University of Pennsylvania's Wharton School. He's also the author of Becoming a Clear Admit: The Definitive Guide to MBA Admissions.
In our conversation, Brown tackles some of the most common MBA interview questions face by current applicants. He's intimately familiar with this topic thanks to interviews he himself conducted when he worked at Wharton. But he also keeps his finger on the pulse by regularly monitoring Clear Admit's MBA Interview Archive, which includes thousands of entries by current and past applicants that reveal actual questions asked as part of the interview at many schools.
As a teaser, here are a couple of the MBA interview questions Brown will unpack:
Walk me through your résumé.
Give us an example of a time you took a leadership role.
Wherever you have been invited to interview, these are questions you are likely to face. With Brown's  advice, you'll be prepared to ace them. What are you waiting for? Have a listen right now.

This podcast episode is sponsored by Georgetown McDonough School of Business.
You already know you're capable of greatness, but wondering just how much you can achieve isn't enough. To truly have an impact on the world, you have to go find out exactly what you're made of. It's what sets the doers apart from the merely curious. With a curriculum designed to prepare you for the global stage, plus access to all Washington, DC has to offer, Georgetown's McDonough School of Business is the perfect launchpad for your career. Get started at choosegeorgetown.com/mba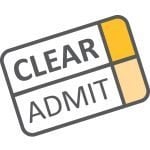 If You Like What You've Been Hearing, Please Subscribe and Rate Us on Apple Podcasts!
It's been wonderful seeing the audience for our podcast series continue to grow! Please, if you have enjoyed what you've heard, could you rank the Clear Admit MBA Admissions Podcast in Apple Podcasts? That can really help even more listeners find us. To ensure that you never miss an episode, you could even subscribe.
This episode was hosted by Jeanette Brown and produced by Jonathan Pfeffer. Thanks to all of you who've been joining us! One more time: Ranking us in Apple Podcasts can help others find us, too, and subscribing means you'll never miss a podcast.
This post was last updated November 10, 2020.