Harvard Business School (HBS) this week joined other top MBA programs in publishing employment stats for its most recent graduates. Top takeaways? Try starting salaries exceeding $160,000.
This year's median base pay, $140,000, is up $5,000 over last year. In addition, 65 percent of the class earned median sign-on bonuses of another $25,000. There were also other upticks, with 14 percent of students reporting median guaranteed first-year comp of $28,500, up from 13 percent and $25,000 the year before.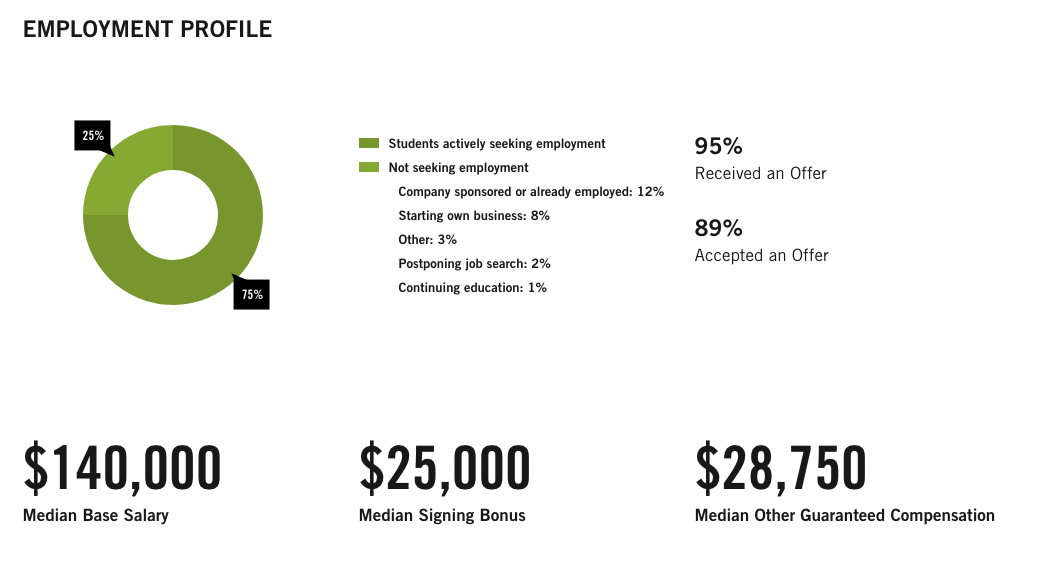 Within three months of graduating, 95 percent of the class reported receiving at least one job offer, and 89 percent had accepted an offer. These stats were both unchanged year over year. When there's a gap between the percentage of students reporting offers those accepting offers—as with these latest HBS grads—it's often considered to be the reflection of a strong job market. Under these circumstances, graduates from the very top schools can bide their time and hold out for the offer that really wows them.
Financial Services, Consulting, Tech Vie for HBS Grads
In terms of industry, three dominate when it comes to hiring the latest HBS grads. Financial services drew the largest slice of the class—29 percent—which is off from 31 percent last year but on par with the year before that.
Consulting took another quarter of the class, 25 percent, up from 23 percent last year. Technology, meanwhile, beckoned to roughly a fifth of the class—19 percent, up from 16 percent last year. Other industries saw small shifts year over year of one or two percentage points.
More Students Join Startups
HBS changed its definition of a startup this year in terms of how it tracks employment data. Now, startup refers to organizations that are still private and 10 years of age of younger. By this measure, HBS grads who opted to join a startup straight out of school made up 9 percent of the class, as compared to 8 percent last year. The median starting salary for graduates going into tech was $130,000, the same as last year. Half of the startups where students landed are in the technology space, up from 45 percent a year earlier. Other top industries for startups include manufacturing (13 percent), financial services (12 percent) and consumer products (6 percent).
Another 70 students in the Class of 2018—8 percent—founded their own startups. That's up from 64 last year. Of this year's new ventures, 28 have a social impact focus, up from 16 last year.
Class of 2019 Internships
HBS also released employment data for the summer internships pursued by students in the Class of 2019, revealing a median base salary of $7,800, down $200 year over year. More students, 89 percent, sought internships this past year, up from 87 percent the year before.
More students in this most recent class pursued internships with financial services firms, 32 percent as compared to 26 percent of the class before. Meanwhile, slightly fewer students pursued internships in technology and consulting. Tech firms drew 18 percent of the class for internships, down from 20 percent the year before. Consulting interns made up another 15 percent, down one percentage point from the year before.