Dario Constantine, Stanford MBA Class of 2020
Age: 26
Hometown: Kingston, Jamaica / Broward County, Florida
Undergraduate Institution and Major: Columbia University, mechanical engineering, B.S., M.S.
Pre-MBA Work Experience: 4 years of systems and design engineering in aerospace
Why business school? Why now? I loved solving seemingly insurmountable challenges daily as an engineer. In fact, I probably will always see the world through an engineering lens. However, over the past few years, I noticed a growing chasm between my technical knowledge of my engineering projects and the business cases around their development.
I, therefore, determined that in the long run, if I wanted to make consequential decisions about products and services that impact stakeholders, communities, and even governments, I needed a business background.
I also wanted to bolster my capacity to innovate like an entrepreneur and to think strategically about how to steward a sustainable business. So, I figured the sooner I got started on the MBA, the closer I would be to achieving my long-term goals.
Why Stanford? What factors figured most prominently into your decision of where to attend? I moved to Silicon Valley four years ago to embark on a career in aerospace, but I have since missed the East Coast. After all, I grew up in the East and most of my friends and family are still there. So naturally, I thought I would be moving back for business school… until I visited Stanford's campus.
There are so many world-class departments and schools at Stanford that it truly feels like Disney World for academics. I loved how the flexibility of the GSB's curriculum allows students to explore and experiment at Stanford's other graduate schools and interdisciplinary programs, such as the School of Engineering and the d.school.
I also liked the abundance of opportunities for international exposure. Globalization, capitalism, and technology are pulling at the seams of society, so understanding the opportunities and challenges these forces bring is imperative for any future leader. Whether from the 40 percent of the class made up of international students or through the Global Experience Requirement, the GSB provides valuable opportunities to widen my perspective in today's increasingly connected society, where global is now local.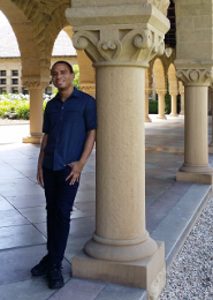 Finally and most importantly, the people and community around the GSB are simply what make the institution special. The value of a Stanford MBA comes from learning not only from some of the best faculty and guest lecturers in the world, but also from grounded peers who have led amazingly successful careers and are already subject matter experts in their previous fields.
What do you think is your most valuable or differentiating contribution to the Class of 2020? I hope I can use my engineering experience in designing commercial satellites for performance, manufacturing, and longevity to help my classmates transform their hardware ideas into computer models, technical specifications, and ultimately, tangible prototypes.
Fun fact that didn't get included on your application? I have an identical twin brother. We are so alike, I sometimes can't tell us apart in old photographs!
Post-MBA career interests?  Product management in technology
Advice to current prospective applicants:
–One thing you would absolutely do again as part of your application process? I started preparing for business school an entire year before I applied. This allowed me to sequentially tackle each portion of the admissions process–starting with the GMAT–without the stress of juggling everything at once.
By starting early, I was also able to take advantage of the Management Leadership for Tomorrow (MLT) MBA Prep program. The people with whom we surround ourselves directly shape our attitudes and aspirations, and MLT MBA Prep provides a profound network of accomplished professionals of color who offer solidarity at each milestone of preparation. Additionally, MLT provides invaluable tools and unparalleled coaching and guidance for African Americans, Latinos, and Native Americans to navigate the application process. Ultimately, the program helped me introspect and think deeply about the choices I have made, the experiences I have liked, and how my motivations translate to the future I want to lead.
Finally, starting early allowed me to take care of myself, which is easy to unwittingly neglect during the admissions process. Good physical and mental health were critical in extracting my highest potential. Without them, I would have been deprived of the confidence, mental clarity, and willpower to maintain self-discipline.
–One thing you would change or do differently? Managing emotions was probably the most unexpected challenge of the application process. From before the GMAT to even after the interviews, it is easy to fall into an endless loop of "should haves," "would haves," and "could haves."
Too much of those thoughts can drive anyone insane and I could have saved myself a lot of anxiety had I stopped trying to predict the future. By trusting in your genuine self, you will accept the things you can't control and gain faith that, in the end, everything will turn out all right.
–Part you would have skipped if you could—and what helped you get through it? If I could have snapped my fingers and become GMAT ready, I would have skipped preparing for it. As a recovering workaholic, I found it difficult to squeeze in studying time after logging long hours at work. In fact, I tried it and consistently awoke the next morning with my head resting on the study guides.
I, therefore, completely re-prioritized my days to wake up a few hours earlier and added GMAT studying to my morning routine before leaving for work. That way, no matter how late my day went, I at least completed my GMAT practice. Staying disciplined and making sacrifices was tough, but the process of unrelenting repetition over the course of several months ingrained the GMAT concepts into my head.
What is your initial impression of Stanford's students/culture/community? From the conversations I have had with current and incoming students, my impression is that each class has been curated to include the brightest leaders, from a diverse range of backgrounds, who will have an immense impact on the world and leave long lasting legacies. This recipe creates a fulfilling and dynamic learning experience that extends beyond the classrooms, into the dorms, and on student trips.
I am continuously impressed by my classmates' huge ambitions and their zeal for tackling some of the world's most pressing challenges. Moreover, I find many of my classmates have interesting histories and covert talents, such as being an accomplished musician or a recreational pilot. The brilliance of the GSB students, faculty, and staff cultivates a can-do atmosphere that inspires creativity and motivates action.
I also immediately noticed that GSB's extremely close-knit and collaborative community promotes not only the exchange of ideas, but also the free flow of feedback. Traditions like TALK encourage students to find their inner voices and overcome their feelings of self-doubt. The GSB culture encourages students to be mindful of how they relate to others and empowers students to grasp opportunities and make difficult choices to overcome obstacles.
One thing you have learned about Stanford that has surprised you? Contrary to popular belief, not everyone at the GSB plans go into venture capital or entrepreneurship. I have met many students who plan to do amazing things in the social sector or at existing firms in fields ranging from education to healthcare.
Of course, if there was ever a perfect place to experiment and take the risk of starting a company, it would look a lot like Stanford. The Silicon Valley ecosystem and GSB's resources and expert support are unparalleled. Nonetheless, the experience of building a team and launching a company is grueling and often understated. So, I was not surprised to learn that some students try the entrepreneurship path and succeed, while others resort back to traditional MBA roles in finance, technology, or consulting.
Thing you are most anxious about in your first year? I am most anxious about the entire transition to business school. Like most incoming MBAs, I will bring high expectations for myself that I may ,not meet and there will be times where I will feel helplessly out of control.
In order to venture outside of my comfort zone, I will have to overcome my fear of failing, my fear of saying the wrong things, and my fear of not conforming. Ultimately, I will have to accept that personal growth comes with side effects of feeling discomfort, pain, and in some cases, embarrassment.
Finally, with this transition, I will have to confront my fear of missing out. I will not be able to take all the classes, travel on all the global study trips, or participate in all the student led activities that I hope to. So I will have to choose wisely and accept that there will be opportunities and experiences flying by that I won't be able to catch.
Thing you are most excited about in your first year? Overall, I am excited to transform my worldview through experiences and discussions with my future best friends!
But more immediately, I am participating in a global study seminar prior to starting in the fall to study how data and machine learning are shaping markets and governance in Singapore and Malaysia. I have never been to either country so it will be a fascinating introduction to the GSB and 25 of my classmates.