Pedro Pablo Salgado, Stanford GSB MBA Class of 2020
Age: 28
Hometown: Santiago, Chile
Undergraduate Institution and Major: Universidad Catolica, business and economics
Pre-MBA Work Experience: Prior to my MBA, I worked two years in a leading private equity firm focused in Latin America and three years in the investment banking industry on regional M&A deals. In parallel, I served as board advisor in one of the largest educational NGOs of my country, "Sociedad de Instrucción Primaria," promoting tech-education initiatives across vulnerable sectors.
Why business school? Why now? From a professional perspective, after five years working, business school is the perfect opportunity to consolidate my work experience, learn about cutting-edge technologies in different industries, and take my interpersonal skills and leadership to the next level.
Additionally, it is an amazing place to get immersed in a multicultural environment. The program gathers people coming from different countries and backgrounds who will contribute to every discussion from multiple perspectives, enriching the learning experience and generating innovative conclusions and impactful actions. Bottom line, a great combination of experience and life lessons!
Lastly, from a personal perspective, it was always part of my family plan with the purpose of growing as people and as a family. Stanford GSB is not only one of the best business schools in the world, but it also an amazing place to enjoy with your partner, practice sports, and get immersed in the community.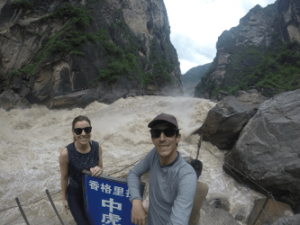 Why Stanford? What factors figured most prominently into your decision of where to attend? Change lives, change organizations, change the world. The Stanford GSB's motto motivates my career development in my intent to tackle the fundamental problems of my country and region. I'm convinced that to foster economic growth in developing economies like in those of Latin America, we need to promote mid-size companies and offer better opportunities to people. Stanford offers a unique platform to build up this dream, leveraging on its rich and diverse community, strong network, and exposure to the tech and innovative environment of Palo Alto.
What do you think is your most valuable or differentiating contribution to the Class of 2020? I aim to be the perfect partner to bounce off any crazy idea that someone might have in mind. I would love to share my experiences leading strategic initiatives in a private equity firm, evaluating business opportunities from an investor perspective, promoting tech education across vulnerable areas, or running a tech-related startup.
The MBA is about testing ventures and ideas, so I will be there to support my classmates reaching their goals!
Fun fact that didn't get included on your application? As a teenager, my lasting dream was to become a professional soccer player. I dreamed to raise international trophies with my beloved team Universidad Catolica, represent my country in a World Cup, and then play the Champions League with Atletico de Madrid, my grandfather's team.
However, after realizing how impactful my work could be, I took a different path. Soccer is still an important part of my life, as it offers the perfect chance to catch up with friends and family.
Post-MBA career interests? As a short-term goal, I would like to implement strategic initiatives, being exposed to cutting-edge technologies and methodologies. I would love to keep riding an exponential learning curve by leading projects and teams in platforms such as private equity firms, consulting companies, or corporate development teams. However, as an MBA is a transformational experience, I am open to new opportunities.
My long-term goal is to build a Latin American investment platform to provide a lasting social impact by funding local businesses with great potential and, at the same time, enhance educational initiatives across local communities to narrow the existent inequality gap. I strongly believe that private initiatives should support the government on these social matters. From a private perspective, these initiatives are also valuable, because by encouraging human capital and productivity, companies will improve their competitiveness in a globalized economy.
Advice to current prospective applicants: Just be yourself. Many applicants adjust their applications to fit into certain profiles that universities "may be looking for." In my opinion, they are missing the chance to show their credentials and their real contribution to the class.
At the beginning of my application, I spent so much time reading blogs and advice about how important it was to show community service activities, leadership experiences, and many other skills that universities were supposedly looking for. Going through my first draft, I felt that I was describing someone else rather than me. Eventually, one day, I turned off my computer and wrote my first real draft on a paper. Although it still went through a lot of changes, the strategy worked out, and it provided a true base structure that evolved into my final essay.
One thing you would absolutely do again as part of your application process? Asking for feedback from different people of your inner circle. I asked four people (a colleague, my wife, my brother, and a former boss) to analyze my full application. They gave me the best feedback as they were able to contrast their real perception of me against my essays!
One thing you would change or do differently? Enjoying each stage of the process, which can sound easy now that I'm on the other side. The process is a really good chance to evaluate and know yourself better, ask questions that maybe you never asked before, analyze weaknesses and strengths, and define who you want to be in the future.
Part you would have skipped if you could—and what helped you get through it? The application process is long, during which you are constantly testing yourself, so you have to be very patient. I would have skipped the days before the final decision. During that period, it was really difficult to keep my mind focused on what I had to do. It was the first time during the process that I realized how a single decision would deeply impact my life.
What is your initial impression of Stanford's students/culture/community? Amazing. After hearing so many experiences about how supportive the community is, I can endorse them. Alumni, students, and many people of Stanford's community have been really thoughtful prior to my arrival, not only helping me with academic stuff, but also in personal duties and doubts. Moreover, I have been contacted by many people offering their help and advice without even asking. I am deeply impressed by how real Stanford's network is and very grateful to be part of it.
One thing you have learned about Stanford that has surprised you? Stanford is not only one of the best universities in the world, it is also a sports superpower. Did you know that Stanford's students have won medals in every Olympic Games since 1908? Even more, in London 2012 Olympics, Stanford students won 12 gold medals, virtually reaching the 6th place in the general medal table, beating countries such as Germany, France, Brazil, or Japan.
Thing you are most anxious about in your first year? One of my biggest concerns during my first-year experience is how to manage time. With so many activities and personal goals, I don't know if time will be enough. Time is the scarcest resource in life, so the MBA is also an opportunity to prioritize your activities and learn the meaning of opportunity cost.
Thing you are most excited about in your first year? Meeting so many people coming from different backgrounds, with incredible accomplishments and interests. I am eager to get know them all and learn from their experiences. I am sure that this exposure will be a major highlight of my MBA, providing many life lessons and anecdotes.
Clear Admit Resources
Want to learn more about Stanford GSB? We encourage you to consider all of Clear Admit's Stanford offerings: