Sponsored Content
Networking is vital for every MBA student and applicant, and at the University of California-Berkeley Haas School of Business, the school does whatever it can to help. From offering a myriad of networking opportunities to focusing on creating diverse classrooms, UC Berkeley Haas ensures that before, during, and after your MBA you have connections that will last you a lifetime.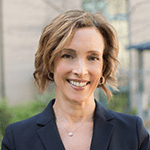 Here's what Senior Associate Director of Full-time MBA Admissions Liz Rosenberg had to say about networking and diversity at Berkeley Haas.
How does attending a multi-school event open up networking opportunities and how can an MBA candidate take advantage?
Our multi-school events are a terrific opportunity to get a feel for the varied programs and cultures of the member schools, both from admissions officers as well as alumni.  The forum allows students to compare and contrast and build connections to the schools early in the MBA application or research process.
Equally as important is the chance to meet and engage with other prospective MBA candidates and get their thoughts and perspectives on the schools and their journey. Who knows? You might end up sitting next to an applicant in class in a year or two or sharing an office down the road!
While you're at a multi-school event, exchange email and LinkedIn contact information with as many people as possible so you can keep in touch. You'll be building your MBA network months or years before you start classes!
How does your program promote candidate diversity and why is it important to your students' success and network?
At Berkeley Haas, we believe that diversity enhances individual learning and improves organizational performance. We have recently deepened our commitment to a more diverse and inclusive student body through our Diversity, Equity, and Inclusion Action Plan, which we believe will help us to live up to our Defining Leadership Principles and question the status quo.
The plan, which was drafted with the deep input of students and alumni, provides concrete ways to bolster enrollment of underrepresented minorities at Haas and to develop a more inclusive environment school-wide. Some of the unique recommendations of the plan include increasing scholarship funding to underrepresented minority students and changing admissions criteria to consider an applicant's skill set and experience in the areas of diversity, equity and inclusion.
Additionally, we have added an optional essay question to our application that allows the applicant to provide insight into their socioeconomic status and access to educational opportunities, helping the admissions committee to consider "distance traveled" in an applicant's qualifications.
At Berkeley Haas, we are doubling-down on supporting and respecting the diversity of personal experiences, values, and worldviews that arise from differences of culture and circumstance.
Are there any unique opportunities that your school offers to expand an MBA candidate's network?
We partner with a number of organizations dedicated to helping current and future MBA students achieve their career goals. In addition to our multi-school events, which I talked about in question one, we also partner with organizations including the Consortium for Graduate Study in Management, Management Leadership for Tomorrow (MLT), National Black MBA Association (NBMBAA), National Society of Hispanic MBAs (NSHMBA), The Riordan MBA Fellows, Tiogo Foundation, Forte Foundation, National Association of Women MBAs, and Reaching Out MBA (ROMBA) that provide networking, MBA prep and scholarship opportunities for prospective students.
To learn more about how to build your network at Haas, connect with our Haas Student Ambassadors who are excited to help you find ways to connect with our community. Once you're a student at Berkeley Haas, our student-led clubs and affinity groups and network of over 41,000 alumni will demonstrate our commitment to going Beyond Yourself in their eagerness to share insights and advice, contacts and connections.
UC Berkeley Haas wasn't the only school to answer these questions. If you'd like to see what the admissions teams at Cornell Johnson, Duke Fuqua, Michigan Ross, NYU Stern, UVA Darden, and Yale SOM had to say, head here.