What happens when the "best business podcast on startup life," according to Fortune, decides to host its first-ever live show on the road? You get a live pitch competition to remember!
Hosted at the Wharton School, Gimlet Media's renowned podcast The Pitch featured three Philadelphia startups facing off in front of an audience and two prominent investors.  The more than 300 students and guests spilled over from the auditorium to an auxiliary room on the University of Pennsylvania campus to watch the pitch competition and cheer for the winning team. The full-length episode demonstrated what goes into VC funding with a first-hand look at investor pitching, and it was a huge success.
Eliot Ingram, the co-founder and CEO of Clear Admit, was lucky enough to attend the live pitch event and had a wonderful time. As a first-hand witness, he was able to give us unique insight into his experience and how it all worked.  Read on for his perspective and more details about the event.
The Stage and The Players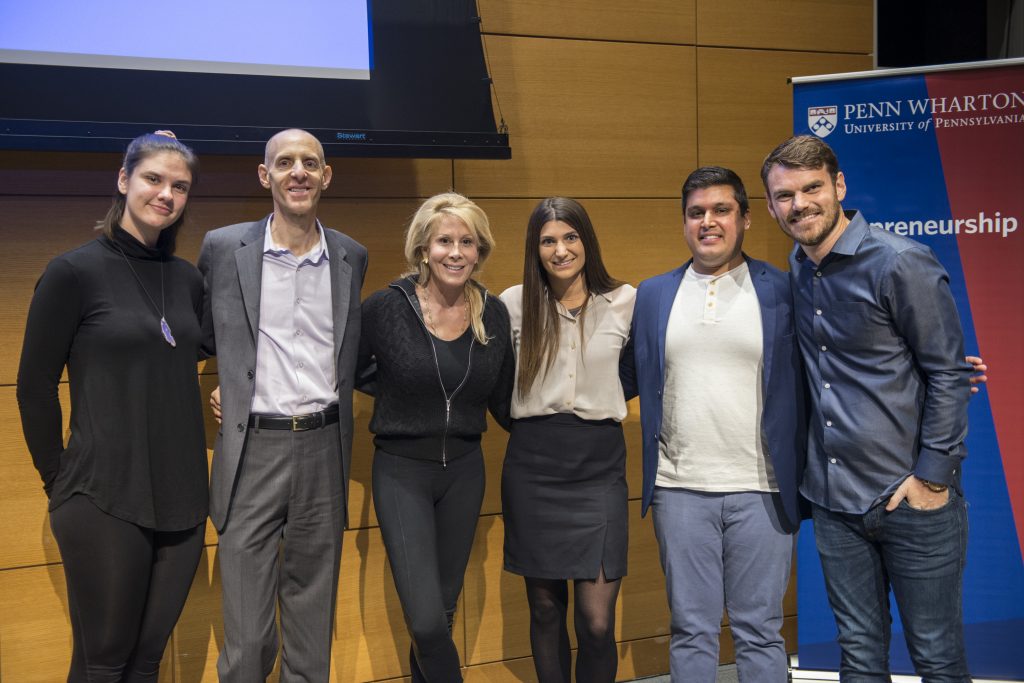 After opening remarks provided by Wharton Management Professor Ethan Mollick, the show began with host Josh Muccio, a serial entrepreneur. From there, Josh was joined on stage by the two judges: Jillian Manus, a Managing Partner of Structure Capital, and Phil Nadel (W'88), a founder and managing director of Forefront Ventures.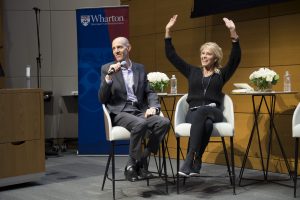 "It was clear that these two judges had lively banter—with Jillian tending to be the more outgoing and encouraging to participants while Phil was a bit more reserved and skeptical at times," described Eliot.
Finally, the three founders and competitors were invited to the stage to pitch their ideas:
Jessica Sarkisian, founder of Rezzio Learning, a company aimed at helping college students find a job.
Munir Pathak, founder of Swirl, an app seeking to help companies attract and retain underrepresented minority workers by matching them with mentors and coaches.
Katherine Sizov, founder of Strella Biotechnology, a patent protected sensor that allows fruit packers to monitor the quality of fruit stored in large warehouses out west.
In many ways, the live show worked like every other pitch completion, except for the fact that it was a podcast. This added an extra level of difficulty to the competitors because they were forced to communicate their company ideas wholly verbally without any visual slides or aids. As each founder pitched their ideas, they faced successes and failures.
Pitch Perfect—And Not So Perfect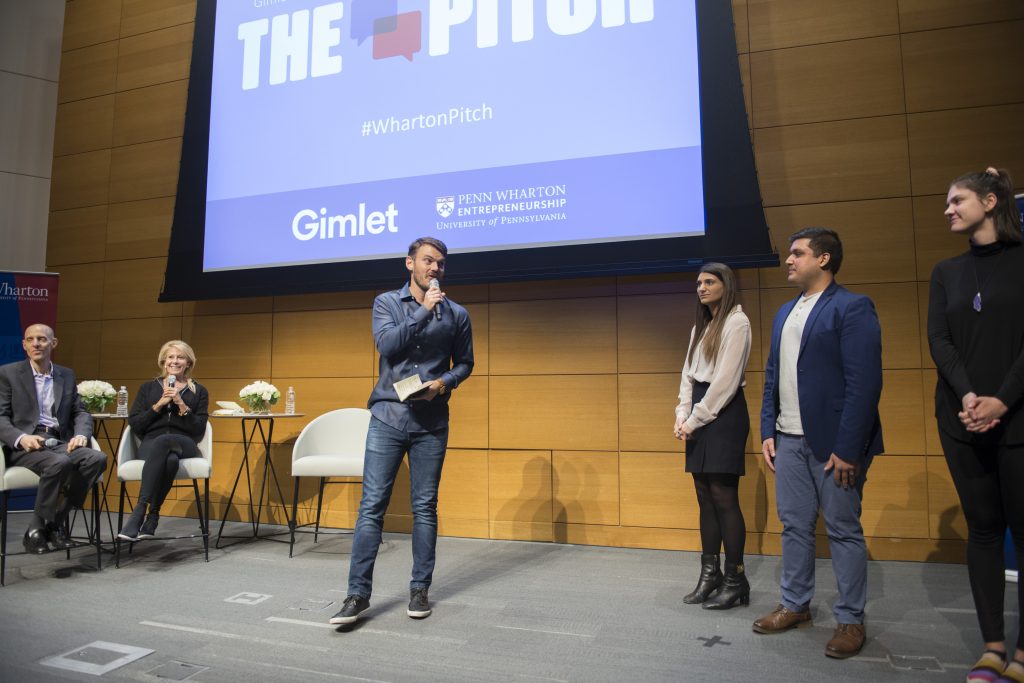 The judges were polite, but also a bit skeptical about key aspects of Jessica's pitch for Rezzio Learning. For example, they wondered whether 18-year-olds would start seeking their career so early. "The judges also wondered if the career office would perceive Rezzio to be a threat to the career office's relationship with the student," said Eliot.
As for Swirl founder Munir, he immediately got judge Jillian on his side, but that ended up being somewhat of a detriment when he was out-shown in his own pitch. "In fact, when Phil would ask questions showing his skepticism of the market need, Jillian would jump in and start answering Phil's questions," explained Eliot. "Phil would get annoyed and ask for the founder to answer the questions. The irony was that Jillian took the spotlight from the founder to her. Meaning, it felt that while there is a market demand and this was a potential solution to meet the demand, it seemed that Jillian would be a better person to be making the pitch."
Finally, Katherine was given her chance to pitch Strella Biotechnology, which immediately got off to a slightly rocky start when she made fun of Phil's first question about her company name. From there, things went better even when Jillian rattled off four competing companies and asked how Strella Biotechnology was different. "Impressively, Sizov was aware of these competing technologies and carefully explained how her sensor offered the best and most cost-effective solution for packers," explained Eliot. "The judges also asked how she is producing the sensors—she mentioned that she and her team are producing the sensors themselves. The judges encouraged her to find a manufacturing partner to help her scale."
The Big Reveal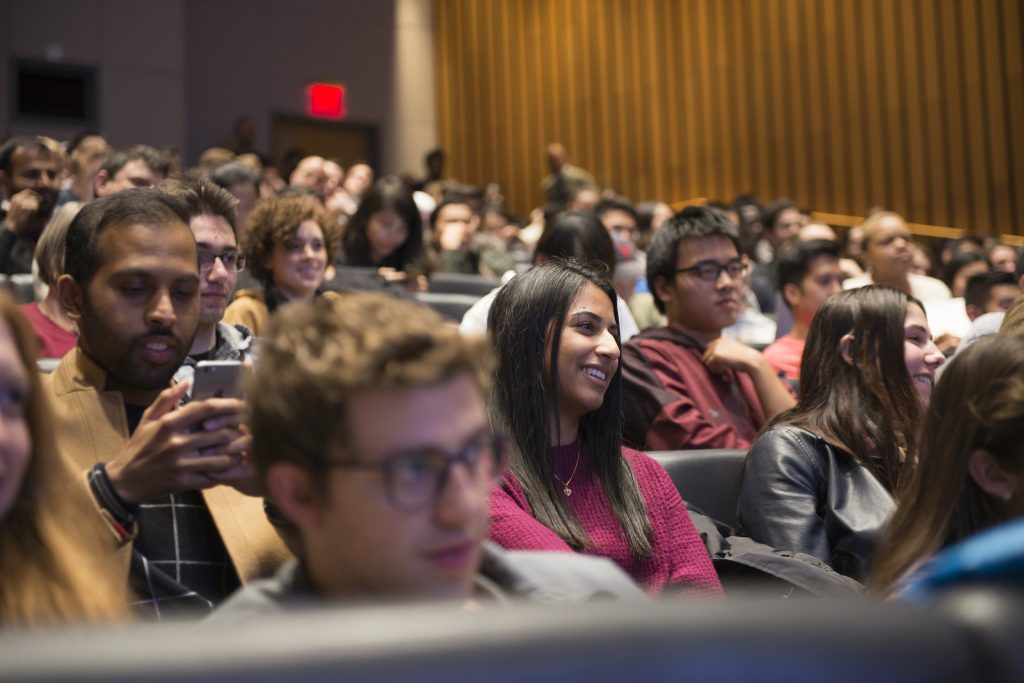 In the end, after a 10-minute deliberation, the judges came back to announce the winner.  Readers will have to wait for the big reveal though!  Stay tuned to The Pitch's website or when the podcast airs on the Wharton website in mid-December to find out the champion. For now, we'll leave you with one final thought about the live pitch event:
"All in all, I was impressed with the quality of The Pitch Event, and I thought that Wharton and Gimlet Media did a very good job," said Eliot.
Congrats to the winner and best of luck to those pursuing their entrepreneurial dreams!