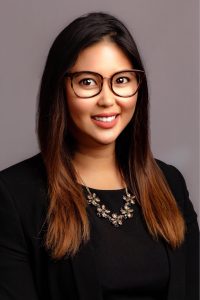 Pam Patipanavat, USC Marshall MBA Class of 2020
Age: 29 years young
Hometown: Los Angeles, CA
Undergraduate Institution and Major: University of Southern California (Double Trojan) – Bachelor of Arts Geography
Pre-MBA Work Experience (years, industry):
I spent the last 7 years working in a variety of industries. I graduated post recession and was fortunate to find a job in the natural gas utility industry, at Southern California Gas Company, mapping pipelines. I transitioned into e-commerce as a project manager at Loot Crate developing and implementing processes to mail monthly mystery boxes of geeky collectibles to our customers doorsteps. I then moved to New York to work in the growing FinTech scene as a Product Manager at Venmo.
Why business school? Why now?
I chose to pursue an MBA because I wanted to gain core business foundation competencies such as Accounting, Finance, Strategy, Marketing training I did not receive as an undergraduate social sciences major.
I knew how vital it was to understand business from a holistic point of view and wanted the formal theoretical training taught in the classroom and the chance to apply the theory to  tangible business cases through experiential learning opportunities during b-school.
After 7 years of work experience, I was tired of switching jobs (I know so millennial of me) and wanted to take two years out to find what motivates me and drives me so that I can find an industry and function that will complement my ambition and drive.
Why USC Marshall? What factors figured most prominently into your decision of where to attend?
I wanted to come back to USC as a graduate student because of the rich network and power of the Trojan Family.  I experienced the richness of the network after graduating and I met some amazing alumni who are willing to help me out and make introductions to people after living on both coasts, I look forward to expanding the network with the Marshall community.
One particular deciding factor that led me to choose USC Marshall was Debra Langford, who is the Assistant Dean of Diversity and Inclusion at Marshall, her dynamic personality and her commitment to helping USC Marshall MBAs succeed is noteworthy.  I knew that finding a collaborative culture where diverse perspectives are celebrated and encouraged was paramount.
What do you think is your most valuable or differentiating contribution to the Class of 2020?
I think my most differentiating contribution to the Class of 2020 is my commitment to develop a diverse and inclusive environment. As a diversity and inclusion core representative, I look forward to organizing workshops and brown bag lunches to encourage discussion about implicit bias, discussing current social issues in current events, and how to develop leadership qualities where you can tackle D&I issues after business school.
I love the fact that the administration and faculty at Marshall is so supportive of these grassroots student led initiatives that they have given me abundant resources to help me accomplish my goals. I also am excited to be the first class at Marshall to achieve gender parity.
Fun fact that didn't get included on your application?
I was a contestant on the show "Legends of the Hidden Temple." Go Purple Parrots!
Post-MBA career interests?
After working at seed funded startups in tech, I realized how vital it is to have funding to keep a company running, this led to my a-ha moment that investment banking would give me the training and knowledge to understand how to advise companies on how to raise capital through debt or equity and help me hone in on the quantitative skill sets I will develop as I progress during my bschool.
Advice to current prospective applicants:
— One thing you would absolutely do again as part of your application process?
As a Consortium member at USC, I attended  the Consortium Orientation Program (OP) in Orlando. I had the chance to network and connect with students at the other 19 member schools and had a chance to connect with potential employers months before school started.
— One thing you would change or do differently?
I wished I knew that taking the GRE would be the better test for me. I found out late during the last few months before Round 2 was due in the application cycle. Definitely take both the diagnostic test for the GMAT and GRE and create a study plan a few months or a year ahead before you start applying.
Part you would have skipped if you could—and what helped you get through it?
I was a member of a few online forums such as Clear Admit, GMAT club, and group mes and developed really bad FOMO when someone received contact from their schools. I eventually muted the channels and stopped comparing myself to other people because admissions selection process is so mystical, you just need to let the universe work itself out.
What is your initial impression of USC Marshall's students/culture/community?  
Everyone at USC Marshall is so humble, collaborative, friendly, and unique and cool in their own way.  A few weeks before orientation started, people were already organizing events to get to know each other and it really helped create a close-knit class. Everyone at Marshall is so eager to succeed and it really shows during our recruiting cycle where people are helping each other case or run through the 400 investment banking interviewing questions.
One thing you have learned about USC Marshall that has surprised you? 
USC Marshall knows how to develop and deepen the ties to the rich network of companies in Southern California, the faculty and academic staff bring in so many valuable guest speakers and industry professionals from healthcare, retail, finance, real estate, entertainment, and tech to campus every week, its so hard to fit it into our schedule but the valuable opportunity to talk directly to a person who has your target job is indispensable.
Thing you are most anxious about in your first year? 
I constantly check my Google calendar and make sure I prioritize my time well balancing internship recruiting, social activities, and academics. One thing about me is that I like to keep my team updated on my investment banking recruiting since I will be flying out to New York to meet with bankers. I learned after my first few months as an MBA 1, is to make sure you always stay on top of your schedule and take time out for self care.
Thing you are most excited about in your first year? 
Programming some great events as a Diversity and Inclusion rep and make sure that my classmates enjoy the diverse and inclusive culture I am trying to develop at Marshall. I am also excited to participate in my first case competition at the National Black MBA conference in Detroit, and lastly participating in all the fun travel Marshall organizes for Prime before our summer internship!