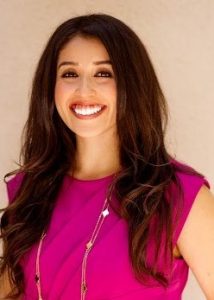 Anna M. Lopez, USC Marshall MBA Class of 2020
Age: 33
Hometown: Moorpark, CA
Undergraduate Institution and Major: California Lutheran University, Bachelor of Science, Biological Sciences
Pre-MBA Work Experience (years, industry): 12 years in Nonprofit Management
Why business school? Why now?
By stepping out of the workforce to participate in two years of professional development and relationship-building, I am investing in my career. I am working toward becoming a real estate practitioner, and given the Trojan network in California real estate, I decided that getting my MBA at USC Marshall would greatly facilitate that transition.
Why USC Marshall? What factors figured most prominently into your decision of where to attend?
My first exposure to USC Trojan pride was when I toured the campus as a high school student, and the marching band performed. I saw this pride again when I visited USC Marshall, and I knew I wanted to be a part of it. When deciding where to pursue my graduate studies, a strong alumni network was paramount. The Trojan network is a force to be reckoned with, especially in the Los Angeles region, where I will establish my career.
What do you think is your most valuable or differentiating contribution to the Class of 2020?
I am comfortable navigating opposition. I was a community representative for an organization that, while supported by the majority of Americans, drew protest. I constantly had to strategize, organize, and lobby to ensure that we thrived despite constant conflict.
Fun fact that didn't get included on your application?
At the age of 19, I worked as a Realtor and successfully closed several transactions before I entered the nonprofit industry.
Post-MBA career interests?
I am confident that USC Marshall will facilitate my career transition from nonprofit management to real estate. I am looking to attain an acquisitions role at a real estate firm that owns and manages multifamily housing. Committed to positive social impact, I would be especially interested in firms that own and manage affordable housing.
Advice to current prospective applicants:
–One thing you would absolutely do again as part of your application process?
I applied to business school through the Consortium for Graduate Study in Management. I would encourage those who are committed to diversity and inclusion to consider this opportunity.
—One thing you would change or do differently?
I am now considering a dual degree program (MBA/MRED). Completing the applications at the same time would have streamlined the process.
—Part you would have skipped if you could—and what helped you get through it?
I would have skipped standardized testing. I reminded myself that it was helping me get into study mode.
What is your initial impression of USC Marshall's students/culture/community?
I visited USC Marshall throughout the application process, participating in an Ambassador-led class visit, Diversity Summit, Women's Weekend, and Admit Weekend. Students were genuine, helpful, and proud to tout the USC Marshall values of transformational courage, collaborative ambition, impactful service, and unwavering integrity.
One thing you have learned about USC Marshall that has surprised you?
I was pleasantly surprised when it was announced at orientation that USC Marshall was the first top business school to reach gender parity in the full-time MBA program, with 52% women.
Thing you are most anxious about in your first year?
Fear of missing out: there are not enough hours in the day to take advantage of all the opportunities business school has to offer.
Thing you are most excited about in your first year?
I am excited to continue building relationships with fellow Trojans and continuing to support one another's successes.