Every year, MBA students who have a passion for Africa get together to organize the annual Business in Africa Conference at Cambridge Judge Business School. In its eighth year, the conference attracts business leaders, students, and professionals from all over, and is one of the largest annual conferences held at the school. If you're interested in Africa and other emerging markets, it's the conference you need to be at.
8th Annual Business in Africa Conference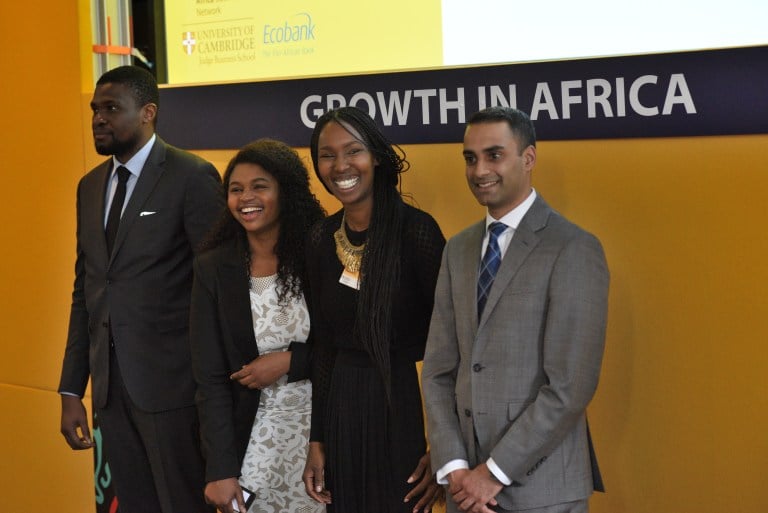 This year's conference took place on Friday, April 26th, after six months of preparation by MBA students Rezvan Ahmed, Thabo Lenneiye, and Steeve Tchatchuing, and MFin student Rivha Kamara. It opened with a gala dinner at Queen's College for an evening of networking and great conversations with people genuinely curious about the future of Africa.
The keynote speaker for the evening was Jimoh Ibrahim—a lawyer, politician, businessman, and philanthropist in Nigeria and the chairman and CEO of Global Fleet Group. He spoke about the opportunities and challenges for growth in Africa, and kicked off the conference by providing a baseline for the next day.
On Saturday, Professor Christoph Loch, the director of Cambridge Judge, opened the conference by talking about some thought-provoking trends that needed to be considered alongside growth in Africa. Keynote speaker Moeletsi Mbeki, a political economist and the deputy chairman of the South African Institute of International Affairs, then followed him on stage. From there, the conversation focused on some of Africa's greatest challenges and how a good education provides many solutions.
"The energy in the room was sustained throughout the day by our brilliant master of ceremonies Hunter Sims, an MBA classmate of ours," said Rezvan.
Overall, the conference was a highly interactive experience. The audience had plenty of opportunities to ask questions, contribute to discussions, and participate in four panel sessions. The panel sessions covered a wide range of topics, including:
The Africa infrastructure imperative
Responsible investment—a good business model
Financing growth through disruption
Digital content, which focused on Africa's rapidly growing technology sector
"At the end of the day, we had the honor of inviting Dr. Namukale Chintu, an alumna and one of the original founders of the Cambridge Africa Business Network, to deliver the closing remarks at the conference," Rezvan wrote. "She reflected on how, from humble beginnings, the Cambridge Africa Business Network has grown from strength to strength. She delivered an inspiring closing speech, full of optimism and motivation for those of us in the audience on the verge of embarking on the next step in our careers."