Moving right along in our new series, MBA Admissions Brief, we hear from Chad Losee (HBS MBA 2013), the Managing Director of MBA Admissions and Financial Aid at Harvard Business School.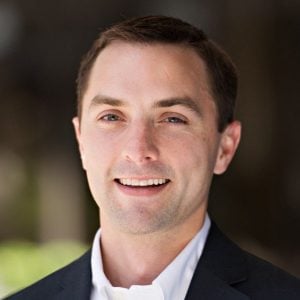 Losee knows what it's like to be on the applicant side of the process, having gone through it himself not too long ago.  Moreover, he has a storied history with the school and passion for education that shines through his professional choices.  After a couple of years at the management consulting firm Bain & Company, he headed to HBS— inspired by MBAs from Bain & Co, drawn to the case study method. While on campus, he volunteered as an admissions ambassador and spent the summer between his first and second MBA years working as an associate in the office of former HBS Dean Kim Clark.  Upon graduating HBS, he spent a year working as a fellow for HBS Dean Nitin Nohria. The latter post was initially intended to be a few months, but stretched into a full year as a leadership fellow and later assistant director of HBX (now known as Harvard Business School Online). He also sat on the HBS Board of Admissions during that time, providing an up-close look at what became his every day in May of 2016.
Over the past three years heading up admissions at HBS, he's helped shaped the exceptional classes, overseen a shift to two admissions rounds, welcomed an inaugural cohort of MS/MBA students and taken the time to talk to Clear Admit about interviews, financial aid and more—to mention just a few.
Read on for Losee's insights into HBS, their admissions and what actions applicants can start taking now.
What would you say to someone who's applying next year and just getting started in the MBA application process now?
Invest to learn more about two things:  1) the business schools you are considering and 2) yourself.  First, take time to visit schools virtually or in person. You want to be in an environment in which you can thrive in and out of the classroom. For instance, if you're considering Harvard Business School (and I hope you are!), if learning by the case method doesn't resonate with you, other programs might be better. In addition to exploring our website and watching videos on the academics here, you can experience the case method by visiting a class on campus.
Second, take time to invest in the self-reflection journey. What are you good at? How do you want to make a difference? What kind of work do you find meaningful? People who find the application process most rewarding are those who use it as an opportunity to learn about themselves.
As you get into the application itself, share with us what you've learned. An authentic, clear voice about where you are on your leadership journey will resonate more than writing about what you think schools want to hear. After completing your application, ask yourself or a close friend or family member, "Could this application also be for someone else?" If so, it probably isn't personal enough and you likely need to do some more introspection.
It's important to keep in mind that we consider all the elements of the application to get to know you and never look at just one piece by itself.
What's the one thing MBA candidates should know about selecting a recommender?
Recommendations matter. Pick two people who know you well, will advocate for you, and can give share specific examples to help us get to know you.
What's your program's most exciting change, development or event coming up in the year ahead?
HBS and the Harvard Paulson School of Engineering and Applied Sciences (SEAS) recently launched a new joint master's degree MS/MBA that has been very successful in attracting outstanding candidates in his first cohort. The program, which confers an MBA and a Master of Science in Engineering Sciences from SEAS, is completed in four semesters over two years.
Designed to train future founders and leaders of technology ventures, the MS/MBA program will provide a strong foundation in general management, build design skills, and extend students' understanding of engineering.
Of the big trends in business education right now (tech, globalization, analytics), what are you doing or innovating in one (or all) of these spaces?
HBS continues its efforts to build a deep understanding and expertise in global business practice and innovation around the world. We're constantly refreshing and expanding our global curriculum – 54 percent of cases produced in FY18 were global – and evolving the list of Field Global Immersion (FGI) locations year-to-year. FGI is a semester-long first-year MBA course that culminates with student teams traveling to global markets around the world, requiring them to develop a new product or service concept for a global partner organization.
Africa is one particular area of focus, a region that is assuming an increasingly vital role in the world economy. This year 246 students will be going to Africa— to Accra, Dar es Salaam and Cape Town specifically – for the FGI course. The school also opened the newest regional office, the Africa Research Center in Johannesburg, South Africa. HBS now has a network of fourteen research centers around the world. The Africa Research Center plays an important role in helping HBS develop and strengthen relationships with business and academic leaders across sub-Saharan Africa, while our Middle East and North Africa (MENA) Research Center based in Istanbul, plays this same role for North African countries.
A new Short Intensive Program (SIP) taught in January 2019 called "Africa Rising: Understanding Business, Entrepreneurship, and the Complexities of a Continent," also focuses on this region.
HBS supports graduates who want to make a difference in emerging markets with the Global Opportunity Fellowship (GO: Africa), which supplements the income of MBA graduates who go to work in Africa following graduation, designed to bridge the gap between a recipient's annual salary and $100,000 USD. The goal is to attract top talent to Africa and expand the school's global impact.
What would you like to highlight about your post-MBA career placement success?
HBS Career Professional Development works individually with students to develop their career vision and identify opportunities that meet students' unique career goals, resulting in opportunities with over 300 organizations for the Class of 2018. HBS has 50 career coaches mapped to every industry and geography globally to support students while they are at HBS and after they have graduated (for the rest of their careers).