As you may have heard, the Dean of the Wharton School, Geoff Garrett, is leaving for the USC Marshall School of Business next year.  After Penn announced the news, Garrett also reached out to bid farewell to alumni.
Penn Announces Garrett's Departure with High Praise
Earlier this month, Penn President Amy Gutmann and Provost Wendell Pritchett released the following statement about Garrett's departure:
"We write to inform you that Dean Geoff Garrett will be leaving Penn at the end of the 2019-20 academic year to become Dean of the USC Marshall School of Business, starting July 1, 2020.
"Geoff has done an absolutely superb job in leading Wharton for the past five years and in helping firmly establish Wharton as the world's leading business school.  In partnership with Wharton's incredible community of faculty, staff, students, alumni, and friends, Geoff has expanded the Wharton standing faculty to more than 240 members and increased its breadth, depth, diversity, and eminence.  This has enabled the school to reinforce its leadership in its traditional areas of strength while also emerging as a global force in data analytics, entrepreneurship, fintech, behavioral economics, and other fields that are defining the future of business.  Innovative programs such as the Penn Wharton Budget Model, Behavior Change for Good, the Stevens Center for Innovation in Finance, the Harris Alternative Investments Program and the Analytics Initiative are helping Wharton do pioneering work in novel ways, reach more communities, and have more global impact than ever before.  Wharton's volunteer leadership and alumni are engaged as never before, and their unprecedented support has fueled the School's continued ascent.  We are committed to sustaining Wharton's extraordinary momentum of the past five years throughout our Power of Penn campaign and far into the future.
"The student body is more accomplished, diverse, and better supported than at any point in Wharton's storied history.  A revamped undergraduate curriculum has brought a renewed school-wide focus on experiential learning and teaching excellence. Dual-degree programs and cross-school partnerships have expanded in high-priority areas including global business and society, healthcare leadership, management and delivery, integrated product design, business and law, and data science and information technology.  Online education has grown exponentially with online preparation classes for incoming MBA first-year students, online specializations for business professionals in fields from leadership and management to business analytics and fintech, and hundreds of thousands of digital learners from around the world have accessed Wharton MOOCs.
"The Wharton footprint continues to grow in Philadelphia and around the world.  Here on campus, a new Wharton Academic Research Building is under construction, Tangen Hall and its associated Venture Lab will transform Penn student opportunities in entrepreneurship, and renovations to Vance Hall, Lauder Hall, and other Wharton facilities are providing faculty and students with the best and most cutting-edge facilities.  Wharton's reach also increasingly spans the nation and the world with record enrollments in the MBA program for Executives in San Francisco and with robust and growing offerings, including extensive Executive Education programming, at the Penn Wharton China Center in Beijing.
"Geoff's career has been truly international in scope.  He had served on the faculty at Wharton prior to becoming Dean of the UCLA International Institute.  He then returned to his native Australia, where he served as Dean at both the University of Sydney and the University of New South Wales, before returning to Penn and having what can only be described as a stellar run as Dean. We completely understand his desire to be closer to family on the west coast and wish him great success in moving the USC program forward.
"In preparation for Geoff's departure from Penn, we will very shortly initiate the process of forming an Ad Hoc Consultative Committee of faculty, students, and alumni to advise us on the selection of the next Dean of the Wharton School. Penn Medicine EVP/Dean J. Larry Jameson has agreed to chair the committee and our expectation is that we will announce a new Dean prior to Geoff's departure. Since Geoff will remain at Wharton through the end of the coming academic year, we will have ample time to celebrate his extraordinary leadership.  In the meantime, we hope you will join me in extending warm wishes to Geoff on this new adventure in his life as well as thanks for his many contributions to Wharton's success."
Garrett Bids Farewell to Wharton for Family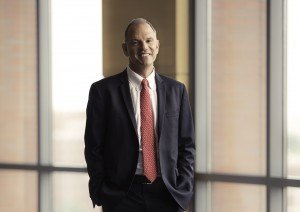 While Geoff is not set to join USC Marshall until 2020, he reached out to alumni with a parting message:
"Last week was one of profoundly mixed emotions for me. My past five years as Wharton Dean have been the most fulfilling and enjoyable of my professional life. I am so proud to be part of all that is going on at the School. But Los Angeles is home for my wife, our daughter, and me. After much thought, I couldn't pass up the opportunity to lead the USC Marshall School and to live with my family.
"My purpose in writing to you is to say one thing: thank you! I will forever be indebted to everyone in the Wharton family who has supported me, personally as well as professionally, throughout my time as dean. I am grateful to continue to work with the School's extraordinary faculty, staff, and students for all they do to make Wharton such an amazing place. Finally, I am indebted to you, Wharton's wonderful alumni and friends for rolling up your sleeves to propel forward our shared priorities and aspirations.
"I have been touched by kind messages from so many of you since my announcement. The next twelve months at Wharton will give me the chance to thank as many of you as I can in person while doing all I can to ensure that the tremendous momentum at the School continues.
"More Than Ever is not only a great tagline for the Wharton campaign. It also captures the spirit that pervades the School. It has been and remains my honor and privilege to play a part in both."
The early timing of the message suggests that perhaps many found this move confusing—USC Marshall has been climbing the ranks in recent years, but Wharton has been steady as a leading business school.  Geoff has clearly been thriving at Wharton, given the laundry list of accomplishments in the President's and Provost's letter.  Such impact and drive, however, always takes sacrifice—and there is more to life than one's career.  As Clear Admit co-founder and Wharton alum, Graham Richmond, remarked, "His decision reflects that we can work to live, rather than live to work." 
Search for New Dean Began Just Four Months Ago

Michael W. Quick, Provost and Senior Vice President for Academic Affairs, announced the search for a new dean at USC Marshall on February 14 this year.  He noted,
"Because of the Marshall School's vital importance to the university, I will lead the advisory search committee, co-chaired by Andrew Guzman, dean of the USC Gould School of Law, and holder of the Carl Mason Franklin Chair in Law, and Professor of Law and Political Science. This committee will identify and recruit the best candidates. Members of this committee represent a range of expertise and experience from across the Marshall School."
The Associate Vice Provost and an executive recruitment firm also supported the search process, as well as a group of six other advisors with ties to Marshall, including members of the USC Marshall Board of Leaders and Board of Trustees, president of the USC Marshall Graduate Student Association, and others.
Quick also laid out the standard procedure for recruiting a new dean, and ultimately the decision was up to the president:
"As the advisory search committee moves forward, the same rules of engagement will guide its work as have been observed in all our dean searches: (1) All nominations will come before the advisory search committee without filtering; (2) during the entire process, there will be no votes by any group or constituency, including the advisory search committee; (3) those who have views about the final candidates will be invited to send their comments to the search committee or to me directly and confidentially; and (4) the final choice of the dean is made by the president."
Dr. Gareth James is set to serve as interim dean until Garrett arrives at Marshall.  As for the impact USC is anticipating on the full-time MBA program, they are currently working that out and we look forward to hearing more in the coming months.
"One of My Favorite Roles as Dean"
Just prior to the announcement of his departure, Garrett was enjoying the graduation ceremonies at Wharton.  Just as he wished the latest graduates well, all of Wharton surely returns the sentiment.
One of my favorite roles as Dean is the opportunity to shake hands with our graduates and present each of them with their degrees. What a fantastic graduation season this was – congratulations again to all of our #WhartonGrads! pic.twitter.com/fpBhHtkuld

— Geoffrey Garrett (@garrett_geoff) June 5, 2019