This edition of MBA Admissions Brief takes us to Austin, Texas, where Managing Director, Rodrigo Malta, walks us through opportunities and features of the MBA at the McCombs School of Business of the University of Texas at Austin.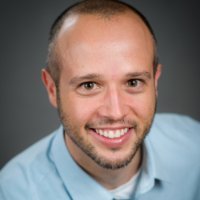 Rodrigo Malta is the Managing Director for MBA Recruitment and Admissions at Texas McCombs. His job is to oversee admissions for our Full-Time, Working Professional and Executive MBA programs. Rodrigo was born and raised in Brazil, pursued his bachelor and graduate business degrees in the United States, and is an MBA alumnus himself. He's a proud Texas Longhorn, husband to David and dog dad to Cooper and Oscar. He loves his job, soccer and all things taco-related.
Read on for what he shared about the Texas MBA program.
What would you say to someone who's applying next fall and just getting started in the MBA application process now?
Come to an MBA event! Our admissions team hosts events, in-person and online, year-round in cities around the world so you can get to know us. There's no better way to learn about our culture and your fit with the program. Our website is also a great place to start to learn about the program and the admissions process: TexasMBA.com.

What's the one thing MBA candidates should know about selecting a recommender?
Professional recommendations are always strongly recommended (i.e. direct supervisor), but your best recommender may not always be your direct supervisor. For instance, if you were recently promoted, you may have a new supervisor who has not worked with you for a long time. In that case, your previous supervisor may be a better choice. It's most important that your recommendation comes from someone who can genuinely speak to your qualifications from experience. If you do not select a direct or current supervisor for your recommendation, let us know your thought process on recommender selection via the optional essay.
What's your program's most exciting change, development or event coming up in the year ahead?
We've been settling into our brand-new graduate business school building, Rowling Hall, for about a year. Having major campus events in the fall, like our Discover McCombs weekends, in this new, innovative space is something our students and staff are already looking forward to.
Of the big trends in business education right now (tech, globalization, analytics), what are you doing or innovating in one (or all) of these spaces?
We are proud to provide our students with a strong foundation in business analytics—an evidence-based approach informs our entire curriculum. In our Full-Time MBA, over ninety percent of our students complete at least one analytics-based course during their MBA experience. These courses cover a variety of future-focused areas including machine learning, artificial intelligence and people analytics.
We are very fortunate to be located at the center of Austin. It is the seat of government in Texas and a major hub for tech innovation in fields from energy to healthcare. This gives Texas McCombs unparalleled access to major business and public policy challenges and creates a rich environment for hands-on learning and ongoing professional opportunities. Through programs like Texas Venture Labs, Venture Fellows, and micro-consulting projects with companies big and small, our MBA students are practicing what they learn in the classroom in one of the most innovative cities in the world.
Understanding the importance of developing a global perspective in business is tantamount to our students' success. Our experiential opportunities extend far beyond Austin, with trips to locations around the world to get to know top global employers and how they do business. MBA Global Connections takes our students to new places every year for an immersive experience. Past destinations have included S. Korea, China, South Africa, Cuba, and Ghana.
What would you like to highlight about your post-MBA career placement success?
Our career management approach focuses on 3 key components that lead to successful post-MBA outcomes: 
Strategic Career Planning Course: All of our MBAs are trained to leverage our unique Career Management Framework, which is applicable at any phase of their career. This course provides students with the core fundamentals to be successful in navigating an MBA job search. In the second half of the fall semester, this course offers over 30 custom workshops that allow a student to tailor to their individual needs. Our "DNA at Texas McCombs" course is a great example of forward-thinking experiential learning.
Personalized career consulting: We offer students one-on-one career consulting through a team of career consultants, 40+ second year Career Fellows, and a rotating team of industry experts to support the diverse areas of industry focus.
Vibrant alumni and employer ecosystem: Our alumni provide a critical role in supporting our students through mentorship and coming back to campus for career panels, office hours, and recruiting. Our geographic location also allows our students to successfully target opportunities from the West Coast to the East Coast. In addition, Austin has become the center of digital innovation as companies like Google, Amazon, Apple, Facebook, and BCG double down on growing their businesses in Austin.