Renee Cherubin is the new senior director of Northwestern Kellogg's Full-Time MBA admissions. In her role, she'll be responsible for driving applications, leading the admissions team, and bringing insight to the entire process. Cherubin's goal is to evolve Kellogg's Full-Time admissions work and to bring a new perspective to the Kellogg experience.
Cherubin's Journey as a Kellogg Student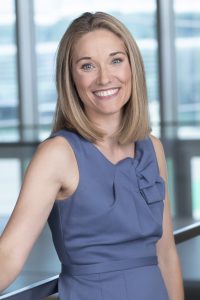 Cherubin has personal experience being a business school applicant. In 2004, after spending a few years as a management consultant at Deloitte, she applied to Kellogg's full-time MBA program. She went on to become a 2006 alumna, and she says that her decision to attend school was a "life-changing experience [for me] both personally and professionally."
As a student at Kellogg, Cherubin focused on leadership and global opportunities. She says it, "completely transformed [her] thinking." In particular, she remembers traveling to South Africa, Botswana, and Zambia for a consulting project targeted at boosting tourism rates, and that was just one of her trips. In total, Cherubin visited 11 countries during the two years she was in school.
Cherubin was also involved in student government and served as the student VP for the Career Management Center, which provided her first look at the campus recruitment process. It also evolved her leadership style.
Meanwhile, in the classroom, Cherubin deepened her analytical skills and expanded her perspective on a variety of topics. One of her favorite classes was her Managerial Leadership course taught by Harry Kraemer. In this class, she learned the "importance of having true self-confidence and genuine humility as a leader. You don't need to have every skill and every answer, but you need to be willing to surround yourself with others who can provide those answers, listen to them and help you evolve your own perspective."
Joining Kellogg's Admissions Leadership
The opportunity to join Kellogg's admissions team first occurred in 2012, when Cherubin became the director of Evening & Weekend MBA admissions. Over the next seven years, she helped the programs grow both in terms of offering and enrollment. She was also responsible for helping to launch the Accelerated Option, which allows Evening and Weekend students to complete their MBA in just one year.
Cherubin also helped to evolve the Executive MBA program, which was added to her responsibilities in 2015. Since that time, she was part of the team that nearly tripled the program's global elective offerings, added more personalized coaching and drove a five-year high in female enrollment
What's Next?
Cherubin is excited about her new role and feels the timing is excellent. She's looking forward to leveraging her background as an MBA student and as the director of Executive, Evening and Weekend MBA admissions in her new role.
Get a more in-depth glimpse and hear from Cherubin personally in the latest Kellogg blog.