While you may have recently enjoyed her podcast with Clear Admit or her Real Humans profile, Blair Mannix, the director of admissions at the Wharton School, has plenty more to share about the leading MBA program.
While she has been a member of the Wharton MBA Admissions team and admissions committee for seven years, her career in university admissions spans fourteen. She started her career in the undergraduate admissions office at the University of Pennsylvania working with international students, and finished her time with Penn undergraduates as the Associate Director of Evaluation and Selection thinking deeply about the process and ideology of admissions decisions.  In 2012, she transitioned from Penn Undergraduate Admissions to join the Wharton School. She held the title of Director of Operations and Evaluations in the Wharton MBA Admissions office for nearly four years, focusing on the daily operations of the admissions committee and the philosophy and training behind evaluation and selection of applicants.
In 2018, Mrs. Mannix was named Wharton MBA Director of Admissions.  Now she's here to dish on a few exciting developments at Wharton, the lifecycle of an application, Wharton's Semester in San Francisco, and more.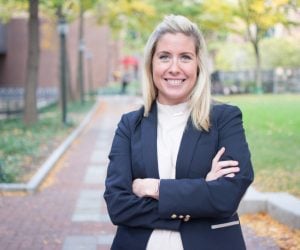 Clear Admit: What's the single most exciting development, change, or event happening at Wharton in the coming year?
Blair Mannix: The single most exciting thing that we have going on at Wharton right now is new additions to our campus. We are opening two new Wharton buildings in the next year and a half. Tangen Hall is set to open in Fall 2020.  It will be home to Penn Wharton Entrepreneurship and house all of the University of Pennsylvania's entrepreneurship resources, as well as be the hub of student entrepreneurship and innovation.
In the Summer of 2020, we will also open the Wharton Academic Research Building (WARB), which will be a student-centric home for research, group study, and classroom space.
CA: What is the one aspect of your program that you wish applicants knew more about?
BM: I wish applicants knew more about the Semester in San Francisco! We have a beautiful campus on the Embarcadero in San Francisco and we give our students the opportunity to spend a semester studying in San Francisco, taking classes in entrepreneurship and technology while working with some of the best Wharton faculty. A third of the cohort during the Semester in San Francisco complete internships in the Bay Area during the semester, connecting with venture capital firm and building their own startups. Wharton really is a bicoastal MBA program.
CA: Walk us through the life of an application in your office from an operational standpoint. What happens between the time an applicant clicks "submit" and the time the committee offers a final decision (e.g. how many "reads" does it get, how long is each "read," who reads it, does the committee convene to discuss it as a group, etc.)?
BM: As an office and an admissions committee, we speak often about our philosophy of making fair and accurate decisions and making those decisions with a lens of reduced bias and noise. These are the underlying principles of all the decisions we make. In service to those two ideas, we believe in getting as many touch points on an application as possible in order to decrease bias as much as we can. Each applicant gets two full reads by two different readers in a blind process.
It is important to us to ensure that when an application is read it gets two distinct reads: two distinct opinions that are not influenced by one another. If evaluators have access to each other's evaluations, it vastly decreases the fairness and accuracy of an evaluation and also increases noise in decision making. After each applicant gets two blind reads, we decide as an admissions committee who to invite to interview. It is important to us to meet and discuss all applicants before the interview. I always say that it is our first opportunity to make the right decisions and we don't take that part of the process lightly.
After our Team-Based Discussion interview, which I will share more on later, we review again the application and then the admissions committee meets for final decisions. It is important to note that the interview evaluation is not a binary one. In our process, candidates just don't clear the application hurdle and then, based on the results of the interview, are or are not admitted to the program. The interview results are part of the grander narrative about your candidacy. We believe this because we believe that students are more than the sum of their interview experience, which is why the candidacy is reviewed in its entirety post-interview.
CA: How many essays would you wager you've read in your tenure at Wharton? Thinking about the essays that have been the most memorable, is there something they have in common?
BM: I have been in selective admissions at the University of Pennsylvania for almost 15 years, so I have spent over 10,000 hours reading application essays. However, I think the question, "What is the most memorable essay you've read" doesn't really get to the heart of what we do in admissions. When you read an applicant's essay, you are looking for a glimpse into who the candidate is. You're looking for stories about them to understand them a little bit better. You're looking to get to know the applicant. So for me, the best essays I read are ones that, once I'm finished reading, feel like I know more about the applicant than when I started. This actually does not happen as often as you think it would.
CA: Could you tell us about your interview process? Approximately how many applicants do you interview? Who conducts the interview (students, admissions officers, alumni) and what is the nature of the interview (blind, non-blind)?
BM: We invite around 50 percent of our candidates to interview in our Team-Based Discussion format. Our Team-Based Discussion is either conducted by an admissions committee member or well-trained second-year students. The Team-Based Discussion is a 35-minute discussion, followed by a 10-to-15- minute blind interview. We feel strongly in blind interviews so that we gain an additional viewpoint on an applicant's candidacy in order to further reduce bias.
CA: Anything else you would like to add?
BM: Please be sure check out my episode of the Clear Admit podcast. It goes in deep detail on a lot of the admissions topics I answered in these questions and I've gotten a lot of feedback that it has been really helpful for candidates thinking about applying to business school. I also hosted an hour-long "Application Tips Webinar," currently available on the Wharton MBA Admissions website. In that session, I unpack the entire application process to the Wharton MBA and give my best tips from crafting your resume, writing your essays and choosing your recommenders. You can jump ahead to the sections that interest you most and watch the sections that will be the most helpful.