We continue with our Admissions Director Q&A series in the ever-bustling New York City.  Lisa Rios, executive director of MBA admissions at the NYU Stern School of Business, fills us in on exciting new developments at the school, what applicants should consider about the application process and plenty more.  Lisa has been a member of the admissions team since 2008 and works with the Full-time MBA programs. Prior to Stern, she worked in industry at JP Morgan Chase and Liz Claiborne. She earned her MA in Higher Education Administration at NYU Steinhardt and her BS in Business Administration from the University of Richmond.
Read on for her insights into the NYU Stern full-time MBA program, what IQ + EQ mean in the admissions process, and other MBA program options at school.
Clear Admit: What's the single most exciting development, change, or event happening at NYU Stern in the coming year?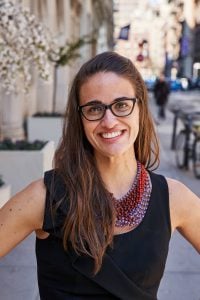 Lisa Rios: NYU Stern is a school on the move that keeps pace with the rapidly evolving business world through innovations that meet the needs of students entering a changing workforce. We're focused on creating a culture and experience that cultivates transformation.
The development we are most excited about this year is that Stern now offers more flexibility and choice than ever with three paths to the full-time MBA: the two-year Full-time MBA and our newly introduced focused one-year MBA programs – the Andre Koo Technology and Entrepreneurship MBA and the Fashion & Luxury MBA.
We've also introduced more flexibility and choice in our admissions process. Beginning with the current 2019-2020 admissions cycle, we're excited to announce we will now be accepting GMAC's Executive Assessment as one of three standardized test options.
Each of our full-time MBA programs allows students to make the most of the transformational Stern experience. All leverage the access Stern has to New York, where the city is our classroom, and our deep connections to industry expertise.
Our focused MBA programs, for example, were each created with insights from industry leaders, including CEOs, founders and chairmen, who now sit on Stern's Tech MBA Advisory Board and Fashion & Luxury Council and remain highly engaged with students.
All also benefit from Stern's ethos of being unbound by tradition and willingness to experiment – for example, Stern was the first business school to offer a FinTech MBA specialization, building on our prior leadership in the space.
And finally, as a school that's nimble and first and fast to market, we're primed to move quickly to launch new innovations. This fall, for example, we've introduced a new healthcare specialization, bringing our total number of specialization options to 26.
Regardless of program choice, all full-time MBA students now attend the LAUNCH programming together at MBA Orientation in August, gaining access to industry leaders and a chance to meet classmates from across programs in their early days at Stern.
CA: What is the one aspect of your program that you wish applicants knew more about?
LR: The access Stern's NYC location provides to students seems to be a clear, invaluable benefit, but it is one of the most frequent "surprises" I hear from current students. We make the student experience all about transformation, and we leverage our home in NYC and our deep connection to industry to make that happen.
This locational endowment enables us to offer what we call Stern Solutions, our experiential learning opportunities. Each year, Stern MBAs pair with faculty and real businesses to tackle their most pressing real-world challenges. Last year alone more than 600 students participated with over 100 corporate partners including multinational brands, nonprofits and startups.
Looking toward the future, experiential learning at Stern continues to grow with a more than 160% increase in student participation over the last four years. In addition, Stern Solutions projects are a built-in, compulsory component of our new focused Andre Koo Tech MBA and Fashion & Luxury MBA programs.
CA: Walk us through the life of an application in your office from an operational standpoint. What happens between the time an applicant clicks "submit" and the time the committee offers a final decision (e.g. how many "reads" does it get, how long is each "read," who reads it, does the committee convene to discuss it as a group, etc.)
We have four application deadlines, but we employ a rolling notification process, which makes us different from other schools that have a round system. Each application deadline has a corresponding initial notification deadline as to when we will get back to you, but that's the latest possible date and we try to release our initial notifications as soon as we have them. We understand that this can be an anxious process, and we don't make people wait longer than necessary.
Every application is considered by the Admissions Committee and every application is reviewed more than once, so it's not just a single individual's decision. And, in some cases, the committee will debate quite a bit. In every case, we just try to ensure that every application is reviewed holistically and is seen from more than one perspective.
What sets "Sternies" apart is our emphasis on IQ + EQ. The Stern community is filled with individuals who possess both intellectual and interpersonal strengths – those who develop great ideas, can turn those ideas into action and inspire those around them. Our application process highlights the importance of this combination; it is holistic and we consider candidates across three areas: Academic Potential, Professional Achievements & Aspirations, and Personal Characteristics.
A few elements of our admissions process are unique and help us to gain insights into an applicant's EQ. The first are our EQ Endorsements, which should be written by individuals who can objectively assess an applicant's potential for success in Stern's MBA program and future career, and who can also act as a persuasive advocate of their EQ strengths. In fact, they are asked to provide one specific and compelling example to demonstrate the applicant's emotional intelligence.
We then have an invitation-only interview process, which I explain in more detail in one of the following questions.  Regarding the application process as a whole, people have three initial notification possibilities: invitation for an interview, offer to be on the waitlist or denial. After an interview, we typically get back to the candidate within three weeks.  If someone is being offered a space in the class, our interviewers will try to call them first with the good news! These are special calls to make and one of the best parts of our day.
CA: How does your team approach the essay portion of the application specifically? What are you looking for as you read the essays? Are there common mistakes that applicants should try to avoid? What is one key thing they should keep in mind as they sit down to write?
LR: In the same vein of emphasizing IQ + EQ, our Committee also gets insight into the applicant's personality and emotional intelligence through our "Pick Six" visual personal expression essay, where applicants must describe themselves to the Admissions Committee and their future classmates using six images and corresponding captions. Applicants can use this to show us what is important to them, what makes them who they are. Our team really enjoys "reading" this part of each application.
In general, for all of our essays, we want the candidates to be authentic. Tell us the truth. Tell us who they are, what is important to them. They should be sure to answer the questions being asked and, in doing so, first do their research: think about their goals specifically, why the Stern MBA, and how the Stern MBA will get them to those goals.
CA: How many essays would you wager you've read in your tenure at NYU Stern? Thinking about the essays that have been the most memorable, is there something they have in common?
LR: So, so many… in a good way! I find the essays to be some of the most interesting parts of the application because they are written in the applicants' own voice. I love getting to learn more about people's stories and motivations, and the essays that are the most sincere are the ones that I remember. I've been at Stern for 10+ years now, so I have read (viewed, watched, etc.) many essays, but the ones that are the most real and authentic are the ones that stand out.
CA: Could you tell us about your interview process? Approximately how many applicants do you interview? Who conducts the interview (students, admissions officers, alumni) and what is the nature of the interview (blind, non-blind)?
The interviews give us a chance to learn even more about an applicant's story, as well as to give the applicant a chance to further demonstrate their IQ + EQ. First – the interview is not optional, it is required. Second – the interview is by invitation only. About 30 percent of applicants are invited in for an interview, so it's a good sign if an applicant receives an invitation!
Most of those interviews happen in New York City with one of our admissions professionals. We know it's a two-way street, and coming to campus is a great way for the applicants to see Stern in action, and to decide if Stern is the right place for them. Interviewees not only get to connect with their interviewers face-to-face, but they also get to meet current students and explore the School.
In preparing for the Stern interview, it's important to remember that the interview is not blind. The interviewer has already reviewed the candidate's application, and wants the conversation to go deeper than what is on the resume. We want to take advantage of these 30 minutes to talk about more than what's in the application and really get to know each candidate.
CA: Anything else you would like to add?
LR: I'd love to leave you with a fun fact: 100 percent of students seeking internships from the Full-time MBA class of 2019 secured them, and we were publicly recognized as the business school with the highest median monthly summer internship salaries.