For this edition of our Admissions Director Q&A series, we hear from Taylor Martini, who serves as the Executive Director of UCI Merage School of Business's Full-Time MBA Program. He oversees total operations of the Full-Time MBA Program, including financial and strategic management, academic programming and supervision of the admissions and student services teams. Before moving into his current role, Martini supported the recruitment and admissions function of the program office for four years.
Martini joined the Merage School in June 2015, soon after graduating from the UCI Paul Merage School of Business Full-Time MBA Program. During his time in the program, Martini secured multiple HR-focused internships which included a human resources rotational program at Tilly's and Learning and Organizational Development role at PacSun. Prior to his MBA studies, Martini spent three years working in the mortgage banking industry.
Martini was born and raised in Southern California and completed his bachelor's degree in business administration from Chapman University.
Clear Admit had the chance to sit down with Martini and learn more about UCI Merage's Full-Time MBA curriculum update that emphasizes leadership for a digitally driven world.
Clear Admit: What's the single most exciting development, change, or event happening at UCI Merage in the coming year?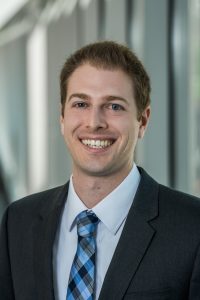 Taylor Martini: Our Full-Time MBA curriculum update. Over the last couple years our business school has updated our curriculum to focus on Leadership for a Digitally Driven World. It is a theme we have always excelled in, but it has now been integrated into the core of everything we do. We have remodeled our course offerings to provide a unique set of experiences and opportunities that set our students apart.
Our curriculum was redesigned to develop leadership skills and strategic thinking capabilities to better understand how digital technology can disrupt existing industries, erase traditional boundaries between markets, lead to entirely new industries and influence competitive strategy.
Some of the courses you'll see offered in our program include: Networks, Platforms and Ecosystems in Business Strategy, FinTech and The Digital Economy, Blockchain and Cybersecurity, Python for Management, Technologies and Analytics Consulting, Competitive Intelligence and many more innovative electives.
CA: What is the one aspect of your program that you wish applicants knew more about?
TM: We bring in prominent resources from industry to set our students up for success. Some of these resources include expertise in presentation skills, case interview preparation and effective team coaching. The student feedback is so positive that some of these partnerships span almost 20 years. Development of presentation and communication skills starts right away during orientation.
Our students get group and individual coaching sessions with our experts. Our students are video recorded while giving their first presentations and that recording is used as a baseline for improvement. Our students have various check-in and feedback sessions throughout the first year of the program. These experts prepare our students to excel in their internship opportunities. Employers have validated that this mechanism for feedback and individual coaching has differentiated our MBAs in the marketplace.
CA: Walk us through the life of an application in your office from an operational standpoint. What happens between the time an applicant clicks "submit" and the time the committee offers a final decision (e.g. how many "reads" does it get, how long is each "read," who reads it, does the committee convene to discuss it as a group, etc.)
TM: Our admissions coordinator reviews each application for completeness and provides detailed status updates throughout the admissions process. Once the application is submitted and complete (test scores, resumes, letters of recommendations), the application will be moved to the first read stage.
Our admissions officers complete two reads of the application before we decide to invite an applicant to continue in the process. If we invite the applicant to continue, then they can expect to receive an invite for a video interview stream.
The interview stream session consists of two verbal questions and one written question.  The responses provide our team the opportunity to share the applicant with other admission committee members. After the interview stream, we select candidates for full interviews.
Once we've conducted the interviews, the applicants go to an admissions committee that consists of the Admissions Officers, Assistant Dean of MBA programs and the Executive Director of our Merage Career Center. Using the application, interview stream and interview notes the committee makes a final admissions decision.
CA: How does your team approach the essay portion of the application specifically? What are you looking for as you read the essays? Are there common mistakes that applicants should try to avoid? What is one key thing they should keep in mind as they sit down to write?
TM: The essays give us a chance to learn a lot about our applicants and their career goals.  The objective is to get to know our applicants outside of their test scores, transcripts and resume.  We want to get to know each applicant as a person and what makes them unique. Our main essay question relates to our focus on Leadership for a Digitally Driven World.
We want to make sure each applicant has taken the time to think through what trends will impact their future job function and industry. A common mistake we see made is applicants writing what they think we want to read instead of telling their authentic story.  Applicants should think about their uniqueness and make sure that is represented in their essays.
CA: How many essays would you wager you've read in your tenure at UCI Merage? Thinking about the essays that have been the most memorable, is there something they have in common?
TM: I've reviewed over 1,500 essays and it's one of my favorite parts of the application review process. I view it as an opportunity to get to know the applicant in their own voice and words.  The essay section gives candidates a way to stand out by discussing their goals, personal experiences and passions. The essays that have been the most memorable are the ones that create a connection with the reader. Candidates that communicate and share their story effectively help differentiate themselves.
CA: Could you tell us about your interview process? Approximately how many applicants do you interview? Who conducts the interview (students, admissions officers, alumni) and what is the nature of the interview (blind, non-blind)?
TM: The interview process is an opportunity for us to meet and learn more about each candidate. We evaluate if an applicant is going to be successful in the program, represent our school well in the marketplace and provide value to their peers.
We also determine if each admitted student will receive the tools and resources they're looking for. We conduct full interviews with about 1/3 of our applicants. Only admissions officers conduct the interviews, although you'll meet students and alumni throughout the process.
For applicants that can make it to campus, we try to provide a sense of what the community at Merage is like. This could include sitting in on a class, taking a tour of the school, meeting with a student ambassador or having lunch with a group of current students.
CA: Anything else you would like to add?
TM: I always encourage prospective students to reach out and connect with the schools they're interested in. How candidates are treated through the application process can sometimes be an indication of what it will be like to be a student at that school. At the Merage School, you can have a consultation with an Admissions Officer or connect with our Student Ambassadors. We love hosting candidates on campus and it's one of the best ways to assess culture and community at the business school.  Please don't hesitate to reach out and engage with our community!