As Round 1 interview invitations from The Wharton School roll out, we wanted to make sure you're ready for their MBA interview.  In this episode, your hosts Alex Brown and Graham Richmond break down Wharton's group interview – the 'Team Based Discussion' (TBD) – and offer a wealth of tips and background to help applicants ace their Wharton admissions interview.
Alex and Graham, who both formerly worked in admissions at Wharton, discuss the history and purpose of this interview format.  They also provide sage advice on how to deal with different personality types in your TBD and explain the pros and cons of Wharton's unique process.
The TBD prompt for the 2019-2020 admissions season can be seen here.  This podcast episode includes a lengthy discussion about what to expect from the 1-on-1 interviews that Wharton conducts after the TBD. If you have any desire to attend Wharton, this podcast is a must-listen.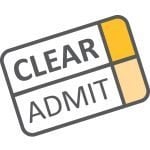 And as always, remember that the Clear Admit Interview Archive also offers a repository of applicant-submitted details about the interview process.
If You Like What You've Been Hearing, Please Subscribe and Rate Us on iTunes!
We love seeing the audience for our podcast series continue to grow! Please, if you have enjoyed what you've heard, won't you take a moment to rank the Clear Admit MBA Admissions Podcast in iTunes? That can really help even more listeners find us. To ensure that you never miss an episode, you could even subscribe.
This episode was hosted by Graham Richmond and Alex Brown, and produced by Contributing Editor Jonathan Pfeffer. Thanks to all of you who've been joining us! One more time: Ranking us in iTunes can help others find us, too, and subscribing means you'll never miss a podcast.