More than 160 prospective students, alumni, faculty and staff attended Cornell /Johnson's annual Diversity Symposium earlier this month. Hosted by the Office for Diversity and Inclusion (ODI) and held in conjunction with Johnson Means Business, the theme of the weekend's events was "Belonging in Business," which highlighted the personal and professional sense of belonging that everyone deserves. The event also delved into how to create an environment of belonging for a more welcoming and inclusive business world.
"This year is especially significant for our community, because it marks the 20th anniversary of the Johnson Office of Diversity and Inclusion," said ODI director Jamie Joshua. "As the first top business school in the nation with a dedicated office working to disrupt the business landscape status quo, we are excited to celebrate the progress we have made up to this point and determined to keep that momentum building."
The celebration culminated with the Johnson Distinguished Alumni Diversity Awards Dinner. Three alumni were honored for their outstanding professional achievements and commitment to their communities. They were chosen because they embody Johnson's values of:
Mutual respect
Collaboration
Integrity and trust
Pride and accountability
Professionalism
Investment in self
Larry Ruff (MBA '82)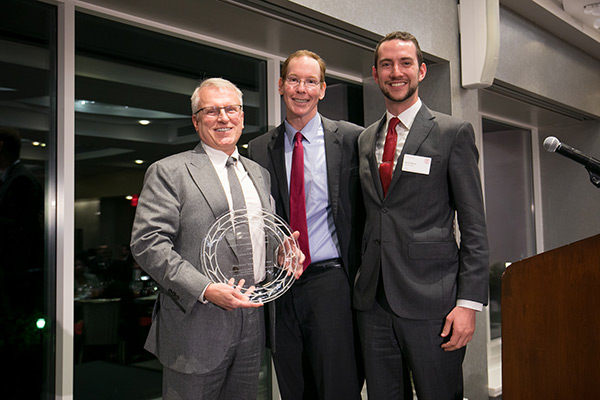 Larry Ruff received the inaugural Out in Business Distinguished Alumni Award. He was recognized for his demonstrated commitment to the LGBTQ+ community in business and society. The founder and CEO of Larry Ruff & Associates, Ruff is a "passionate advocate for social impact." Over the course of his career, he's served as the vice-chair on the board of Fair Trade USA, a pioneer in psychometric marketing, and has held many executive positions.
"I'm so proud to be the first recipient and I'm so thankful that the Office of Diversity and Inclusion and the school decided to create this award because I think it's an important symbol as you think about diversity and inclusion even more broadly than it's been thought of to date," Ruff said.
Marmeline Petion-Midy (MBA '00)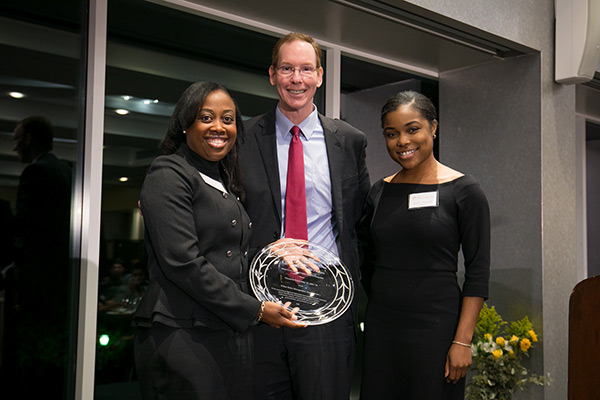 Marmeline Petion-Midy was honored with the Wilbur Parker Distinguished Alumni Award. Recognized as an African-America alumna who demonstrates outstanding professional achievement, Petion-Midy is a certified corporate financial planning and analysis professional. At Invesco, she's responsible for strategic planning and budgeting, financial reporting, and analysis. Her career has spanned GM, OppenheimerFunds, and more.
"Marmeline's achievements and commitment to the Johnson community serve as inspiration for alumni as well as current and prospective students, and enrich Johnson in so many ways," said Dean Mark Nelson.
Eduardo Padilla Silva (MBA '81)
Eduardo Padilla Silva earned the Carlos R. Quintanilla Distinguished Latino Alumni Award. He was recognized for his demonstrated commitment to the Latino community is business. As the CEO of FEMSA, a Mexican beverage and retail company, Padilla Silva had a significant influence on his company's growth. He grew OXXO into the largest small-format chain in the Americas. Before FEMSA, he worked as the CEO of Terza and spent 19 years at ALFA.
"A lot of what I have achieved in my professional career is founded on the building blocks I laid during my time at Cornell. … I received an extraordinary education, with amazing professors who were always there to challenge us," wrote Padilla Silva.
Going forward, the Diversity Symposium will be renamed the Johnson Inclusion Summit. Learn more by reading the original press release here.