The wave of Round 2 deadlines may look like it's on the horizon, but, based on what goes into applying to business school, those deadlines are closer than they appear.  Whether you're just kicking off your MBA applications or have some experience knowledge from Round 1, this podcast episode will help you succeed in Round 2.
Two of Clear Admit's admissions experts, Graham Richmond and Alex Brown, run through what it will take to submit strong apps and ultimately receive positive news from your target schools.  Richmond has worked in the MBA admissions space for 20 years, earned his MBA from Wharton, and co-founded Clear Admit.  Brown worked for several years as part of the admissions team at the University of Pennsylvania's Wharton School and is also the author of Becoming a Clear Admit: The Definitive Guide to MBA Admissions.
What does the duo tackle in this episode? Everything you need to start your Round 2 apps today through the last Round 2 deadline! Here are just a few of the challenges they cover:
Knowing and managing deadlines
Spacing out, drafting and writing essays
Getting ready for data forms
Tune in to learn more! The episode is available below as well as on iTunes and Stitcher.
This podcast episode is brought to you by Bain & Company.

Check out Bain's new podcast, Beyond the Bio! Keith Bevans, a Partner and global head of consultant recruiting, dives deeper into the lives, careers, challenges and triumphs of some extraordinary Bain people. Subscribe to Beyond the Bio here.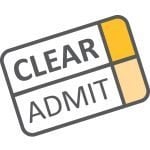 If You Like What You've Been Hearing, Please Subscribe and Rate Us on iTunes!
We love seeing the audience for our podcast series continue to grow! Please, if you have enjoyed what you've heard, won't you take a moment to rate the Clear Admit MBA Admissions Podcast in iTunes? That can really help even more listeners find us. To ensure that you never miss an episode, you could even subscribe.
If you have an idea for a future podcast, feel free to run it by us! Please send your pitch to [email protected].
This episode was hosted by Graham Richmond and Alex Brown, and produced by Contributing Editor Jonathan Pfeffer. Thanks to all of you who've been joining us! One more time: Ranking us in iTunes can help others find us, too, and subscribing means you'll never miss a podcast.