The new refined curriculum at Dartmouth Tuck began in earnest last summer with the arrival of the Class of 2021. The goal was to improve the core curriculum with more integrated courses and programs to lay a better foundation for future learning. The update began after a multi-year review conducted by students, faculty, recruiters, alumni, and staff. The result: a "refined core curriculum" focused intentionally on the career journey of students.
Read on for details about the enhancements and their impact.
Earlier Fall Term
One significant change to Tuck's first-year MBA curriculum was a much earlier fall term. Now, starting on July 20, students have the opportunity to begin their MBA with international adventure trips, optional programs, and pre-enrollment programs. Then, the core curriculum officially starts on August 10.
"I haven't been back to school in almost 12 years," says Sarah T. Blatt T'21 "so having a couple of weeks to sit still in a chair, listen to lectures, and interact with classmates allowed me to exercise that part of my academic self I haven't exercised in a while."
New Tuck Launch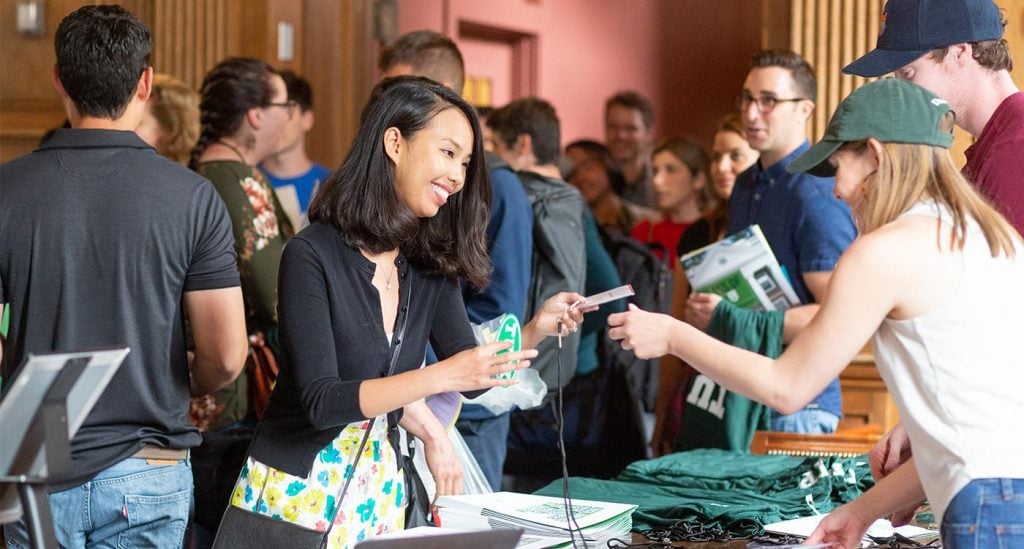 Tuck Launch is the new two-week orientation program that all Dartmouth Tuck students must attend. It includes four sessions on managing people, personal leadership instruction, presentations by the Career Services office, and other experiential learning opportunities.
Tuck has extended the duration of orientation, to give students more time to reflect on their career paths and adjust to a hectic full-time MBA schedule.  It's an opportunity for incoming MBA students to slowly reintroduce themselves to academia through lectures, interactions, and exercises. The goal being for students to answer such personal thoughts as:
What energizes me?
What professional accomplishments do I value most?
What would my coworkers say about me?
New Analytics Core Course
After Tuck Launch, students begin the first term of fall (Fall A) with their core courses. Those courses include Managing People, Financial Accounting, Management Communications, Managerial Economics, and Analytics. Analytics is a new course that spans Fall A and B and replaces the previous core course Statistics and Decision Science. It was "designed around three themes: using data to describe the world, predict outcomes, and make recommendations," explains senior writer Kirk Kardashian.
Updated Core Calendar
But it's not just a new analytics course that changes the core curriculum; it's also the timing. For example, Strategy and Marketing was moved to Fall B so that students could use the valuable lessons in the class to prep for their internship interviews. In addition, over the winter, students are now offered personal leadership coaching to tie into their Managing People course and the new core course Managing Organizations.
Other calendar changes include:
Winter term now begins the second week of January to allow the bulk of interviews to happen the first week of the month.
Winter term classes now only take place on Mondays and Tuesdays so that students have more time to vigorously pursue an internship without conflicting with course schedules.
The lightened schedule also means that some students can load up on electives in the winter for a lighter spring schedule if that makes more sense for their internship.
Curriculum Updates for Second-Year's
Tuck Recharge: For second-year MBA students, there's a new re-orientation program called Tuck Recharge. It takes place right before the start of their second year and was created to help encourage MBA students to make the most of their final year.
10 New Elective Courses: There are also 10 new elective courses open to second-year students, including five new courses offered in two weeks over the December holiday break.
Leadership Coaching: Additional leadership coaching was also added to help second-year MBAs prepare for their final interviews.
To get a more in-depth look at all the changes to the Tuck MBA curriculum, you can read the original school blog here.