Special guest Michael Robinson, Director of MBA Admissions at Columbia Business School (CBS), joins us for a podcast episode that will cover everything you want to know about the leading MBA program.
Robinson was an entrepreneur, running a music publicity firm, prior to becoming a member of the CBS MBA Class of 2001. He then joined MBA admissions at the school in 2002 and moved up to director of MBA admissions in July 2016. In this role, he serves on the admission committee and manages strategic relationships with key corporate and nonprofit partners to drive future MBA applications. He has spearheaded the school's presence in Africa and Southeast Asia, and informally mentors women and people of color.
In this episode, you can hear more from Robinson about admissions at Columbia Business School, as he walks us through the life of an MBA application, applying Early Decision or Rolling Admissions, how the interviews play out, and more. We also get to the lighter side of life with questions from our "Real Humans" series.
Tune in to learn the ins and outs of this top MBA program!
This podcast episode is sponsored by the Kellogg Evening & Weekend MBA Program
Are you an intelligent, ambitious leader? Do you want to propel your development without putting your career on hold? Earn a prestigious MBA part-time while mastering the skills and building the network you need to realize your highest career aspirations. Customize your experience by taking classes on weeknights or Saturdays, choose from 100+ electives and enjoy fully dedicated 1:1 coaching with the most seasoned career services team in the industry. Get started at kellogg.northwestern.edu/ew.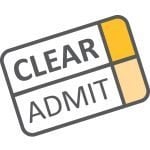 If You Like What You've Been Hearing, Please Subscribe and Rate Us on iTunes!
We love seeing the audience for our podcast series continue to grow! Please, if you have enjoyed what you've heard, won't you take a moment to rank the Clear Admit MBA Admissions Podcast in iTunes? That can really help even more listeners find us. To ensure that you never miss an episode, you could even subscribe. If you have an idea for a future podcast, feel free to run it by us! Please send your pitch to [email protected].
This episode was hosted by Graham Richmond and produced by Contributing Editor Jonathan Pfeffer. Thanks to all of you who've been joining us! One more time: Ranking us in iTunes can help others find us, too, and subscribing means you'll never miss a podcast.