We continue our Admissions Director Q&A series with Blair Mannix, the Director of Admissions of the University of Pennsylvania's Wharton School in Philadelphia.  In addition to rigorous quantitative training, Wharton MBA students enjoy an intimate learning environment due to the Learning Team and cohort structure. Students spend their first year divided into Learning Teams of approximately five to six students, and multiple teams are brought together to form cohorts of about 70 students. MBA candidates of the leading business school can also expect diverse career training—Wharton has made the lists of Clear Admit's "Best Business Schools for…" entrepreneurship, finance, healthcare and marketing.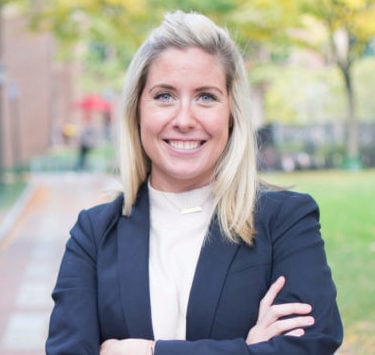 Blair has been the Director of Admissions at Wharton since Fall 2018 and has a 14-year career in selective admissions. To date, she has spent the vast majority of her career focused on building evaluation and selection processes to ensure the fair and accurate decisions of all candidate applications.  Blair started her career in the Office of Undergraduate Admissions at Penn, finishing her tenure there as the Associate Director of Evaluation and Selection. In 2012, she left Penn Undergraduate Admissions for the Wharton MBA Admissions Office, where she has previously served as the Associate Director of Data, Evaluation and Selection and most recently the Director of Operations and Evaluations focusing on the daily operations of the admissions committee, and the philosophy and training behind the evaluation and selection of applications. She received her master's degree from Penn's Graduate School of Education in 2010, studying Early Decision programs at selective universities. Mrs. Mannix hails from the suburbs of Washington, D.C., and currently resides in Philadelphia with her husband, young daughter and dog.
Read on for Blair's insights into the evaluation process at Wharton, what to expect in the admissions interview and more.
Clear Admit: What is the one aspect of your program that you wish applicants knew more about?
BM: Tangen Hall, our new home of entrepreneurship at Wharton, is set to open in 2021.  It will house all of Wharton and the University of Pennsylvania's entrepreneurship resources, as well as be the hub of student entrepreneurship and innovation. When people think of Wharton they don't often think entrepreneurship in the same sentence but they really should.
CA: How might the applicant experience look different this year due to COVID-19? How would you advise candidates to get to know your MBA program and student community if they aren't able to visit your campus?
BM: I'm a silver linings type of person and I actually think that one of the silver linings of the COVID-19 outbreak is how students and schools will connect and get to know one another now and in the future. COVID has changed the whole world and one of its many impacts is how it has touched how we connect with our students. One of my goals for the Wharton MBA Admissions Office has always been to democratize the information you need to put together the best application you can for the Wharton MBA. This new digital world allows us to do that in a much more robust way. Historically we have relied on meeting in physical locations in order to communicate the power of Wharton. While we do lose a lot not being able to open up our office and campus, the increased use and investment into digital communication tools allow us to reach more people. The more people that I can communicate the power of Wharton to the better. That's what I call a silver lining.
CA: Walk us through the life of an application in your office from an operational standpoint. What happens between the time an applicant clicks "submit" and the time the committee offers a final decision (e.g. how many "reads" does it get, how long is each "read," who reads it, does the committee convene to discuss it as a group, etc.)?
As an office and an admissions committee, we speak often about our philosophy of making fair and accurate decisions and making those decisions with a lens of reduced bias and noise. These are the underlying principles of all the decisions we make. In service to those two ideas, we believe in getting as many touch points on an application as possible in order to decrease bias as much as we can. Each applicant gets two full reads by two different readers in a blind process.
It is important to us to ensure that when an application is read it gets two distinct reads: two distinct opinions that are not influenced by one another. If evaluators have access to each other's evaluations, it vastly decreases the fairness and accuracy of an evaluation and also increases noise in decision making. After each applicant gets two blind reads, we decide as an admissions committee who to invite to interview. It is important to us to meet and discuss all applicants before the interview. I always say that it is our first opportunity to make the right decisions and we don't take that part of the process lightly.
After our Team-Based Discussion interview, which I will share more on later, we review again the application and then the admissions committee meets for final decisions. It is important to note that the interview evaluation is not a binary one. In our process, candidates just don't clear the application hurdle and then, based on the results of the interview, are or are not admitted to the program. The interview results are part of the grander narrative about your candidacy. We believe this because we believe that students are more than the sum of their interview experience, which is why the candidacy is reviewed in its entirety post-interview.
CA: How does your team approach the essay portion of the application specifically? What are you looking for as you read the essays? Are there common mistakes that applicants should try to avoid? What is one key thing they should keep in mind as they sit down to write?
When you read an applicant's essay, you are looking for a glimpse into who the candidate is. You're looking for stories about them to understand them a little bit better. You're looking to get to know the applicant. So for me, the best essays I read are ones that, once I'm finished reading, feel like I know more about the applicant than when I started. This actually does not happen as often as you think it would.
CA: Could you tell us about your interview process? Approximately how many applicants do you interview? Who conducts the interview (students, admissions officers, alumni) and what is the nature of the interview (blind, non-blind)?
We invite around 50 percent of our candidates to interview in our Team-Based Discussion format. Our Team-Based Discussion is either conducted by an admissions committee member or well-trained second-year students. The Team-Based Discussion is a 35-minute discussion, followed by a 10-to-15- minute blind interview. We feel strongly in blind interviews so that we gain an additional viewpoint on an applicant's candidacy in order to further reduce bias.
CA: Tell us briefly about two notable professors at your institution.
BM: We have over 240 faculty members at Wharton, each one contributing invaluable research and teaching insights on the evolving business environment. With experts in nearly every aspect of the business world—from data and analytics to entrepreneurship, diversity and inclusion, and of course, the future of finance—our students benefit from their academic leadership. Two examples include Eric Bradlow, Vice Dean of Wharton Analytics and Professor of Marketing, and Ingrid Nembhard, Associate Professor of Health Care Management. Vice Dean Bradlow is a statistician, expert in marketing research methods and award-winning teacher, overseeing the seven analytics programs in our school. Newer to our faculty roster, Professor Nembhard studies and teaches organizational behavior and learning in the health care context, contributing valuable research to the ongoing COVID pandemic.
CA: Anything else you'd like to highlight about your MBA program or admissions process?
BM: The evaluation and selection philosophy of the Wharton MBA Admissions Office is an admissions process that is the most fair and accurate it can be for every single candidate that applies. We have built our entire admissions process including the Team Based Discussion Interview in service to this ideal. I want students to know that when they put an application into the Wharton MBA Admissions Office their application will be treated with the utmost care, put through a fair and accurate process deeply rooted in the latest decision science practices and read through the lens that we call, "read to admit" which means that in every application we are looking for reasons to admit the student and not for reasons to deny the student. This is a very important and fundamental component of our culture and I feel so strongly that I want our prospective students and applicants to know and understand that.
Please be sure check out my episode of the Clear Admit podcast. It goes in deep detail on a lot of the admissions topics I answered in these questions and I've gotten a lot of feedback that it has been really helpful for candidates thinking about applying to business school. I also hosted an hour-long "Application Tips Webinar," currently available on the Wharton MBA Admissions website. In that session, I unpack the entire application process to the Wharton MBA and give my best tips from crafting your resume, writing your essays and choosing your recommenders. You can jump ahead to the sections that interest you most and watch the sections that will be the most helpful.