Our latest edition of the Admissions Director Q&A series takes us to Atlanta, Georgia, and Emory University's Goizueta Business School.  Melissa Rapp is the Associate Dean of MBA Admissions there. In this role, she leads the team responsible for the recruitment, evaluation, and matriculation of students across Goizueta's portfolio of MBA programs. Read on for her insights into admissions at Emory Goizueta, including what they look for in application essays, what to expect in regards to your interview and more.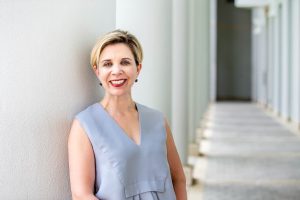 Clear Admit: What is the one aspect of your program that you wish applicants knew more about?
Melissa Rapp: I wish people were more familiar with Goizueta's commitment to developing leaders who influence the intersection of business and society. As the world has become increasingly uncertain, it isn't enough to only be able to understand data or to know how to write a strategic marketing plan. Leaders today must understand that business is a vehicle to positively influence society, and graduates of Goizueta are involved in that every day. Our leadership development program, including the Certificate in Advanced Leadership and Delta Leadership Coaching Fellows program, really prepare students to stand out. We have always been committed to service to humanity and have recently increased our efforts in this regard thanks to a large gift from a benefactor. 
CA: How might the applicant experience look different this year due to COVID-19? How would you advise candidates to get to know your MBA program and student community if they aren't able to visit your campus?
MR: The applicant experience will look different this year with fewer face-to-face engagement opportunities. But candidates should still seek out ways to engage with the schools they are considering and may find more opportunities to do so through online events and platforms. Attending virtual information sessions and online class visits will be important. The advice I have been giving for years still holds. Talk to as many people from the communities you are considering as possible. This includes current students, recent alumni, more tenured alumni, faculty and staff. Look for interactions that leave you excited for the next time and interested in learning more. Choosing the right community for you is an important part of the process.
CA: Walk us through the life of an application in your office from an operational standpoint. What happens between the time an applicant clicks "submit" and the time the committee offers a final decision (e.g. how many "reads" does it get, how long is each "read," who reads it, does the committee convene to discuss it as a group, etc.)?
MR: I've always wanted to make a "School House Rock" video about the application process. Once a candidate clicks submit, an initial review is done by a member of the admissions team who decides if the candidate will be offered an interview. At this point, there are parallel processes happening; the application will be thoroughly read by an admissions team member and the candidate will be interviewed, by a different member of the admissions team or an alum. After the interview evaluation is submitted, the file is reviewed again, and a preliminary decision is recommended by the Senior Director of Admissions. All the preliminary decisions are reviewed by the admissions committee ─ which includes the Senior Director of Admissions, me, and other staff ─ and final decisions are made.
CA: How does your team approach the essay portion of the application specifically? What are you looking for as you read the essays? Are there common mistakes that applicants should try to avoid? What is one key thing they should keep in mind as they sit down to write?
MR: The essay questions are a great time for the candidate to tell their story. We are really looking for someone to clearly articulate their goals and tell us about a time they have been a leader. These stories vary greatly from person to person so there is no magic formula, but being transparent, owning your story, and being complete is important. Do not stop with telling us what you did, tell us why it mattered and what you learned. Make sure you are answering the question that is asked and be succinct.
CA: Could you tell us about your interview process? Approximately how many applicants do you interview? Who conducts the interview (students, admissions officers, alumni) and what is the nature of the interview?
MR: The interview is one of our favorite parts of the process because we get to sit down with the candidate one-on-one and really get to know him or her. Yes, we care about your GMAT or GRE score, your previous academic achievements, and your career history. But we also care about who you are as a person and how you will contribute to the makeup of our community. Goizueta is unique in that we offer early interviews, before the first application deadline for our Full-Time MBA programs as well as the traditional, by-invitation interviews. Candidates who want to interview before they apply can submit a resume and interview in August or September with a member of the admissions team. After our first deadline, interviews move to be by invitation. We have both admissions team members and alumni who interview with the majority of interviews conducted by the admissions team. The interviewer has access to the candidates resume, but not their application. The interview is a great opportunity to share beyond what you is featured in the application and it is also a great opportunity for candidates to ask questions about the program and community.
CA: Tell us briefly about two notable professors at your institution (ideally one student favorite, and one up-and-coming).
MR: We have so many beloved faculty that it's hard to narrow it down to just two, but here we go.
Professor Benn Konsynski, George S. Craft Professor in Information Systems & Operations Management, has a near cult following. His students refer to themselves as S.O.B.'s (students of Benn) and it is a point of pride. He's been at Emory 26 years, having joined us from Harvard, and you can find an alum in the class of 1994, the class of 2020, and every year in between who credits Dr. Konsynski for helping them on their career journeys, serving as a mentor, or reshaping how they think about technology and business.
Professor Erika Hall, Assistant Professor of Organization & Management, is a more recent addition having joined Goizueta in 2014. Her research focuses on the influence of race, gender, and class-based biases on interactions within the workplace and the broader society ─ timely and relevant expertise that is impacting student perceptions and the next generation of business leaders.
CA: Anything else you'd like to highlight about your MBA program or admissions process?
MR: Goizueta stands out for its small-by-design approach to the MBA experience while delivering a rigorous academic experience in a vibrant urban setting. Being small means, from the time you are a candidate, you have access to a bespoke experience curated by highly engaged staff and faculty. One example of this is having access to work with our Career Management Center as soon as you pay your deposit.
Goizueta is actively evolving our curriculum to reflect current issues faced by society to equip our students with the knowledge and tools they need today to be able to shape the business of tomorrow.
Candidates can schedule one-on-one consultations with the admissions team at any point during the application journey. We offer regular information sessions, coffee chats, and class visits for candidates and are deeply committed to your success.