In this edition of our Admissions Director Q&A, learn all about the Stephen M. Ross School of Business at the University of Michigan.  Soojin Kwon is the Managing Director for Full-time MBA Admissions and Program and a lecturer of Business Communication at Michigan Ross. Soojin has led MBA Admissions since 2006 and, since 2016, also oversees the MBA Program, which includes student experience and academic advising. Before joining Ross, Soojin was a Manager in Deloitte's Strategy and Operations practice. Prior to consulting, she served as a Presidential Management Fellow, doing stints with the U.S. Senate Budget Committee, House Appropriations Committee, and Department of Commerce.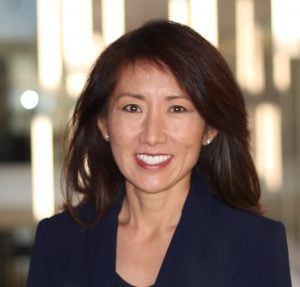 Soojin received an MBA from Ross, a Master in Public Policy from Harvard's Kennedy School of Government, and a B.A. in Economics and Political Science from Yale. She was recently selected to join the board of the Graduate Management Admissions Council (GMAC). She has also served on the boards of the Forte Foundation, Greenhills School and ETS' Business School Advisory Council, and as an alumni interviewer for Yale for 20 years.  Read on for her insights into the Michigan Ross MBA program, the admissions process, and what students and alumni have to look forward to.
Clear Admit: What is the one aspect of your program that you wish applicants knew more about?
Soojin Kwon: At Michigan Ross, we take our commitment to the lifelong professional success of our students seriously. This means that we provide students with lots of innovative and impactful learning experiences and career support before graduation, and long after they leave here.
We were the first leading business school to offer our alumni tuition-free access to any of our executive education open enrollment programs that are delivered around the world (and half-tuition for friends and family of our alumni.) This allows alumni to explore new and emerging business topics and trends as needed throughout their careers. In addition, our students and alumni have free access to the ever-growing collection of on-demand online courses, series, and specializations offered by leading faculty across the University of Michigan at Michigan Online so that they can learn new skills beyond business. We also offer alumni free, one-on-one career advising from a dedicated career coach.
Since the COVID-19 pandemic, we have held events and workshops led by Ross faculty for students and alumni designed to help them thrive personally and professionally. Many have also taken advantage of the free, online seminars offered by Michigan Ross Executive Education related to helping business leaders respond to the immediate issues that organizations were facing during the crisis and navigating future opportunities and challenges of the "new normal."
 CA: How might the applicant experience look different this year due to COVID-19? How would you advise candidates to get to know your MBA program and student community if they aren't able to visit your campus?
While our Visit in Person program will be suspended this fall due to COVID, we're incredibly fortunate to have hundreds of rising MBA2s serve as student ambassadors. Applicants can filter their search and look for students with similar backgrounds and career interests. There's also benefit to reaching out to students who have an entirely different background from yours so you can get a sense of the diversity of the community you will be joining. You'll be able to get the perspectives of students from different parts of the country and the world on what the Ross community and Ann Arbor are like. In addition, I would advise applicants to take advantage of other virtual ways of getting to know Ross better, such as our online admissions events and virtual tour of the buildings.
One of my favorite new-ish resources for candidates to get to know Ross is our student-hosted podcast — Business Beyond Usual — which provides an unplugged look into the Ross experience. Episodes have covered everything from MBA life with a significant other, to what recruiting is really like and what to do the summer before you start your MBA. We've heard from many applicants, including those who didn't end up applying to Ross, just how helpful the podcast was during their application journey.
Applicants can also learn more about the MBA student experience through our MBA Admissions Blog, Ross News Blog, and Student Voices Blog. I write all the admissions blog posts to help applicants not only receive the information they need to know about the application process, but also gain insight into what our program and school community are like. The Ross News Blog shares many interesting stories from our community, such as a recent post about several of our Consortium students leading an effort with MBAs from business schools across the world to raise $100,000 to fight racial injustice. The Student Voices Blogs are written by students about their specific experiences at Ross, such as this post about how their team won the Leadership Crisis Challenge and another one on participating in the +Impact Studio course.
CA: Walk us through the life of an application in your office from an operational standpoint. What happens between the time an applicant clicks "submit" and the time the committee offers a final decision (e.g. how many "reads" does it get, how long is each "read," who reads it, does the committee convene to discuss it as a group, etc.)?
SK: There's a "first read" and a "second read." We typically start each read with the applicant's résumé to give us a big picture of who the candidate is. Then we delve into the transcripts, essays, and letter of recommendation. Every member of the admissions committee reads applications of candidates from all different regions and backgrounds to get a sense of the strength of the pool.
The two things we focus on in the first read are academic ability and nature of their work experience. We're trying to assess whether they can take on MBA coursework, and whether they'll be able to contribute to the learning experience of their classmates. Based on the first read, some applicants are invited to interview and their application is moved on to a second read, which is done following the interview. For second reads, we assign evaluations based on applicant backgrounds so the reader can utilize their expertise on the backgrounds of different groups. Those who do not receive an interview invitation are reviewed again by another reader. This latter group could be waitlisted and invited to interview in a subsequent round or denied at the conclusion of the round in which they applied.
All applicants invited to interview will have the opportunity to interview with a current student or an alum — this year, interviews will be virtual due to COVID. Following the interview, the Admission Committee will meet for two group discussion sessions. The first is typically a calibration session. The second is a multi-day final decision review session.
CA: How does your team approach the essay portion of the application specifically? What are you looking for as you read the essays? Are there common mistakes that applicants should try to avoid? What is one key thing they should keep in mind as they sit down to write?
SK: The essays are intended to give us a sense of who the applicants are and the experiences that have shaped them — outside of what we learn about them through their transcripts, test scores, and resume.
Some common "mistakes" we see in essays are: (1) applicants think they need to share a "hero" story – i.e., one in which they demonstrate how they saved a project or helped someone in need so they "look good"; and, (2) career goal essays that are vague or general. The essays should give us a fuller picture of who an applicant is, not to share an accomplishment that isn't in your resume. We want to see that applicants are reflective and self-aware, as those are important aspects of leadership. The career goal essays that fall short are the ones that don't clearly explain why they are interested in a particular career. We want to know how an applicant's experience, interests, and skills influenced their goal.
The thing applicants should be sure to share are the "whys": Why are you interested in something? Why did you feel ___ (humbled, challenged, out of your comfort zone, etc.)? That is the most interesting part of someone's story because it tells us more about who they are and how they think about themselves.
See this year's updated essay questions and how I would answer the Michigan Ross essay questions in this blog.
CA: Could you tell us about your interview process? Approximately how many applicants do you interview? Who conducts the interview (students, admissions officers, alumni) and what is the nature of the interview?
SK: Our one-on-one interviews are conducted by MBA2s and alumni. Interviewers are "blind" — i.e., they only see the applicant's resume, not their application. We conduct about 1,500 interviews each year. One thing my team is often asked is whether we match interviewer and interviewee based on past work experience or career interest. We don't. Interview assignments are completely random. Given that, applicants should be prepared to talk about their professional experiences and stories with someone who may have a very different background from them.
CA: Tell us briefly about two notable professors at your institution (ideally one student favorite, and one up-and-coming).
SK: Eric Schwartz is a marketing professor who impact-orientated research resulted in a successful effort to help respond to the Flint water crisis by predicting which homes were more likely to have water service lines made of lead. In doing so, his research has saved the city of Flint tens of millions of dollars, and that work is now extending to other communities. The most exciting part is our students got to have a role in how this work was scaled through the +Impact Studio. It's an incredible example of why Ross is so proud of our action-based learning approach. Instead of poring through yet another case study of how other people handled a situation, our students worked with Eric in real-time to have an impact on the city of Flint.
We're also thrilled that Lindy Greer joined Ross from Stanford last year to become faculty director of our Sanger Leadership Center, which provides unparalleled opportunities for students to develop and showcase their leadership and communication skills. Lindy is an expert on team dynamics, emotions, and conflict management, and teaches a highly popular The Psychology of Start-Up Teams course.
CA: Anything else you'd like to highlight about your MBA program or admissions process?
SK: In updating our admissions process each year, the Admissions Committee thinks very critically about: (1) what we need to know about an applicant to evaluate whether they will be successful in our program; and (2) whether the questions and materials we ask for give us the information and insights we need. A candidate's potential for "success in our program" is evaluated in three areas: ability to handle the coursework, ability to be a positive and contributing member of our community, and ability to get a good job (through a combination of prior experience, coursework and interpersonal skills).
Our philosophy in developing our questions and requirements is to give applicants a platform to reflect on and surface their unique experiences, thought processes and goals while making the application process as applicant and recommender-friendly as possible. That's the thinking behind requiring only two short answer essays (100 words each) plus a short career goals essay, as well as requiring only one recommendation letter. We look forward to learning about candidates' backgrounds and experiences and developing a relationship with them over the course of the admissions process. By the time students start their MBA at Ross, many of them feel like students we've known for a long time.