In this edition of our Admissions Director Q&A series, we visit the leading MBA program at IE University in Madrid, Spain. We hear from Andrea Flores, who is currently Head of Global Admissions & Enrollment for graduate programs of all five schools at IE University, including IE Business School's MBA programs. Her passion is to see education shape the future of society and how, through sharing IE's values of humanities, entrepreneurship, social responsibility, and innovation, she can have an impact on the leaders of tomorrow. Her purpose is to provide graduate school applicants an admissions experience in line with IE's vision of the future, in order to recruit the best talent globally. Read on for her insights into the MBA program, admissions and more.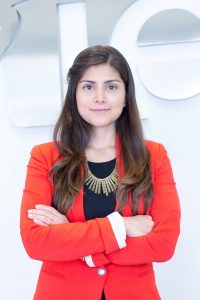 Clear Admit: What is the one aspect of your program that you wish applicants knew more about?
Andrea Flores: IE's belief in entrepreneurship. This does not only mean the starting a business, it goes beyond, and it becomes a mindset. Our students are given the opportunity to design an MBA experience that adapts to their needs while they explore entrepreneurial thinking. All of our MBA's include academic, extracurricular, and networking content specifically designed around the area of entrepreneurship. Around one fourth of our students and/or alumni eventually launch a business. The value of entrepreneurship for our society is huge and this mindset we believe, is key for future society leaders. Find our more about it here.
Clear Admit: How might the applicant experience look different this year due to COVID-19? How would you advise candidates to get to know your MBA program and student community if they aren't able to visit your campus?
AF: Even though we might experience some restrictions in terms of number of people per event, our campus is currently open, and our Global Admissions & Enrollment team is active. Any applicant who wants to visit Madrid and our campus is more than welcome to contact us for an appointment to visit us. It is important to check with government official entities and airlines about any specific travel or health restrictions before booking anything as currently things change rapidly.
Additionally, IE is among the very few universities with such a large representative network around the world. We have exactly 32 international l offices worldwide with teams that can provide local applicant guidance as well as actively organizing events between applicants, students, and alumni.
Having said this, we are equipped with enough resources to remain close to our applicants.
CA: Walk us through the life of an application in your office from an operational standpoint. What happens between the time an applicant clicks "submit" and the time the committee offers a final decision (e.g. how many "reads" does it get, how long is each "read," who reads it, does the committee convene to discuss it as a group, etc.)?
AF: IE's admission application can be submitted complete or partially complete. If the candidate submits a complete application, we immediately conduct a first screening before moving to the interview stage. On average, each candidate has one admissions interview. However, there might be situations where a second interview is required by the Admissions Committee. Upon completing the formal interview, the applicant's file goes through a final review and final decision.
CA: How does your team approach the essay portion of the application specifically? What are you looking for as you read the essays? Are there common mistakes that applicants should try to avoid? What is one key thing they should keep in mind as they sit down to write?
AF: At IE we take a holistic approach when evaluating candidates. In order to evaluate this aspect, we require a personal statement essay. The essay is meant to elaborate on a candidate's motivations to pursue an MBA as well as their value proposition.
Avoid being too generic and don't be scared to be authentic. There is no right or wrong answer and we embrace diversity. Express what you want to say and not what you think we want to hear. When coming to IE, you will be exposed to many points of view and being real during the admissions process is key for us to assess your fit in our institution. 
CA: Could you tell us about your interview process? Approximately how many applicants do you interview? Who conducts the interview (students, admissions officers, alumni) and what is the nature of the interview?
AF: The interview step of our process is the one that allows us to get to know the applicant at a professional, academic and personal level. If all supporting documents are submitted, we conduct an interview. We believe that a paper-only evaluation is never enough, we have candidates that have amazing life stories to tell and this is simply not possible to share in one essay, an exam, or a CV. Our diversity is only created once we really get to know our applicants and this happens during the interview.
CA: Anything else you'd like to highlight about your MBA program or admissions process?
AF: IE's entrepreneurial mindset allows us to be a very agile institution with openness to continued innovation. A global pandemic has taught us a big lesson about resilience and how education, just like many other key elements of our society, needs to continue evolving in order to meet the needs of today's MBA seekers. Our MBA experience is improved every year. Starting by our personalized admissions process we thrive to provide a unique and valuable experience for our students.