In this edition of our Admissions Director Q&A series, we hear from Amber Janke, the Director of Full-time and Evening MBA Admissions at the Foster School of Business, University of Washington. Amber has pursued a career in higher education for the past 15+ years, working with faculty and student affairs at universities in California and New York before moving into her passion – admissions. Janke obtained a Masters in Higher Education Administration at New York University and spent 10 years in various roles at NYU before returning to Washington and joining Foster in 2016. Read on for her insights into what stands out about the Seattle-based b-school, the excellent faculty, what to expect during admissions and more.
Clear Admit: What is the one aspect of your program that you wish applicants knew more about?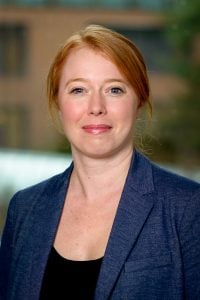 Amber Janke: The Foster MBA faculty are fantastic. Not only are they thought leaders in their fields, but they also are involved members of the community and very accessible to students. While Foster is often known for its strong job placement and connections to the tech industry, what really stands out to me is our close-knit and genuinely collaborative community, and the faculty are a significant part of the community.
CA: How might the applicant experience look different this year due to COVID-19? How would you advise candidates to get to know your MBA program and student community if they aren't able to visit your campus?
AJ: For now, prospective students will not be able to visit campus. The University of Washington is one of the most beautiful campuses in the U.S., so I encourage you to check out various photos, videos, and tours online. We welcome all outreach from prospective applicants, and encourage you to set up a time with an admissions counselor for an informational interview (please email us to schedule: [email protected]). You can also attend virtual events, including information sessions, student connections, and other upcoming events. I always encourage prospective students to reach out to our student community, and Foster has many student ambassadors that volunteer their time to share with prospective students. To connect with current students, just email [email protected] and share about yourself and what you hope to learn. We will connect you with a current student with similar interests or background.
CA: Walk us through the life of an application in your office from an operational standpoint. What happens between the time an applicant clicks "submit" and the time the committee offers a final decision (e.g. how many "reads" does it get, how long is each "read," who reads it, does the committee convene to discuss it as a group, etc.)?
AJ: We start to review applications after each admission round deadline and will send a video interview request (via Kira Talent) to all applicants. Once we receive all required application materials, an admissions committee member reviews the application file, writes a review of the applicant file, and submits a recommendation on whether to invite an applicant to interview. The next step in the process is the application is reviewed by multiple admissions committee readers for an additional full application review, holistically reviewing the application.
In a final review of the applicants invited to interview, the admissions committee will review the application, consider the multiple reviews including the interview, and make a decision to admit, deny, or waitlist the applicant. Decisions are determined by the Director of Admissions, along with a committee consisting of admissions team members, MBA Career Management leadership, and MBA Program Office leadership.
CA: How does your team approach the essay portion of the application specifically? What are you looking for as you read the essays? Are there common mistakes that applicants should try to avoid? What is one key thing they should keep in mind as they sit down to write?
AJ: My number one tip for the essays is to share your authentic self: your real goals and experiences. We keep our essays questions fairly broad, so you have the ability to truly share your path thus far, and your goals for the future. It is important that you are thoughtful about why you want an MBA, and specifically, why you want an MBA from Foster. Use the entire application process, especially the essays, to be reflective and honest about your path and goals. In particular, the essays give you the opportunity to tell your story. Each applicant has a unique story – so be mindful about using each component of the application to share who you are as an applicant so the admissions committee can truly get to know you through your application.
CA: Could you tell us about your interview process? Approximately how many applicants do you interview? Who conducts the interview (students, admissions officers, alumni) and what is the nature of the interview?
AJ: Foster's admissions interviews are by invitation only and are conducted by Foster MBA Admissions staff. Interview invitations are sent within 4-6 weeks of the application deadline. Due to social distancing requirements, we are planning for virtual interviews for the near future. In past years, we have invited students to campus to interview or to interview virtually, and we will return to that model when it is safe to do so. The number of applicants invited to interview varies from round to round. The admissions team member who conducts the interview will be familiar with your application.
CA: Tell us briefly about two notable professors at your institution (ideally one student favorite, and one up-and-coming).
AJ: Crystal Farh, Associate Professor of Management is an established MBA instructor at UW Foster and leads and teaches required and elective courses in leadership. Students value the inclusive, dynamic learning environment of Crystal's classrooms, calling her approach to providing students with the evidence-based skills of transactional and transformational leadership motivating, engaging, and highly impactful. "The class is highly interactive, and she (Crystal) clearly know how to encourage but challenge people within that format." Crystal is also an accomplished scholar with a number of papers exploring creativity, cross-cultural interfaces, leadership member voice, and other crucially important leadership topics. Students praise her habit of regularly bringing rigorous and relevant leadership research, including her own, into the classroom.
Hema Yoganarasimhan is arguably one of the world's leading experts in combining machine learning and statistics to address critical issues in the domain of digital marketing and online platforms. More recently, she has brought her talents to Foster's MBA classrooms in a popular elective offering, Analytics for Marketing Decisions. The course is part of a 3-course sequence composing the Foster School's Marketing Analytics Specialization. Students in this specialization master cutting-edge techniques that allow them to frame marketing decision problems as research problems, gather relevant data, and analyze it using contemporary machine learning and statistics tools to provide insights essential for evidence-based marketing decision making. Students praise the challenging nature of the course, Hema's ability to help students master sophisticated analytical tools, and her use of in-class, applied learning consulting projects that allow students to see how tools are used in the real world to improve marketing decision making.
CA: Anything else you'd like to highlight about your MBA program or admissions process?
AJ: We genuinely want to get to know you through the admissions process! With our small cohort size, culture and community are incredibly important to us here at Foster. We encourage you to engage with admissions staff, students, and alumni. We value diversity in all shapes and forms and look to bring in a cohort that wants to contribute to the community at Foster and in Seattle.