Zahid Ahmed Hassen, MBA '17 – Director for ARCH, a PE Fund focused on Emerging Markets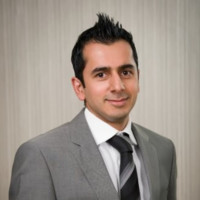 Zahid Ahmed Hassen, MBA '17, is responsible for business development and investment execution of ARCH's renewable power investment strategy across Africa, including general oversight of African-based project development staff.  The ARCH Africa Renewable Power Fund seeks to invest in renewable energy projects across Africa, focusing on both the on-grid and off-grid sectors.
What inspired you to join the energy industry, and why did you choose to focus on Africa?
After qualifying as a chartered accountant, I worked in corporate finance for close to five years solely focused on projects in South Africa. I was in a comfort zone and needed a change, which included exposure to markets outside of South Africa. I didn't have a specific sector in mind, but was looking to join a company that was actively exploring opportunities across the African continent. Why Africa? You always hear about the vast potential that Africa has, and the challenges associated with doing business in Africa. So by choosing to focus on Africa, I gave myself the opportunity to be exposed to multiple opportunities in a challenging environment, which meant that I would always be learning. As you can see, I chose to focus on Africa and didn't have a specific sector in mind but was fortunate enough to land a role in the renewable energy sector.
How has the HEC Paris MBA influenced or supported your work?
Moving to France to do the MBA, exposing myself to an environment where I didn't speak the language or know anyone, then enjoying every moment of the MBA and meeting new people and experiencing new things – all of this made me realize that exposing yourself to new environments, while challenging, is truly enlightening.
During my last semester, I decided to do an exchange in Barcelona to gain exposure to a different culture and expand my network even further. This experience—of throwing myself into a new setting, along with my wife—opened my eyes. Living abroad gave us the ability to move anywhere with confidence.
My post-MBA plan was to remain within the energy sector focused on Africa, but, with this new perspective of living in different countries and my new-found ability to thrive anywhere, my goal was to be based elsewhere on the African continent. My post-MBA role saw me based in Accra, Ghana, and now I am currently based in Nairobi, Kenya.
The HEC Alumni network also provides me with an opportunity to meet new people – whenever I travel to a country I try reach out to Alumni based in the country.
What do you feel has been your greatest impact regarding energy development/access in Africa? While I have been involved in multiple projects across Africa, it's pretty hard for me to say I have had a significant impact. A lot more work still needs to be done.
What have you found to be the most rewarding aspect of your work?
Traveling to multiple countries across Africa, engaging with people and learning about the various different cultures has been the most rewarding aspect of my work.
Ten years from now, what do you hope to be saying about energy access in Africa?
I hope that everyone in Africa will have access to electricity – that said, it will be extremely challenging to achieve, so it's important that we continuously work towards that goal.
Is there anything else you would like to add?
People who are looking for opportunities post-MBA should not discount opportunities in Africa, and should actively seek out career opportunities across Africa.