Drained from a crazy week of R2 admissions decisions at Wharton, Kellogg, UCLA, Berkeley, Yale, UT Austin, and more – not to mention a first appearance on the Clubhouse app – Graham nearly forgets to show up to record WireTaps! The resulting episode is a bit like the podcast equivalent of an HBS 'cold call'. Thankfully, our hosts still manage to tackle some big issues including the influence of geography on GMAT/GRE testing, the curious case of an American solely targeting European b-schools, and the dilemma one candidate has of choosing between offers from USC or NYU for post-MBA goals in the music industry. Alex and Graham also weigh in on the Elite Eight from Clear Admit's post-MBA employer bracket challenge – wondering who will emerge as Google takes on Amazon, McKinsey take on Facebook, and more!
Preview which Wire posts are featured in this podcast episode and then tune in!
Alex and Graham start the episode by advising an applicant on how to round out their candidacy ahead of next season:

Another MBA hopeful from an atypical industry is targeting international programs:

Finally, from MBA DecisionWire, a candidate choosing between NYU Stern and USC Marshall inquired about scholarship negotiations: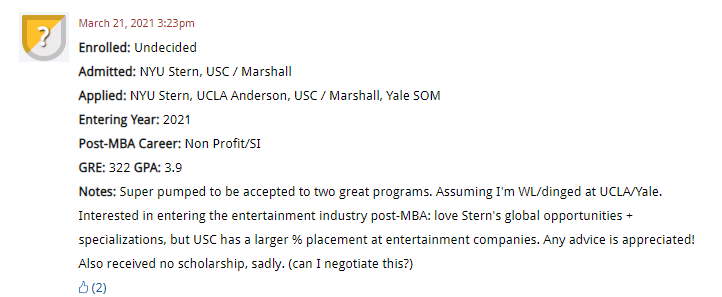 Happy listening!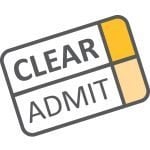 Be sure to post to MBA ApplyWire or MBA DecisionWire if you'd like Graham and Alex to offer admissions advice.
If You Like What You've Been Hearing, Please Subscribe and Rate Us on Apple Podcasts!
It's been wonderful seeing the audience for our podcast series continue to grow! Please, if you have enjoyed what you've heard, could you rate and review the Clear Admit MBA Admissions Podcast in Apple Podcasts? This is the best way to help more listeners find us. Also, to ensure that you never miss an episode, please subscribe to the podcast on whatever platform you use.
This episode was hosted by Graham Richmond and Alex Brown, and produced by Dennis Crowley. Thanks to all of you who've been joining us!